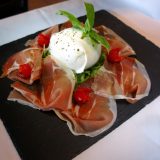 Angelo's Restaurant, CLOSED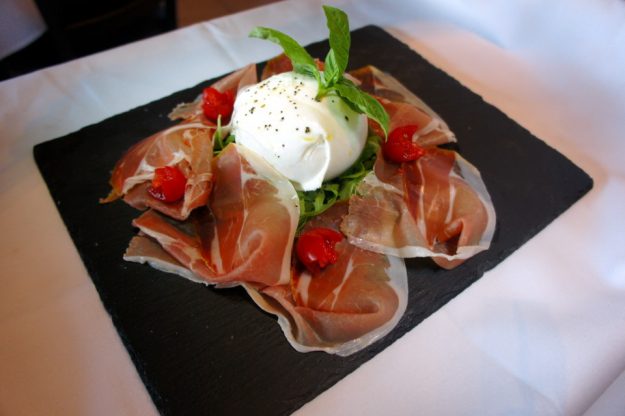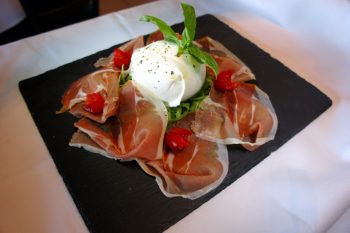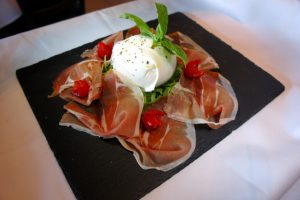 6115 South Tamiami Trail Sarasota, FL
941-312-4747
http://www.angelosrestaurantsarasota.com
View Photo Gallery
SRQ Reviews
on August 2, 2016
ANGELO'S IS PERMANENTLY CLOSED. NEW RESTAURANT, LA FIAMMA, ITALIAN RESTAURANT OPENING. WILL REVIEW SHORTLY.
When it comes to dining in Sarasota, no cuisine offers more options than Italian. From high end to casual, northern to southern, one can argue Italian cuisine as a category, is overdone. When friends enthusiastically mentioned Angelo's to me, I took note.
Located in a small strip mall on the South Trail, one can easily overlook the restaurant's presence. A very casual atmosphere combined with a warm friendly greeting by owner Angelo Difore, sets the tone for your evening. Quality food personally prepared for you.
Although the menu is not too large, there are adequate selections of appetizers, salads, pastas, meat and seafood with a number of daily specials and signature dinner preparations.
For our meals we chose the following:
Antipasto Misto:  Mixed cured meats with cheeses, olives, and grilled vegetables.  $17.00
A very nice assortment of Italian cured meats and cheese, tasteful presentation with a generous portion. Easily shared between 2-4 people as a starter.
Cozze in Vino Bianco:  Mussels in white wine sauce with toasted bread.  $11.00
A classic, generously portioned starter, a tad salty. Light lemon, garlic and white wine.
Gamberi all'arancio e Basilico:  Shrimp appetizer cooked tableside with orange and basil.  $16.00
This was a home run! Butter, scallions, orange, basil and brandy, all combine for a rich and robust mélange of flavors, but not the least bit over powering. A great starter. Absolutely delicious!
Mozzarella di Bufala:  Fresh mozzarella di bufala served with prosciutto and roasted peppers.  $16.00
A special, fresh, soft and creamy mozzarella, spongy and soft inside with beautiful color.
Pappardelle con Truffles:  A signature dish from Angelo prepared tableside in a full parmesan wheel. $32.00
Simple in presentation yet so wonderfully full of flavor. The truffles add such a delicately defined, uniquely Italian flavor and aroma…like consuming a delicious fine perfume.
Pappardelle alla Carbonara:  Pasta with pancetta and egg yolk.  $22.00
Another signature dish from Angelo, uniquely prepared table side in large parmesan wheel. Utilizing pappardelle instead of spaghetti, the dish is rich but not overwhelming. There is a depth of flavor offering a pleasing granularity of parmesan in your mouth…delicious!
Vitello Marsala:  Veal in marsala and mushroom sauce.  $25.00
A classic presentation, thinly pounded cutlets, tender with a sweet dark sauce dotted with mushrooms. 
Skirt Steak with Yellow Tomatoes:Fresh skirt steak with yellow tomatoes cooked table side.  $24.00
This combination tastes like summer, tenderized steak melts in your mouth with a nice acidic complement from the tomatoes. Fresh and very flavorful.
Bananas Foster:  Prepared tableside.  $9.00
Such an "old school" dessert, cool, creamy, warm, amazingly rich and delicious.
Affogado:  $9.00
One of my favorites…ice cream with expresso…is there a better combination? A great way to finish a meal…delicious!
Angelo's offers an adequate selection of beer, wine, and soft drinks to accompany your meal. The wait staffs are very friendly, attentive, and very welcoming. Since all the food at Angelo's is prepared to order, there may be a bit of a wait between courses. So, order that extra glass of wine an enjoy!

Certainly everyone has their favorite Sarasota Italian restaurant for dinner. Why not consider making room for one more; namely Angelo's? I think it would be a great addition to your Sarasota Italian restaurant list. Buon appetito!
SRQ Reviews, the restaurant guide you need to find the best dining in Sarasota, Florida.
Try any of the pasta dishes prepared in the parmesan wheel! The best!!
6115 South Tamiami TrailSarasota, FL