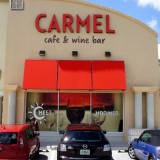 Carmel Cafe & Wine Bar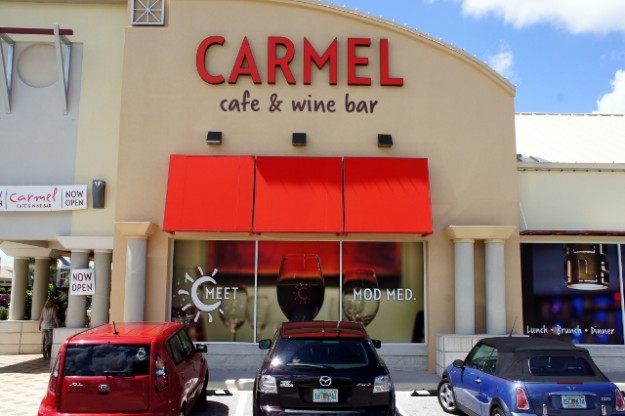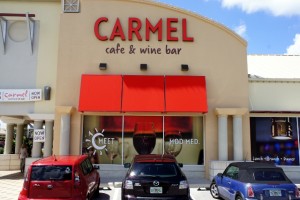 8433 Cooper Creek Boulevard University Park, FL 34201
941-893-5955
http://www.carmelcafe.com
View Photo Gallery
SRQ Reviews
on October 14, 2012
A new, exciting, and delicious way to dine…
The restaurant business is a demanding profession.  Long hours, high expectations and a challenging, competitive local market are only a few of the obstacles operators must navigate in order to be successful.  Not only that, but a new restaurant needs to establish an identity that sets it apart from other local restaurants. Easily said, but not easily done.
Every once in a while a new restaurant comes along with some unique characteristics that quickly distinguish it from the others.  The Sarasota location of The Carmel Café & Wine Bar is one such place.  Opened in June 2012, The Carmel Café & Wine Bar shifts the paradigm of dining through its unique iPad menu and ordering system.  In essence, you, the diner, are in charge. You can browse the selections and recommendations, order at your own pace and even pay your bill through the iPad system; it's very convenient, quick and easy to use. For those who prefer the paper menu, rest assured the option is still available.
With a warm and inviting atmosphere perfectly suited for casual dining, The Carmel Café & Wine Bar is open Monday through Friday for lunch, Saturday and Sunday for brunch, and nightly for dinner. Offering an updated modern Mediterranean ("Mod Med") cuisine with a twist, the menu is extensive in choice.  It ranges from flatbreads, soups, salads, sandwiches, seafood, meat and vegetarian entrees, desserts and, of course, wine. We sampled dishes from the lunch, brunch and dinner menus:
Pancetta Omelet:  With harissa, tomato, fontina cheese and chives.  $10.99
An ample portion with a delicious combination of both flavors and textures. Not too spicy; filling.
Steak and Egg Sliders:  With horseradish aioli.  $9.49
A classic combination. Rich, tender and very filling; could easily be a lunch item in addition to brunch.
French Toast L'Orange:  With bacon.  $8.99
Soaked overnight, the bread has a "custard-like" inside. So good. The orange flavor is pronounced but not overpowering; no need for maple syrup on this dish. Could be dessert!
Carmel Café House Salad:  Local organic market-fresh greens and grape tomatoes, red onion, English cucumber, carrots, feta, lemon-herb vinaigrette.  $3.69
Perfect price for a perfect side salad.
Black Olive Caesar:  Romaine hearts, Parmesan two ways, black olive Caesar dressing.  $3.69
Fresh greens, nicely presented; a perfect size for a side salad.
Edamame Hummus:  $3.79
A nice rendition of traditional hummus with a twist; creamy and flavorful.
Italian Press:  Capicola, Catalan ham, provolone, pepperoncini, sundried tomato aioli, ciabatta.  $7.99
A well-prepared sandwich with a well-filled combination; very good.
Pressed Meyers Natural Angus Burger:  Caramelized onions, Manchego, chili aioli. $8.79
A large-sized burger, juicy and flavorful.
Grilled Lemon Chicken and Artichoke Flatbread:  With arugula and Parmesan.  $8.29
Full disclosure: flatbread fan here. This brings a great combination of flavors and textures.
Basil Grilled Salmon:  With quinoa, kalamata olive tapenade.  Small $9.99, Large $14.99
I got the small portion, the perfect size after sharing appetizers with the group. Fish was fresh, moist and flavorful.
Chocolate Lava Cake:  $5.79
A warm, rich, moist cake oozing with warm chocolate filling; decadent.
We found the wait staff to be attentive, friendly, efficient and knowledgeable, especially in the use of the iPad ordering system.  Full bar service, including beer, wine, and soft drinks are served to accompany your meal.
Offering a warm, casually comfortable setting where one can linger over a glass of wine, share a flatbread or two with friends or get a quick meal before or after the movies or shopping, The Carmel Café is clearly on its way to establishing a unique identity where you the diner set the pace.
SRQ Reviews, the restaurant guide you need to find the best dining in Sarasota, Florida.
iPads to order your food when and how you want it! For those of us who are a little inhibited with technology, they also have print menus and wait staff.
8433 Cooper Creek BoulevardUniversity Park, FL 34201