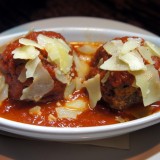 Cosimo's Trattoria & Bar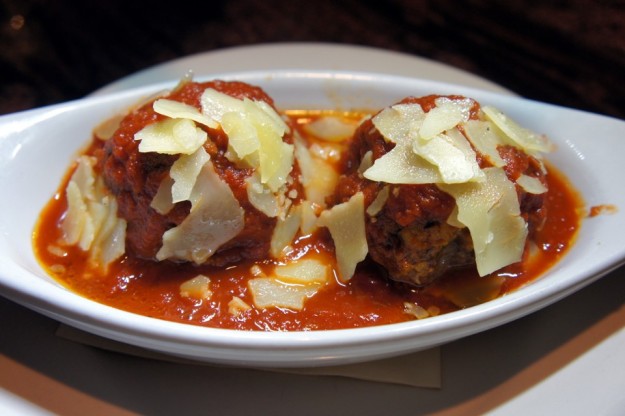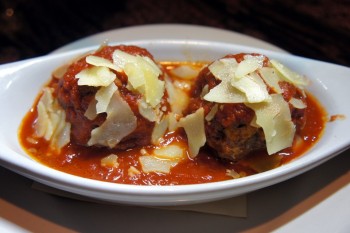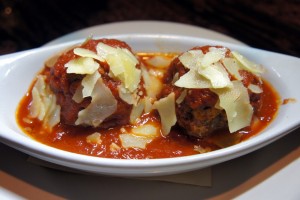 5501 Palmer Crossing Circle Sarasota, FL 34233
941-922-7999
http://www.cosimos.net
View Photo Gallery
SRQ Reviews
on May 1, 2014
Cosimo's, has new owners! The new name is Cafe Barbosso. We will post a new review soon.
Tucked away in the back corner of a strip mall off of Clark Road, Cosimo's Trattoria & Bar may be hard to find for the first-time visitor. However, for many in Sarasota, Cosimo's is their choice for casual family dining. A relatively large space, Cosimo's offers an open kitchen with a brick oven, a large bar area, a good sized dining room and an outdoor patio. The open, high ceilings add to the restaurant's large feel; however, warm tones and cozy booths add a great deal of warmth.Even though there's a slight "mall-like" feel, make no mistake; this is a family-run business. Offering a wide range of food and drink options at reasonable prices is a great start, but how good is the food?
For our meals, we chose the following:
House Salad:  Baby greens, romaine, baby tomatoes and red onion, served with our homemade balsamic vinaigrette.  Small $3.99, Medium $5.99, Large $7.99

We chose a small sized salad to start our meal. It was fresh, colorful and a great value.

Caesar Salad:  Romaine lettuce, seasoned croutons, and shaved parmigiano with our homemade Caesar dressing.  Small$3.99, Medium $5.99, Large $7.99 

Fresh, crispy and creamy — the salad had very good flavor and the right amount of tang.

Fried Calamari:  Seasoned with a house blend of spices and flash fried and served with spicy marinara sauce or sweet Thai chili sauce.  $9.99 

Well prepared, lightly fried, fresh, tender and not too greasy. A very generous portion for the price. Great appetizer for sharing.

Grilled Asparagus:  Fresh grilled asparagus topped with lemon-infused olive oil, roasted red peppers and asiago cheese.  $9.99 

Also served with endive and mixed greens. Fresh and grilled perfectly — another big portion. Great side dish for sharing.

Pasta e Fagioli:  Hearty pureed bean soup with pasta and Parmigiano cheese.  Cup $2.99 Bowl $4.99 

Thick, rich and creamy broth with an earthy flavor and viscous texture.

Turkey Caprese Wrap:  Sliced roasted turkey breast and fresh mozzarella cheese with baby salad greens, tomato and pesto sauce in a whole wheat wrap.  $8.99 

A bit disappointing. The description raised our expectations, but the sandwich was rather ordinary.

Wood Fired – Brick Oven Polpette (Meatball) Pizza:  NY style with sliced meatballs, roasted red peppers, herbed ricotta and mozzarella cheese.  12" $12.49 

A thin, crispy crusted pizza, nicely topped with real NY flavor.

Cosimo's Famous Meatballs:  In marinara with parmigiano.  Side $4.99 

Soft, tender, well-seasoned, not overly spiced, stick-to-the-ribs comfort food.

Potato Gnocchi:  Tossed with pancetta, onions, mushrooms, garlic, herbs, sun dried tomatoes and arugula in a rich beef broth.  $15.99 

A generously sized portion. Earthy broth adds rich flavor to mild gnocchi. A tad salty, but quite good.

Grilled Marinated Pork Chops:  Center cut, served with mango chutney, wilted spinach and sweet potato fries. 1 chop $14.99, 2 chops $19.99 

Complete meal. Pork was moist and tender, and the marinade and mango chutney added layers of sweetness.

Pollo Saltimbocca:  Two chicken breasts topped with prosciutto, sage and mozzarella cheese, served with herb-roasted potatoes and sautéed spinach.  $14.99  

A sweet, slightly salty flavor with a subtle hint of sage. Although roasted to a nice color, the potatoes were a bit soggy and lacked flavor.
As previously mentioned, the menu at Cosimo's is extensive and includes a reasonably priced kid's menu. There's also a full bar service, beer, wine and soft drinks to accompany your meal. The wait staff is super friendly, attentive, quick and efficient.
We are often asked for recommendations for family dining. Our criteria includes good food for both adults and children, wallet-friendly pricing, quick, friendly service, and an environment where the decibel level might be a bit higher than usual, but not too loud. A family run restaurant focused on family friendly dining, Cosimo's is on our list!
SRQ Reviews, the restaurant guide you need to find the best dining in Sarasota, Florida.
Every month Cosimo's changes their "special night deals"….Happy Hour, Family Value Meals, wine specials, etc. Check it out!
5501 Palmer Crossing CircleSarasota, FL 34233