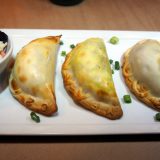 EmpaCurious, Gulf Gate
SRQ Reviews
on February 14, 2018
EmpaCurios has closed.
Curiously…Creative…Cuisine
Originally opened two years ago as a "grab and go" market on Anna Maria Island, the team at EmpaCurious honed their crafts anticipating and preparing for a Sarasota opening. With local market learnings, refined recipes, and a hybrid market/bistro concept, EmpaCurious opened their Sarasota location in the Gulf Gate area in the fall of 2017. Simple and casual in outward appearance, EmpaCurious offers a small market area where patrons can get a quick lunch to "eat in" or take out. Additionally, there is a bistro area for evening "sit down" dining and later night music/entertainment.
Interesting, friendly, and very welcoming, the team at EmpaCurious is taking Latin American cuisine to a new level. Starting with the empanada as a core cuisine element, EmpaCurious has built an ever evolving Latin-centric, multi-ethnic menu; with a focus on healthy, flavorful food.
For our meals we chose the following:
Minted Lentil + Quinoa Salad (vegan):  Lettuce medley, seasoned lentil, roasted squash, spiced quinoa, peppers, onions. Creamy dressing.  $8/$10
A subtle blend of flavors and textures. Served at a good temperature, the salad is refreshingly cool. Long finish to the mint.
Cuban Black Beans:  $4 (side)
Taking three days to make, the beans are rich, tender, and delicious. Real comfort food, very satisfying.
Empanadas:  (choose 2 + 1 side) $12
Cuban Rumba: Pork, roasted ham, series and pickles.
Vegetable Soca: Root veggies, squash, sweet plantain.
Chicken Zudeco Empanada: Chicken andouille, aromatics , creole kick. Mushroom Flamenco: Mushroom, saffron rice, sherry
Side: Jicama Cabbage Slaw
Perhaps the best empanadas I have ever had. The shell was flaky and dry. Each filling was distinct, savory, with no guessing as to what is inside. Delicious.
Pollo Guisado/Dominican Chicken Stew:  Chopped chicken, tomatoes, potatoes, yucca, aromatics, seasoned rice, sweet plantain, peppers and onion crudo.  $10/$14
We ordered the smaller portion, perfect for lunch. Caribbean comfort food with a touch of sweetness.
Sweet and Spicy Raisin Masala:  Hint of chorizo, aromatics, soca spices, seasoned rice, sweet plantain, raisin masala sauce, pork tenderloin.  $22
Sweet heat. Generous portion. Organic brown rice well prepared, tender and flavorful. Filled with lots of flavors, scallions, peppers, onions, plantains, carrots, jicama. Perfect balance of heat and flavor.
Jerky-Garlic Soca Chicken:  Chicken breast, garlic, soca spices, Chile sauce, seasoned rice, sweet plantain, spicy chutney sauce.  $18
A real melange of flavors, textures and colors. Green onions, red onions, plantains, garlic and chicken over organic brown rice. Great aroma.
Fruit of the Sahara:  Sweet- spice, apricot, figs, dates, yoghurt, mint, aromatics, Sahara sliced, quinoa. Chicken  $20
Moist tender chicken, loved the combination of the sweetness from the fruit, creaminess from the yogurt and freshness of the mint.
Pork Thai Dragon:  Roast pork, cabbage, Asian vegetables, aromatics, soy, Thai spices, peanuts, rice. $12/$16
Tender pieces of pork, crunchy cabbage, and a slightly salty finish make this dish a winner!
EmpaCurious offers an adequate selection of beer, wine, and soft drinks to accompany your meal. Additionally, there is a unique and quite interesting fermented spirit vs. distilled spirit bar service available; definitely worth a try. The staffs at EmpaCurious are super friendly and very knowledgeable about the menu. They provide guidance and explanation on menu specials, and very willing to accommodate any dietary needs.
If you are interested in discovering a restaurant which provides a unique dining experience, focused on flavorful healthy ingredients, and reasonably priced. Look no further than EmpaCurious. You will be pleasantly surprised by the experience.
SRQ Reviews, the restaurant guide you need to find the best dining in Sarasota, Florida.
Great "Grab and Go" selection on the market side. On the weekends, check out the schedule for music and dancing!
6559 Gateway Ave Sarasota, Florida