Fandango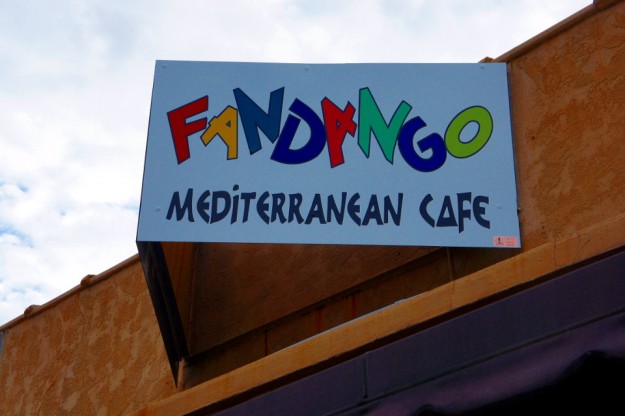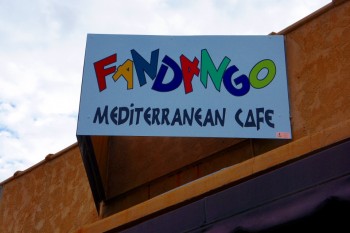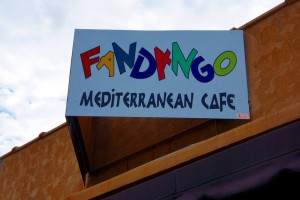 1812 S Osprey Avenue Phone (941) 954-5400 Sarasota, Florida 34239
941-954-5400
http://www.fandango-cafe.com
View Photo Gallery
SRQ Reviews
on January 26, 2016
Something old is something new again…
Fandango Mediterranean Café served the Sarasota casual dining community, in a number of different Sarasota locations for many years. After a few year hiatus from the Sarasota area, Fred Salih, owner/operator moved back to Sarasota and decided to reopen Fandango Mediterranean Cafe in the Southside Village area. Now approaching its 1st anniversary since reopening, Fandango has remained true to its origins. A casual, "laid-back" décor, the restaurant focuses on simplicity, value, and quality.
The menu is eclectic, offering a variety of ethnic dishes, vegan and gluten free items, with a heavy tilt towards Mediterranean cuisine.
For our meals we chose the following:
Black Bean Soup:  $3.95
Creamy and flavorful.
Lunch Combination Platter:  Choose 2 Items. Served with Greek Salad and warm pita bread.  $9.95.
Koo Koo:  Popeye eat your heart out. A Persian spinach pie boosted with kale, green herbs, eggs and caramelized shallots, then baked…served with tzatziki sauce.
Yum! This is a rich, dense, intensely flavored with earthy aromas offset by a cool creamy tzatziki. Loved the combination and contrast.
Stuffed Cabbage:  Fresh cabbage leaves are stuffed with seasoned ground lamb, rice, herbs and gently steamed to perfection topped with herb tomato sauce.
The perfect combination of flavors, sweet and tangy, simple and nicely done.
Dinner Combination Platters:  Choose 2 different items from a choice of 19 items.  $15.95
Hummus:  Creamy dip made with garbanzo beans, garlic, lemon and olive oil.
Thick and creamy, this hummus had a tangy citrusy flavor with a subtle with a kick of spice.
Falafel:  Lightly fried falafels made with crushed chickpeas and secret blend of herbs and spices, dusted with sesame seeds and served with dill tahini sauce.
One of my favorites, this falafel was light and the addition of the sesame seeds added a bit of flavor and texture, a delightful dish.
Spanakopita:  A Greek spinach pie. Boosted with adding fresh chopped kale and spinach then feta and baked in filo pastry. Served with tzatziki sauce.
Another one of my Greek dishes, a flaky crunchy crust filled with a rich deeply colored filling…perfect for sharing.
Mama-Ghanoosh:  Spicy ratatouille with zucchini, tomato, black olive, garlic, a hint of chardonnay and a dash of heat!
Full disclosure, ratatouille and zucchini are not my favorite foods, but this dish did have a depth of flavor, chunky, smoky, earthy, with a slight spiciness to it.
Beef Kabob:  Cubes of beef. It rests in a saffron lemon marinade and chargrilled.
Well prepared, the beef was cooked perfectly, tender and charred with a definite citrus flavor. Very flavorful!
Gyro:  Succulent, seasoned slices of ground lamb and beef. Served with our tzatziki sauce.
Tender and full of flavor, a perfect combination with the tzatziki…my mouth is watering as I type this description!
Jerk Chicken:  All natural, white meat chicken breast marinated in mango jerk marinade and chargrilled, served with yellow rice and choice of black or red beans.  $15.95
Sweet and tangy, a very generous portion, moist and colorful, easily share for a meal.
Indonesian Pasta Salad:  Very popular with our regulars! Marinated pasta rings are tossed with perky peanut sauce and crowned with crispy sesame all white meat chicken strips and scallions.  $15.95
Thick, creamy, rich with a pronounced spicy kick. Very generous portion, again easily shared by two.
Greek Salad:  Our Signature Salad. We use crisp romaine hearts, tomato, cucumber, garbanzo beans, kalamata olive, pepperoncini, red onion, green pepper, shredded carrot, red cabbage and feta with house basil vinaigrette dressing. Served with your choice of regular or whole wheat pita bread.  $10.95
A large portioned plate of fresh, crisp, colorful greens with the perfect blend of tangy, briny, and spicy accompaniments…everything you want your Greek salad to be!
Baklava:  $4.95/$6.95
Flaky, rich, dense, and sweet… yummy goodness! 
Key Lime Pie:  $5.95
Tangy, creamy and sweet…just as it should be!
Fandango offers an adequate selection of beer, wine, and soft drinks to accompany your meal. The wait staffs are very friendly, efficient, and quite busy but always available when needed.
Fandango Mediterranean Café is well known and loved by its longtime customers. However, it is still a new spot for many. With a menu filled with multi-generational family recipes, a casual, relaxed décor, and "wallet friendly" pricing, it won't be long before there is a new crowd of regular Fandango diners!
SRQ Reviews, the restaurant guide you need to find the best dining in Sarasota, Florida.
Happy Hour: Lunch Time through Early Dinner Time dining: 11:00 AM – 6:00 PM. $1.00 off beer, $3.00 off wine!
1812 S Osprey Avenue Phone (941) 954-5400Sarasota, Florida 34239