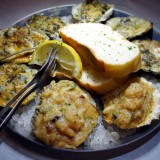 Half Shell Seafood House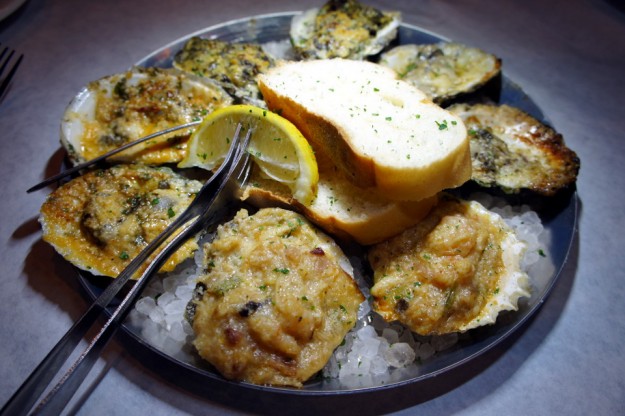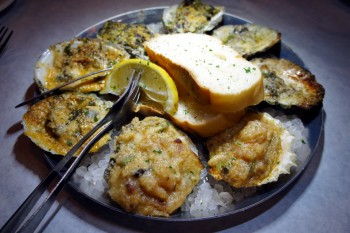 5231 University Pkwy Sarasota, FL 34201
941-952-9400
http://www.halfshellseafoodhouse.com
View Photo Gallery
SRQ Reviews
on December 21, 2012
HALF SHELL SEAFOOD HOUSE HAS RECENTLY CLOSED.
Full service at the Half Shell Seafood House….
In the harried world in which we live, service with a smile is often lacking—and as a result, unexpected.  Since we have grown accustomed to this "new normal," experiencing an unexpected service can make a memorable impression.  Such was the case at the Half Shell Seafood House.  Upon our first visit to the restaurant, the hostess opened the door and warmly welcomed us.  We made a mental note to see if this practice occurred the next time we visited; it did.  Simple, inexpensive, yet very effective in setting a positive impression, this hospitality carried through on multiple occasions with different people.  In other words, it was a consistent experience for us.
Opened just about one year ago, the Half Shell Seafood House of Sarasota is the third Half Shell restaurant and the first non-Mississippi (Biloxi, Gulfport) location.  With a large two-tiered dining room, warm dark wood, large pillars, high ceilings, hanging crystal chandeliers, a cozy bar area and private dining space, the Half Shell has all the trappings of a steakhouse.  Even though the décor is classic and can feel somewhat chain-like, the style and ambiance work very well for a New Orleans seafood experience.
With a name like the Half Shell Seafood House, one would expect the menu to be squarely focused on seafood, and it is.  However, there are a number of options for non-seafood diners as well.
For our meals we chose the following:
Seafood Gumbo:  Shrimp, crab, and crawfish in a dark filé roux topped with white rice.   $4.50 cup, $7.50 bowl
Dark, rich, full of flavor, not too spicy. Sweet bites of New Orleans in a bowl.
Half Shell Salad:  Spring mix, avocado, goat cheese, toasted pine nuts, chives, diced tomatoes, and shredded carrots toasted with signature roasted garlic vinaigrette.   $4.00 side, $7.00 entrée. Add-ons: chicken $3.00, shrimp $4.00, grilled tuna $7.50, oysters $8.00
We chose to add grilled tuna, which was a large, juicy, flaky portion cooked to perfection … just right for the salad.
Oysters on the Half Shell:  Freshly shucked in-house.   $7.00 half, $13.00
Very fresh, sweet and briny, classic presentation. An oyster slurper's delight.
Oyster Combo:  Three of each of the following:   $17.00
Charbroiled oysters – Half Shell's signature oyster, charbroiled over an open flame with our butter and herb sauce.
A mouthwatering grilled and charred flavor, very tasty.
Oysters Bienville – Oysters topped with an herb, mushroom, crab, shrimp and Italian bread crumb mixture, covered with Parmesan cheese and baked.
Rich combination of flavors; cheesy with a silky, creamy taste.
Oysters Rockefeller – Oysters topped with an herb, fresh spinach and cream cheese mixture and then baked.
A classic combination and rendition. Dark-colored presentation that was creamy with a definite herb taste; slightly tangy.
Oysters Orleans – Charbroiled over an open flame with a spicy New Orleans-style buttery BBQ sauce.
Smoky, sweet sauce with a depth of flavor, a definite favorite.
Voodoo Shrimp Po-Boy:  Served on Gambino's French bread with lettuce and tomato. Served with one side.   $10.00
The bread was perfectly charred, crispy on top and soft in the middle. The sweet, spicy sauce delivered a full smoky flavor, and the shrimp were lightly breaded with a nice chewy texture.
Seafood Stuffed Portabella:  Large portabella cap stuffed with lump crab, chipotle peppers and seasonings, grilled and served with lemon aioli. Served with two sides.  $17.00
Three large portabella caps with amazing flavors, so much that I could have been eating a veggie seafood burger. Very filling with plenty to take home.
Cinnamon Roll Bread Pudding:  $5.00
A dark, sexy presentation of Southern comfort food served in a martini glass. Delicious but not over-the-top sweet. Great to share with someone special.
The Half Shell Oyster House offers a full bar service, beer, wine and soft drinks to accompany your meals. Happy hour occurs daily from 3 to 6 p.m. and all day on Sunday, which accompanies the brunch service.
Providing an alternative taste, style, and presentation to the traditional Florida seafood restaurant, the Half Shell is setting itself apart.  As previously mentioned, we found all the staff to be warm, friendly and attentive.  In fact, on one of our visits the waiter overheard our discussion on taking home a doggie bag.  We had a fair amount of food left over, but were going to the movies—therefore the doggie bag dilemma.  What to do?  The waiter offered to store the bag for us while we were at the movies, and all we had to do was remember to pick it up afterwards. Dilemma solved.  Now, that is full service!
SRQ Reviews, the restaurant guide you need to find the best dining in Sarasota, Florida.
5231 University PkwySarasota, FL 34201