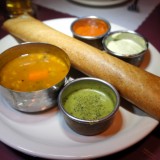 India Palace
SRQ Reviews
on April 24, 2014
INDIA PALACE IS RELOCATING. WILL UPDATE.
India Palace spices up Main Street….
On one of my frequent walks along Main Street, I noticed that Azteca Mexican Restaurant was closed. The Mexican restaurant had relocated to Tuttle Avenue and merged to form Mariscos Azteca Mexican Seafood Restaurant. Upon further investigation, I noticed a small sign in the window announcing the planned opening of a new Indian restaurant. I made a mental note to follow this development, and here's what I found.
India Palace bills itself as "authentic Indian cuisine." While the décor is simple, cozy and very casual; it's bright, clean, and clearly places the focus on the food. The setting is perfect for a quick meal with friends, lunch buffet or even a lingering dinner, sharing multiple dishes. The dining space is small, with tables in close proximity, so at times it might be a tad loud. However, in my opinion, this cozy dining experience is part of the charm.
The Indian Palace menu is extensive, offering soups, salads, chicken, lamb, goat and seafood, along with vegetarian options. Specialties include dosa, Tandoor, and biryani.
For our meals, we had the following:
Dosa:  Lentils and rice crepe served with chutney and sambar.  $6.95

A very interesting presentation: crunchy, with delicious dipping sauces. After we finished the crepe, we kept the sauces for naan dipping.

Naan:  Traditional whole wheat bread baked in tandoor.  $.95

Fresh, hot-from-the-oven basket of bread. Nicely colored.

Paneer Kulcha:  Naan stuffed with Panner and baked in tandoor.  $3.95

Fresh baked, light stuffed with cheese, this naan was a hit. Thin and subtle flavor.

Vegetable Samosa Chaat:  Mixed with Samosa, chickpeas, sweet and hot homemade sauces and served with house spices.  $5.95

An inside out type of presentation, everything was mixed on the plate. Flavorful, with a spicy kick.

Mixed Vegetable Pakora:  Fried fresh-cut vegetables, seasoned with special house spices.  $5.95

Lightly battered flavorful veggies — great with chutney.

Gobi Manchuria:  Cauliflower with house spices, coated with cornstarch and deep fried.  $9.95

We are great fans of cauliflower, and this dish did not disappoint. Spicy and flavorful with a good kick to it!

Butter Chicken:  Tender, boneless pieces of tandoori chicken cooked in fresh tomato sauce with a touch of light cream and seasonings.  $1.95

Delicious. We ordered "mild," and the sauce was silky smooth and flavorful. Real Indian comfort food for me.

Lamb Vindaloo:  Lamb and potatoes, sautéed with a spicy, tangy sauce.  $14.95

If you love the heat of spicy food, this dish is for you. I ordered it medium hot and it was on fire. My mouth is watering recalling the experience as I type this. Delicious, tender, rich and spicy.

Chicken Tikka Masala:  Boneless chicken pre-cooked in Tandoor and house special masala cream with tomato sauce.  $1.95

We had medium spice. A classic rendition. Very flavorful with a nice kick. Creamy, smooth, silky and delicious.

Alu Gobi:  Blend of fresh cauliflower and potatoes sautéed with house spices.  $11.95

Such a wonderful vegetarian combination. This dish is very filling, may also be considered a comfort food; very satisfying.

Lunch Buffet: Every day, all you can eat! $9.95

House Salad:  Iceberg lettuce, cucumber, tomato, onion, carrot, green chili, lime and lemon.

Fresh, colorful, citrusy, cool, and refreshing.

Onion Pakora:  Onion with chickpea flour, house spices and deep fried.

Nicely battered and deep-fried onions. Tender, full of flavor and great with the spicy tomato chutney.

Mixed Tandoor Kebab:  Tandoori chicken, Chicken Tikka, and malai kebab

A nice mix of boneless chicken pieces with mild flavor. A bit on the dry side, but paired well with chutney.

Goat Curry:  Goat prepared with special sauce from fresh onions, tomatoes, garlic and cloves.

The meat is very tender and the sauce is comfort food. Warning: Watch out for little pieces of bone.

Vegetable Mango:  Vegetable curry sautéed with mango sauce and spices.

Zucchini, carrots, cauliflower, peas, lima beans, string beans and peas. Great combination of earthy and sweet flavors.

Dal Makhani:  Mixed lentils, simmered with Indian butter and house spices.

Thick and creamy. A bit earthy — not one of my favorites, but I might try it again.

Aloo Palak:  Spinach and potatoes.

A very rich, dark green dish with tender pieces of potato. Great combination.

Vegetable Biryani:  Aromatic rice, flavored with garden-fresh vegetables and garnished with raisins and cashews.

Sweet and spicy, the cloves added a good amount of flavor and some heat. A fragrant dish.

Gulab Jamun:  Deep fried milk balls in sweet syrup.

A simple, yet rich, syrupy dessert with great flavor and texture. Can you say "delicious?" Bet you cannot eat just one.
The daily lunch buffet offers a nice representation of menu items with selections changing regularly.  In general, we found all the food to be quite good and very enjoyable.  An intangible attribute I would use to describe the food is "homey."  There are definitely layers of familiar flavors, but to me there seems to be a "homey" quality which allows the dish to stand out.
The India Palace offers a small selection of beer, wine and soft drinks to accompany your meal.  As for service, it is a little rough around the edges. Although the wait staff is well intentioned, there are some minor service issues we encountered.  Since the restaurant is new, we do expect the service to improve with time and experience.  So, if you are looking for a culinary adventure, perhaps you should consider India Palace.
SRQ Reviews, the restaurant guide you need to find the best dining in Sarasota, Florida.
What a deal! Every day… Lunch Buffet (11:30-2:30), all you can eat….$9.95! The food on the buffet changes daily. If there is something that you have tried and liked at India Palace and then don't see it on the regular menu, please ask for it. If they have the ingredients, they will cook it up for you!
1551 Main StreetSarasota, FL 34236