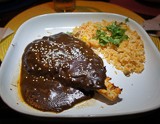 La Malinche Mexican Restaurant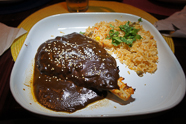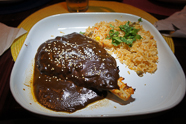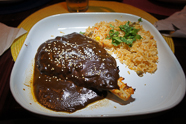 40 Boulevard of the Presidents St. Armands Circle, FL 34236
941-388-4444
https://www.facebook.com/LaMalincheRestaurant?fref=ts
View Photo Gallery
SRQ Reviews
on March 8, 2013
A different type of Mexican restaurant on St Armands Circle….
Although there are a number of restaurants on St. Armands Circle, one does not immediately think of it as a destination for authentic ethnic food.  So,when the Mexican restaurant La Malinche opened, I was a bit skeptical about its boast of authenticity.  It just seemed like Mexican cuisine had been reduced to standard taco and enchilada fare.  Gone were the sauces, seafood and freshness that were staples of traditional Mexican preparation.  We decided to put La Malinche's authenticity to the test.
Just down the street from the hustle and bustle of the circle, one comes upon La Malinche.  Bright colors, warm dark wood, colorful tiles and plenty of outdoor seating make the space cheerful and inviting.  The staff is welcoming and immediately present to take your drink order while you have time to peruse the menu.  Not only does the menu offer the expected Mexican cuisine, there are a number of interesting options that stand out from the rest.
We decided to sample a number of dishes and chose the following:
Enchiladas Mole Poblano:  Four soft, hand-rolled tortillas filled with chicken or cheese, covered with your choice of sauce with fresh cheese on top. Green or red rice.  $16.95
These soft enchiladas were covered in a deeply layered, flavorful sauce. Spicy but not hot. Very satisfying.
Pescado Veracruzano:  Grilled fish, topped with a salsa made with roasted tomatoes, peppers, onions, olives and spices.  $21.95
A very fresh fish fillet buried under lots of sweet onions and peppers, with a briny taste of olives. The red rice had a sweet, smoky flavor.
Mole Negro Oaxaca:  An absolute must-have, this famous Oaxacan black mole is full of flavors that will impress you: chocolate, anise, black peppers and much more exotic spices, served with chicken breast and red rice.  $22.95
Although the presentation was rather stark, the flavor was rich and vibrant.  I loved the deep richness and layered flavor complex in the mole.
Tamales:  Nothing so delicious as traditional Mexican tamales (3), homemade with corn dough and served with a green sauce and refried beans with the chef's touch. Chicken.  $16.95
Although the tamales were tasty, and the refried beans added both flavor and softened the texture, the green sauce was missing from the dish.
Tacos Malinche:  It's impossible not to fall in love with these tacos (4), filled with alambre-style grilled marinated steak, bacon, peppers, onions and Chihuahua cheese topped with cilantro and onions.    $15.95
Even though the tortillas were fresh and the meat tender, well-seasoned and flavorful, we were disappointed with the size of the dish and the bacon was not apparent.
La Malinche offers a full bar service, beer, wine and soft drinks to accompany your meal.  We found the wait staff to be quite friendly, attentive, efficient and fast.  Although we did have some service issues with the food, all seemed to be kitchen and not server-related.
As stated, we did experience some glitches with the food as served.  However, we found the food to be well-prepared and flavorful, albeit inconsistent with the menu descriptions.  That being said, we would not hesitate to go back to La Malinche.  So, if you find yourself on St. Armands looking for something a little different from the ordinary Mexican restaurant, why not give La Malinche a try?
SRQ Reviews, the restaurant guide you need to find the best dining in Sarasota, Florida.
40 Boulevard of the PresidentsSt. Armands Circle, FL 34236