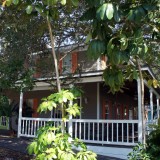 Lavanda Restaurant
SRQ Reviews
on February 3, 2011
Lavanda has closed. A new Italian Seafood Restaurant, Alta Marea, will be opening in March. 
Located just 3 blocks south of Main Street and 1 block west of Rt. 301 is a small downtown historic district. With large oak trees, Old Florida cottages and bungalows, the Towles Court area was originally developed a century ago.  In the mid 1990's the concept of an artists' colony was born, and today The Towles Court Art District operates with an array of shops, studios, and galleries.
Nestled amongst the oaks and galleries is an understated yet elegant European restaurant known as Lavanda. A husband and wife chef/owner team, Lavanda produces fine cuisine with a classic European influence.  Open for lunch and dinner Tuesday thru Saturday, Lavanda offers a range of menu items including, beef, duck, lamb, veal, and seafood.
For our meals we chose the following:
Garden Salad:  Freshed greens tossed with toasted pine nuts and balsamic dressing.  $4 half portion/$8 full portion
Crispy, colorful, fresh: a great way to start a meal.
Asparagus and Feta Cheese:  Steamed and chilled asparagus spears with marinated feta cheese, artichokes and Balsamic vinegar reduction.  $5 half portion/$10 full portion
Colorful, simple presentation, classic blend of fresh asparagus and briny feta, very nice combination.
Duck Breast:  Finished medium, thinly sliced, served with a sour cherry sauce, mashed potatoes and asparagus $20.00
Rich and moist pieces of duck breast, flavorful and complementary sauce with fresh asparagus; delicious
Garlic Salmon:  Roast filet of salmon served with garlic herbs and olive oil  $21
Fresh, colorful, very flavorful, a real pleaser for seafood and garlic lovers.
Lamb:  New Zealand lean leg filet, Mediterranean spice mix, olive oil and pickled lemon. Served with mashed potatoes and broccoli $23.00
Tender lamb, flavorfully spiced, cooked to perfection, rich and satisfying.
Roasted Duck:  Crisp half young duckling with coconut orange sauce served with potatoes and steamed vegetables. $26.00
Crisp skin on the outside, moist tender meat on the inside, wonderfully flavored.
All the entrees were served with grilled vegetables, mashed potatoes, and accompanied with a nice crusty bread service. In addition to the menu, there is an adequate selection of domestic and European wines.
The restaurant setting, the staff, and the food all share an understated elegance. High quality, a charming setting, and friendly service make Lavanda a "go to" place for truly European styled dining.
It has been said The Towles Court Arts District is one of Sarasota's hidden treasures. The same can be said about Lavanda with its charming wrap-around porch, casually elegant interior, and elegantly refined European menu; a tranquil part of downtown worthy of discovery, Towles Court and Lavanda.
SRQ Reviews, the restaurant guide you need to find the best dining in Sarasota, Florida.
On the third Friday of every month, the Art Walk at Towles Court takes place. On those nights, Lavanda offers a slightly different menu. A great way to start or end the walk. Don't forget to make reservations!
1938 Adams LaneSarasota, FL 34236