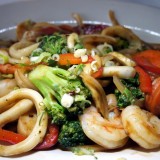 LeAnh's Vietnamese Restaurant
SRQ Reviews
on October 12, 2013
Newly Opened LeAnh's Restaurant:  So much more than pho…..
When I first noticed a sign for a newly opened Vietnamese restaurant on the North Trail, I made a mental note to visit. The former Pizza Hut location is now the new home of LeAnh's Vietnamese Restaurant, which opened early summer of 2013.
When I first arrived, I could not help but notice the décor and atmosphere of LeAnh's was sparse. Minimalist in surroundings, the staff seemed very friendly and invited us in. My immediate thoughts were, "This is going to be really good or a disaster."  I am happy to report the experience was really very good.
The menu at LeAnh's is loaded with an extensive range of authentic Vietnamese dishes. With more than 100 traditional dishes from which to choose, the selection process can be daunting, especially for those unaccustomed to Vietnamese cuisine. With meat, vegetarian, rice, noodle and soup options, one can begin to navigate the menu. But, there is no need to struggle; the staff can guide you through the selection process just by asking a few questions.
For our meals, we chose the following:
Chi Gio:  Fried egg rolls.  $3.50
Two crunchy thin rolls with a slightly salty fish sauce.
Fresh Rolls:  Rice paper wrapped with shrimp, pork, lettuce, rice vermicelli, mint leaves and side of peanut sauce.  $3.50
One of our faves — fresh, colorful and full of flavor, with a very nice peanut sauce.
Goi Du Du Tom:  Shrimp with papaya salad, topped with peanuts.  $8.95
A fresh, crunchy salad  full of flavors, colors and textures — very refreshing.
Pho Chicken Soup:  Chicken rice noodle soup.  $7.95
A Vietnamese classic: Rich, soothing broth, noodles served with beansprouts, fresh basil, lime and jalapeno pepper, which allows you to adjust the spice as you prefer.
Gio Xao Hanh Gong:  Chicken, stir fried with ginger and scallion.  $9.95
A ginger-lover's delight — slightly spicy, full of ginger flavor. Large portion can easily be shared.
Goi Ga:  Chicken with cabbage salad, topped with peanuts.  $8.95
Big portion is a meal unto itself.  Crunchy, with a nice mix of flavors, a little bit of tang. Refreshing.
Banh Hoi Ga Nuong:  Grilled chicken on thin rice stick bunches.  $8.95
A very flavorful, interesting dish. Nice mild flavor with a crunch from the rice bunch.
Hu Tieu Hoac Mi Xao:  Rice or egg noodle stir fry, with combination of shrimp, squid pork, chicken and vegetables.  $10.50 (We chose rice.)
A great combination of seafood, flavors, colors and textures.
With the exception of the egg and fresh rolls, all of the portions are large and can be easily shared by two people. The wait staff is very friendly, knowledgeable and helpful in explaining or recommending specific dishes. There is a limited, but adequate, selection of beer, wine, and soft drinks to accompany your meal.
The old adage "Never judge a book by its cover" certainly applies here.  While the décor at LeAnh's may be minimalist, the food is definitely not. If décor and ambiance are important factors to your dining experience, this is not the place for you. However, if authentic, home-styled, Vietnamese cuisine wakes up your taste buds, then LeAnh's is a place you need to try.
SRQ Reviews, the restaurant guide you need to find the best dining in Sarasota, Florida.
2901 North Tamiami TrailSarasota, FL 34234