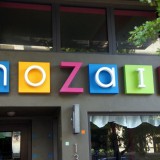 MoZaic
SRQ Reviews
on April 21, 2013
Up and coming Mediterranean inspired cuisine on Main Street!
A relatively new up and coming restaurant on the Sarasota dining scene is MoZaic.  Located on Main near Five Points, MoZaic has a subtle presence and sophistication which is readily apparent from the menu posted outside, the restaurant's signage, and the small footprint of the entrance.  In fact, if you were not looking for the restaurant, you could easily pass it by.
One step inside and we immediately noticed the warm cozy space of the dining area, the soothing green, orange and red tones of the walls, and the colorful artwork adorning such.  We were promptly escorted to our table and warmly greeted by the staff.  Since we studied the menu beforehand, we had a sense of the gastronomic adventure that was about to unfold.
Our meals consisted of the following:
Chilled Coconut Pear Soup:  vanilla and lime flavored with blood orange sorbet, compliments of the chef
Arugula Salad:  baby arugula and preserved lemon vinaigrette with lavender honey goat cheese, pine nuts and asparagus  $10
Duck Truffled Mousse and Grilled Merguez Sausage:  with herb goat cheese and crostinis  $9.00
Trio of Lamb Chops, Sliced Duck Breast, and Blue Crab Flan:  with savoyarde gratin potatoes  $32
Simply stated, the food is amaZing!  Holding true to the restaurant's name, Chef Dylan Elhajoui has done a masterful job of creating a mosaic of traditional Mediterranean spices and preparation with the creative ingredients of new American cuisine.  The result is an elegant, flavorful, and awe inspiring menu which provides a gastronomic treat for the serious or not so serious foodie.
The restaurant offers an extensive wine list to complement the menu with selections from around the world.  We chose the Kaiken Ultra Malbec (Argentina) for our meal.
It has often been said the best advertising for a restaurant is the quality of its food.  Either consciously or sub-consciously the team at MoZaic seems to be following that principle.  So, if you are looking for that special place to try, or you have a serious foodie to impress, make your reservation at MoZaic. You will be a hero!
SRQ Reviews, the restaurant guide you need to find the best dining in Sarasota, Florida.
MoZaic uses the OpenTable online reservation system.
1377 Main StreetSarasota, FL 34236