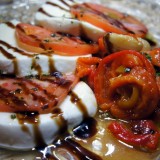 Mozzarella Fella at Night
SRQ Reviews
on November 21, 2014
Mozzarella Fella: Sarasota's superb sandwich shop now serving dinner…
The lunchtime experience in downtown Sarasota changed a number of years ago with the addition of Mozzarella Fella into our local dining scene. Creating New York style Italian specialty sandwiches using locally sourced ingredients became the new standard for lunchtime dining downtown.
It was with heightened interest when we heard through the grapevine; "The Fella" was planning to serve a limited dinner menu Wednesdays through Saturdays to complement its comprehensive sandwich menu. In addition to the regular menu, there were going to be a few special entrees and a pasta dish to round out the dinner offerings. But could a successful sandwich shop make the leap and provide a quality dinner experience?
Born into a New York Italian family, Michael Calore ("The Fella") was introduced to homemade Italian cooking at a young age. Large family dinners every Sunday at his grandmother's home sowed the seeds for a culinary career, and that lasting impression became the foundation for his eatery. Michael Calore is no novice in the kitchen. In 2002, he started Es-Ca, a Staten Island casual Italian dining spot, and he served as a chef/owner for almost 10 years.
Even though the atmosphere and the menu at Mozzarella Fella are very casual, the preparation of the food and the flavors are big, authentic, high quality and very satisfying. "Homemade from scratch," "fresh ingredients," "authentically Italian," and "old-world style," are just a few of the adjectives used to describe the food and experience at Mozzarella Fella. 
For our dinners we chose the following:
House Salad:  Fresh mozzarella, mixed greens, grape tomatoes, kalamata olives, red onion and homemade Italian dressing.  $6 

A simple, fresh way to start a meal. Colorful with a great mix of flavors.

Fennel salad:  $4 (small size)

One of the most refreshing salads around — the perfect way to begin your meal.

Fresh Mozz Salad:  Fresh mozzarella, tomato and roasted peppers.  $7.50 

Softly roasted, slightly firm, tasty red peppers and, of course, the most amazingly fresh mozzarella.

Mushroom Appetizer:  Assorted Wild Mushrooms in Puff Pastry.  $9 

Full disclosure: I'm a mushroom-lover, and this appetizer truly delivered. Subtle, earthy flavors mixed well with the texture of the puff pastry. A generously sized portion that can be shared.

Zuppa di Mussels:  Mussels served in a tomato broth.  $12.50

Fresh mussels in a perfectly spiced tomato broth. Not too rich, with a slight kick as an aftertaste. Very nice and easily shared.

Pasta Special:  Rigatoni with prosciutto, mushrooms, baby arugula, fresh mozzarella, sweet onions, garlic and olive oil.  $14 

Another generously sized dish. Rich, colorful, slightly salty and very satisfying.

Short Ribs:  Boneless braised short ribs served with mashed potatoes and string beans.  $20 

No knife necessary! The meat was so tender you can literally cut it with your fork. Real mashed potatoes, string beans cooked al dente with a bit of crunch, just the way I like them. Definitely comfort food. Tastes just like home, but even better.

Chicken Rollatine:  Rolled chicken in a Marsala wine sauce served with mashed potatoes.  $16.50 

A very nice presentation of rolled chicken, layers of flavor. A great comfort food dish.
In addition to the above, the Mozzarella Fella serves Italian desserts, coffee, cappuccino, soft drinks, beer and wine (which are served in a signature 5 oz. glass). The service is fast, efficient and very friendly.
Have you ever wondered where you can get a high-quality, casual meal at a reasonable price in downtown Sarasota? Well, now you know the answer: the Mozzarella Fella for lunch and now dinner.
SRQ Reviews, the restaurant guide you need to find the best dining in Sarasota, Florida.
Before ordering your meal, remember to check out their take-out case…lots of delicious choices to add to your dinner!
1668 Main StreetSarasota, FL 34236