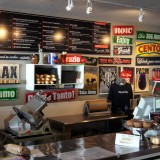 Mozzarella Fella
SRQ Reviews
on July 10, 2012
There is a New Fella on Main Street, The Mozzarella Fella!

The name is bold and extrudes a New York sense of confidence.  Does the quality of the new fella's food support the brashy moniker?  Without a doubt!  Meet the new fella on Main Street.  Part deli, part grocer, part caterer, part restaurant, and completely Italian.  The new Mozzarella Fella is creating New York styled Italian specialties using locally sourced ingredients; the best of two locales!
Born into a New York Italian family, Michael Calore was introduced to homemade Italian cooking at a young age.  Large family dinners every Sunday at his grandmother's home sowed the seeds for a culinary career; that lasting impression became the foundation for his eatery.  Homemade from scratch, fresh ingredients, authentically Italian, and old world style, are just a few of the adjectives used to describe the food and experience at Mozzarella Fella.
Although, the Mozzarella Fella may be new to Sarasota, Michael Calore is no novice in the kitchen.  In 2002, he started Es-Ca, a Staten Island casual Italian dining spot and served as a chef/owner for almost 10 years.  After frequent visits to Sarasota, he and his wife decided to relocate to Sarasota and the seeds of yet another culinary venture were germinated.
Even though the atmosphere and the menu at Mozzarella Fella are very casual, the preparation of the food and the flavors are big, authentic, high quality, and very satisfying.
For our meals we chose the following:
Baby Arugula Salad:  Artichoke hearts, oven dried tomatoes and grilled shitake mushrooms in a lemon-lime vinaigrette.  $8.00  Add grilled chicken $3.00
Good sized lunch portion, flavors work well together, the chicken was a tad too salty for my taste.
House Salad:  Fresh mozzarella, mixed greens, grape tomatoes, Kalamata olives, red onion, homemade Italian dressing.  $8.00
Very fresh, colorful, and full of flavor.
Fresh Mozzarella Salad: Tomatoes, mozzarella, basil, garlic.  $8.00
Fresh, fresh, fresh, need we say more?
Fresh Mozzarella Sandwich:  Tomato, baby arugula, basil oil.  $8.00
Delicious!  Outstanding!  Love!  Even the bread is toasted perfectly.
Chicken Parmigiana Sandwich:  Lightly breaded chicken cutlets, tomato sauce, and melted mozzarella. $9.50
The bread was toasted to perfection and filled with a moist, tender and very flavorful "chicken parm," one of the best around.
Buffalo Calamari Sandwich:  Special of the day.  $13.50
Tender, chewy, a tad spicy but not overdone. Delicious.
Eggplant Rollatine:  Thin slices of eggplant lightly breaded and fried,  filled with cheese.  $3.00
Tender, sweet, and full of flavor.
Rigatoni Prosciutto:  With arugula.  $9.00
Well prepared pasta, sprinkled with flavorful prosciutto bits and sprinkle with arugula.
Broccoli Rabe: With sundried tomatoes.  $5.00
One of our favorite vegetables, well-seasoned and prepared.
In addition to the above, the Mozzarella Fella serves Italian desserts, coffee, cappuccino, soft drinks, beer and wine (which is served in a signature 5 oz. glass).  The service is fast, efficient, and very friendly.  One of the unique characteristics of Mozzarella Fella is the daily, on premises, fresh made mozzarella.  Usually prepared mid-mornings; the fresh, warm, gooey texture is definitely something you need to experience.  We did, and it was awesome!
Offering a wide menu of freshly prepared Italian specialties for "eat in" or "to go", the Mozzarella Fella has something for everyone.  So, if you have a hankering for real "New York styled" Italian food, the kind your grandmother used to make, then Mozzarella Fella should be a "must try" for you.
SRQ Reviews, the restaurant guide you need to find the best dining in Sarasota, Florida.
Check out their case of daily "specials"…bring some home for dinner, or, better yet, order for a dinner party. Everyone will think you slaved over the stove all day!
1668 Main StreetSarasota, FL 34236