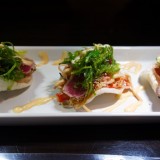 Painter's Palate
SRQ Reviews
on December 23, 2014
UNFORTUNATELY PAINTER'S PALATE HAS CLOSED. THE OWNER/CHEF IS NOW AT DRUNKEN POET.
Painter's Palate: Creative cuisine in Sarasota's new ethnic culinary corridor…
A mini ethnic-cuisine corridor is currently evolving on the North Trail, offering a variety of options for diners looking for an out-of-the-ordinary meal. Although the area is modest in size, the offerings include Chinese, Thai, Vietnamese and Ethiopian food. One of the newer restaurants in the area is Painter's Palate. The promise of an Asian-fusion dining experience piqued our interests.
Occupying the former space of Bella Nonna's Bistro, the décor at Painter's Palate is simple, comfortable and very casual. There are a few small tables, some cozy booths and some outdoor patio seating. Painter's Palate serves lunch and dinner. The menus are small, but they offer a number of interesting selections for both lunch and dinner.
For our meals we chose the following:
Cucumber Salad:  Thin-sliced cucumber, roasted rice, tomato and lime-chili dressing.  $8

Refreshing flavors and crunchy with thinly sliced cucumbers, which look like spaghetti. Very creative.

Thaicos:  Tuna tataki, seaweed salad, crab sticks and tataki dressing on prawn crackers.  $12

A beautiful presentation with an explosion of flavors in every bite. A surprising crunch from the sesame on tuna and crackers. The dressing (served on the side) does add an Asian smokiness, but it's not really needed, because the dish can stand on its own with flavor.

Thaidog:  Tempura-minced pork and shrimp, kaffir lime leaves, cream cheese and fresh herbs dressing.  $9 

Good crunch. The kaffir lime is deliciously prominent. The cream cheese a perfect accompaniment.

Sriracha Shrimp:  Shrimp tempura and sweet chili mayo.  $9 

Fresh — the shrimp was moist, offering an outside crunch that popped in your mouth. Nice presentation.

Siam Tartine:  Open-face homemade bread, chicken satay, mushrooms, curry dressing and cheese. Served with pomme frites or salad.  $9

A very filling open-face sandwich with mild curry flavored bits of chicken, served on a bamboo plate and accompanied by a side salad, which was a tad heavy on the onions.

Shrimp Curry:  Shrimp red curry, coconut milk and bamboo shoots served with Thai jasmine rice.  $16 

A creamy, sweet coconut-based broth with just a little bit of spice. If desired, more spice is available with peppers served on the side. Fresh shrimp and bamboo provide a great mix of textures.

Duck Curry Pizza:  Tomato sauce, curry, duck, onions, bell pepper and cheese.  $16 

An amazing fusion of flavors — very Italian-looking on the outside with a nice crispy thin crust, a firm, toothy bite, and steamy aromas of curry. A wonderful fusion of subtle Asian flavors wrapped in red sauce and cheese. Very unique.

Mahi-Mahi:  Sautéed mahi-mahi, asparagus and homemade mashed potatoes and mango sauce.  $18 

The mahi-mahi was fresh, crunchy on the outside and moist inside. The texture was more of a pan-sear rather than sauté, but still very good.
All of the items we tried were artfully prepared and presented with special attention and focus on the fusion of flavors, the combined colors of the ingredients and actual presentation on the plate. The friendly wait staff offered menu suggestions and was willing to explain the various dishes. There's a small selection of beer, wine and soft drinks to accompany your meal, even a local on-draft craft beer offering from Darwin Brewing Company.
If you're looking for a culinary adventure or like to try different types of cuisine, Painter's Palate might just be a new place for you to explore: it's simple, casual, creative Asian fusion located in Sarasota's new "ethnic cuisine corridor."
SRQ Reviews, the restaurant guide you need to find the best dining in Sarasota, Florida.
2801 North Tamiami TrailSarasota, FL 34234