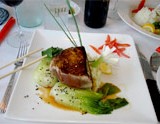 Pattigeorge's Restaurant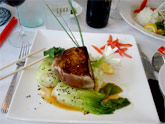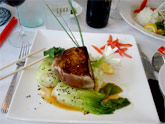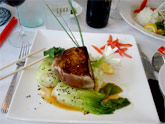 4120 Gulf of Mexico Drive Longboat Key, FL 34228
941-383-5111
http://www.pattigeorges.com
View Photo Gallery
SRQ Reviews
on December 19, 2009
PATTIGEORGE'S HAS CLOSED.  New restaurant, new owners will be coming soon.
Dinner with a sweeping view of Sarasota Bay!
Whether you arrive by car or by boat for that matter, a meal at Pattigeorge's is memorable. A casually elegant, glass walled dining room situated dockside on Sarasota Bay, most tables have an unobstructed view of the water. However, if you prefer to dine outside, please be aware there is no water view dining option.
With its coastal locale, it is only natural to see this manifested in the cuisine.  Tommy Klauber, PG's Chef/Proprietor offers an eclectic creative collection of coastal dishes with perhaps a slight tilt towards the Asian inspired.  With an extensive array of soups, salads, small plates, pizzas, pastas, stir fry's, meat, and of course, seafood, making a single choice from the menu is not easy.
Our meals consisted of the following:
Tommy K's Minced Chicken & Lettuce Cups  $8.50
A very refreshing mix of subtly spiced chicken and cool crisp lettuce.
Shanghai Chili Chicken Salad:  romaine, crispy wontons, julienne tomatoes and peanut dressing  $7.75
Crisp, strong, and very flavorful.
Panko Crusted Longboat Roll:  shrimp & daikon wrapped in sushi rice and nori with ponzu dipping sauce $9.25
Crunchy with a slight hint of spice…very nice.
Pan Seared Native Snapper:  a filet of snapper served over an arugula and warm red and yellow tomato salad  $29.75
A great combination of fresh fish and salad, nice textures, colors, and flavors.
Miso Galzed Chilean Sea Bass:  lobster consomme, fresh fennel and carrots  $35.25
Pattigeorge's signature dish, subtle flavors, rich, delicous.

There is a full bar and an ample list of beer and wine from which to choose. We chose the Brampton Sauvignon Blanc from South Africa  to accompany our meal.
If you find yourself longing for waterfront dining and want a sophisticated menu from which to choose might we suggest Pattigeorge's?  Coastal cuisine with an awesome view!
SRQ Reviews, the restaurant guide you need to find the best dining and new restaurants in Sarasota, Florida.
BYOB: Bring Your Own Boat: on Mondays and get a complimentary bottle of house wine with a purchase of an entree.
4120 Gulf of Mexico DriveLongboat Key, FL 34228