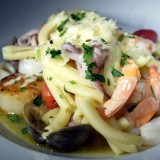 Pomona Bistro & Wine Bar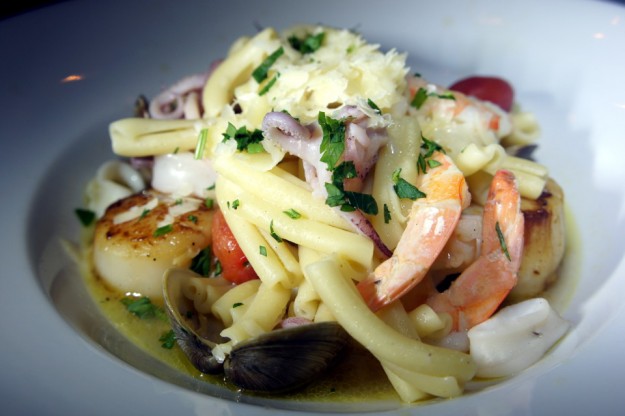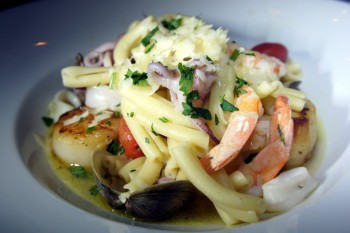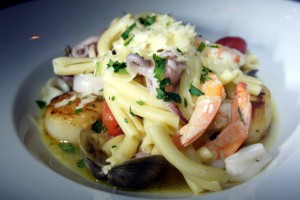 481 North Orange Avenue Sarasota, FL 34236
941-706-1677
http://www.pomonabistroandwine.com
View Photo Gallery
SRQ Reviews
on January 19, 2011
POMONA HAS BEEN SOLD. WILL RE-OPEN SOON.
New Place, New Concept, Longtime Culinary Team
For over a decade, longtime Sarasota chef/owners Ryan Boeve and Arthur Lopes (Zoria, Main Street Oyster Bar) were an integral part of the Sarasota dining community.  After a brief hiatus, both are back opening a new restaurant, Pomona which is located at 481 North Orange Avenue in Citrus Square.
Although the Citrus Square building is new, there is a certain old world charm and character which is the perfect setting for an upscale wine bar and bistro.  Warm colored walls with framed mirrors, high ceilings, dark wood, framed doors and large windows, white and black table linens, colorful orchids, and an outdoor courtyard with tremendous potential, Pomona creates an intimate dining environment.
Providing a balance between meat and seafood, the menu offers a reasonable selection of small plates, salads, main dishes, and desserts including a nice selection of cheese.  As one would expect, there is a range of wines to complement the food.
For our meals we chose the following:
Bistro Salad:  Mixed greens, house vinaigrette  $7.00
Fresh, crisp greens, lightly dressed, refreshing.
Duck Confit Salad:  Crispy duck confit, frisee, quail eggs, mustard vinaigrette  $17.00
Simply amazing, the duck was moist, crispy, cooked to perfection fall off the bone delicious.
Roasted Fingerling Potatoes:  Cooked in Duck Fat, Garlic, Parsley.  $7.00
"Cooked in duck fat", does it get any more delicious than that???!!!
Roasted Beet Salad:  Oranges, Basil, Olive Oil, Balsamic, Goat Cheese, Mixed Greens.  $9.00
Everything was fresh and tasty however, the portion was on the small side.
PEI Mussels:  Mustard, roasted garlic, saffron, white wine.  $14
Sweet and fresh mussels in deliciously rich broth, perfect for bread dipping.
Black Garlic Miso Soup:  With duck confit.  (Special)  $9
Amazing. Very flavorful with wonderful textures.
Flounder with Shrimp Spread:  Sauteed Rock Shrimp, 'Vin de Savoie' Wine Sauce.  $26.00
Very fresh, sweet fish, the wine sauce added a subtle flavor.
Naked Bird Roast Chicken Breast:  Rosemary, Garlic, Lemon, Olive Oil.  $24.00
Basic, moist, and flavorful.
Branzino:  Stuffed with mushrooms, greens, garlic, arugula, olive oil, lemon.  $35
Fresh, sweet, subtle flavors blended together to perfectly compliment each other.
Broken Arrow Ranch, Sous Vide Antelope:  Sherry-date sauce, local vegetables.  $36
Lean, tender, mild, with a subtly sweet sauce.  Beautiful presentation.
Sea Scallops:  With butternut squash ravioli, browned sage butter  $26
Large, caramelized, sweet scallops with sweet squash ravioli, lick the plate good.
Duck Breast:  Risotto of duck confit, asparagus, Parmesan cheese, duck jus.  $33
Nicely presented, rich, tender, with an earthy stock/sauce.
Veal Stew:  "En croute pain"  $28.00
A savory crust, warm rich stock full of pieces of veal and diced vegetables, perfect for a cool night dinner.
Maple and Mascarpone Cheesecake:  $9.60
Rich, but light in texture, sweet and indulgent, the perfect punctuation to a great meal.
Napoleon of Fresh Berries:  $9.60
A crisp wafer with layered berries, light and fresh, another perfect way to end a meal.
Chocolate Souffle:  $15
Not too sweet, not too rich… deliciously just right!
The wait staff was friendly, professional, attentive and personable which makes a pleasant meal even better.
In Roman mythology, Pomona was the goddess of plenty, particularly referring to the abundance of fruit.  Aptly named, Pomona offers an abundance of choice for its diners and should bear fruit for chef/owners Boeve and Lopes.
Check out this short video of the to-die-for Chocolate Souffle!
SRQ Reviews, the restaurant guide you need to find the best dining in Sarasota, Florida.
481 North Orange AvenueSarasota, FL 34236