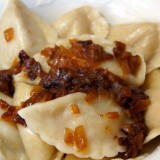 Russian House
SRQ Reviews
on November 2, 2014
The Russian House is CLOSED.

When we first learned of The Russian House's planned opening this spring, we were intrigued by the prospective concept. Having family roots from Eastern Europe, we always enjoyed "old world" ethnic food. However, the concept of fast casual dining in the U.S. usually involves familiar food with a broad, popular appeal. Could a truly ethnic cuisine prevail in the fast-casual-dining space?
Although the owners and operators of The Russian House describe their restaurant as fast casual dining, it really is much more than a traditional fast-casual experience. Located in a small strip mall on the South Trail, the restaurant is very casual in its outward appearance. Upon entry, there is a large overhead menu with pictures and food descriptions and a counter where you place your order. The dining area is not too large, with high ceilings, draped fabric to dampen sound, nice lighting and beautifully painted deep blue colored walls. The tables and chairs are simple and casual, complementing the eco-friendly disposable plates and utensils.
The menu is truly ethnic, offering an array of items, including soups, salads, dumplings, stuffed breads and daily specials. For our meals, we chose the following:
Pelmeni:  Beef-filled dumplings.  Regular (20) $6.99, Large (30) $8.99 

Subtle flavors and dill. We dipped them in a hot sauce — great kick! If you have any left over, bring them home and warm them up on a skillet. Yummy!

Vareniki:  Also known as pierogi. Large crescent-shaped dumplings stuffed with potatoes, cottage cheese or fruit filling.  Regular (10) $5.99, Large (15) $7.99 Add caramelized onions on top $0.75 

We had the potato-and-onion-stuffed pierogi with caramelized onions. Tender, sweet, buttery flavor; savory and filling. The caramelized onions were a great addition to an excellent dumpling.

Piroshki:  Russian-style pocket sandwiches. A yeast-dough bun stuffed with savory or sweet filling and deep fried.  $2.99

We had three different piroshkies: potatoes and meat, cabbage and carrots and meat and mushrooms. All were soft and tender bread, almost "knish-like" and warm. The meat-filled piroshky were hearty, and the vegetables were both savory and sweet. This was our first time trying this type of stuffed sandwich, and it was delicious! My mouth is watering as I type this and remember the tastes and texture.

Borsch:  Beef stock with potatoes, cabbage, beets, carrots and onions.  Bowl $4.49 

This borsch is an entirely different version from the cold beet soup we know. The soup is served hot, and it's beef based and very hearty. The perfect choice for a cold winter's day.

Olivie Salad:  Traditional Russian salad. Its a loaded potato salad filled with meat, eggs and vegetables and dressed with mayonnaise.  Cup $2.99, Bowl $4.99 

A very flavorful, fabulous potato salad. All of the ingredients combine to make a stomach-filling mélange of textures, colors and flavors.

Green Salad:  A simple cabbage, cucumber and green onion salad.  Cup $1.99, Bowl $2.99 

Think cole slaw with the addition of cucumber. Cool, refreshing and fresh with a nice little crunch. A great side salad.

Beef Stroganoff:  Mushrooms, beef, and cream served over noodles. $9.99 

Tender bits of beef with a light, subtly flavored cream sauce' dare I say light for a Stroganoff? Perfect for a hearty lunch that won't leave you lethargic for the afternoon.

Oreshki:  Walnut-shaped cookies with Dulce de Leche filling.  Six for $4.99 

A wonderfully artistic presentation — both cookie and filling were quite tasty. Perfect for sharing.

Napoleon Cake:  Fluffy layers with custard filling.  $3.99 

Surprisingly light and airy — creamy and deliciously filling.
The Russian House offers an adequate selection of beer, wine and soft drinks to accompany your meal. Without exception, all the food we tasted was very well prepared, authentic, made on premises and very reasonably priced. The counter staff is friendly, knowledgeable and more than willing to explain the food and offer ordering assistance.
Deciding to try a new restaurant at times can be challenging. This is especially true when the food might be ethnic and perhaps unfamiliar. However, dining at the Russian House is an experience everyone should try. I'm certain you'll return.
SRQ Reviews, the restaurant guide you need to find the best dining in Sarasota, Florida.
6115 S Tamiami TrailSarasota, FL 34231