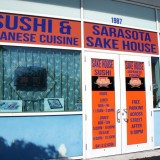 Sake House
SRQ Reviews
on July 2, 2011
SAKE HOUSE IS CLOSED.
A Quiet Little Japanese Restaurant Just Off of Main Street
Although the location of Sarasota's Sake House may not be ideal, the clean bright airy décor coupled with the quality food make the visit one worth taking.  Located on Ringling Boulevard near the intersection of S. Washington Blvd., on street parking is limited, however free garage parking is available in the building.  A simple sign and glass front on the outside, the Sake House sports a bright colorful and airy interior which leaves one with a sense of simplicity and cleanliness; two complementary attributes for a Japanese restaurant.
The menu is one you would expect, consisting of soups, appetizers, noodle dishes, stir-fry, sushi and sashimi. For our meals we chose the following:
Bento Box:  Served with miso soup, fried rice, gyoza, 4 pieces of California roll and steamed shrimp shumai and your choice of chicken, shrimp or vegetable tempura or shrimp, beef or chicken teriyaki stir-fried with fresh vegetables.  $9.50
We love small tasting plates, this is the Japanese version.  Everything was fresh and tasty.  A very nice presentation.
Sushi Lunch:  Chef's choice of 6 pieces of sushi and 4 pieces of California roll  $8.95
Fresh, fresh, fresh…need we say more?
Yaki Soba:  Japanese egg noodle stir fried with vegetables and your choice of chicken  $7.95, shrimp $8.95 or beef $8.95  Served with miso soup.
Tender pieces of chicken mixed with noodles, slightly spicy, a good sized portion.
Sashimi Lunch:  Chef's choice of 6 pieces of sliced fish and 4 pieces of California roll. $9.25
Once again, fresh fish nicely presented.
The Sake House offers an adequate selection of beer, wine, soft drinks, and of course. sake, to accompany your meal.  The wait staff is very friendly, attentive, quick and efficient.  Given the size of the portions served and the prices charged, we found the Sake House to be a very reasonably priced Japanese restaurant.  Perhaps another counter balance to the location?
Looking for a terrific spot for lunch, perhaps something off the beaten path, then consider Sarasota's Sake House. I think you will be pleased you did.
SRQ Reviews, the restaurant guide you need to find the best dining in Sarasota, Florida.
1987 Ringling BlvdSarasota, FL 34236