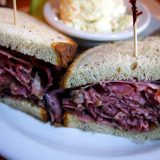 Sol's NYC Delicatessen
SRQ Reviews
on December 3, 2016
SOL'S IS CLOSED.
Is it a deli? Or is it a NYC styled diner? In my opinion, Sol's is both!
After a start, stop, and start again beginning, Sol's NYC Delicatessen is off and running!  Located in the Starlite Room. Although Sol's bills itself as a true NYC styled delicatessen, my impression is somewhat different. Yes, Sol's offers bagels, smoked fish, corned beef, pastrami, and a range of other expected deli items. I just did not feel the NYC deli vibe. Whether it was the size of the space, the lack of take-out section, the presence of a large bar area, or the overall ambience; I was just not getting the deli experience. As I continued to think about this disconnect it finally hit me! Sol's is actually a hybrid NYC dining experience borrowing the best from the NYC deli and the NYC diner experiences, and combining it into one venue. More than a deli, with sit down service, full liquor service, a large menu, and all the comfort food you can eat, Sol's offers a uniquely, satisfying NYC styled experience.
The menu is large, the portions huge, and the food very satisfying. Making a singular selection may prove to be a challenge. For our meals we chose the following:
House Salad:  Mixed greens, tomatoes, onions, carrots and sliced cucumbers.  $7
A simple salad full of fresh, crisp ingredients. A good beginning to a meal.
*Sol's Chopped Liver:  Made the old fashioned way with schmaltz, sauteed onion, and hard boiled eggs.  $12
A rich, thick, meaty, earthy, generous portion. Very filling and easily shared with a group. Did I mention rich?
Knish Dog with Deli Mustard:  Kosher frank wrapped in Sol's famous potato mix and baked golden brown.  $5
Fat juicy hot dog wrapped in Puff pastry. The perfect appetizer to have with a drink.
Lox and Latkes:  Sol's potato latkes with a touch of Nova Scotia lox, served with a side of sour cream.  $5
Love Sol's latkes, with lox wrapped around cream cheese. Mmmm good!
Guiltless Tuna Lettuce Wraps:  Classic Deli style tuna salad, made fresh in house, served with crisp leaf lettuce.  $5
The perfect little starter for health/calorie conscious consumption.
Meaty Cheesy Deli Fries:  Crispy French fries topped with shredded Deli meats and melted cheese.  $5
This is an OMG delicious, decadent, and very satisfying appetizer. It might not be the healthiest dish, but so good! Your favorite comfort foods! Perfect for the occasional indulgence.
Chef Salad:  Chopped or Not: Mixed local greens, turkey, roast beef, salami, hard boiled eggs, tomatoes, red onion, shredded carrots and Swiss cheese.  $13
I chose the chopped…why not have someone else do the work? A generous portion, very well mixed, fresh and colorful, almost every forkful had something different, it was all delicious!
*New York Navel Pastrami:  Lightly smoked, seasoned, and steamed to perfection.  $14
A melt in your mouth experience…full of flavor, not too fatty, just the way we like it!
*Potato Latkas (3 Latkas):  Grated potatoes made NYC style with applesauce and sour cream.  $5
Very light, sweet, and fluffy, perfectly prepared with just the correct amount of crunch on the edges. Reminds me of home.
Stuffed Cabbage:  Served with Sol's sweet tomato broth with raisins.  $15
This is a tough dish to judge because every family has its own recipe and the variances are many. Sol puts an interesting twist on his version. Amply stuffed with sweet sour sauce, mild, the raisins add a sweetness to the sauce. One of my faves.
Pan Fried or Steamed Pierogis:  Homemade worth Sol's grilled onions and sour cream.  $8
Tender, nicely stuffed. The grilled onions are the perfect complement. True comfort food.
Marinated Twin Chicken Breast:  $16 (All entrees come with house veggies, with a pickle and choice of a side.)
A very generous portion. It was a tad salty for me, but very moist and satisfying.
Angus Chopped Steak:  Topped with sautéed onions and mushrooms with brown gravy.  $16 (All entrees come with house veggies, with a pickle and choice of a side.)
Comfort food at its finest. This is the food from our childhood. Tender, cooked to temperature. Rich, deep brown gravy. Yum!
*Sol's NYC Cheesecake:  Award winning.  $7
An absolute must have dish. To begin with….smells so good, then, to eat it! So rich, so wonderful, not too dense, creamy rich, fantastic crust which is crunchy sweet. The truest rendition of a NYC cheesecake outside of NYC!
Apple Strudel:  Homemade with vanilla ice cream.  $8
Another must have dessert from Sol…filled with nuts and raisins. Great whipped cream.
As mentioned earlier, Sol's offers a full bar service, beer, wine, and assorted soft drinks to accompany your meal. The wait staffs are super friendly, fast, efficient, and very well in tune with offering boxes to go because the portions are huge.
Sol's is open Tuesday through Saturday for lunch and Sunday for brunch.
SRQ Reviews, the restaurant guide you need to find the best dining in Sarasota, Florida.
1001 Coconut AvenueSarasota, Florida