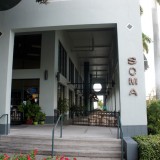 SOMA Creekside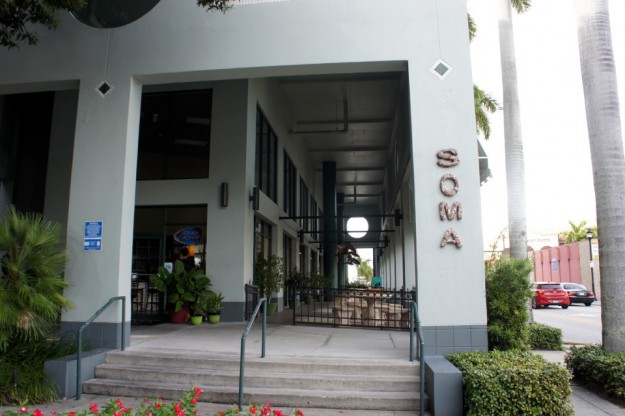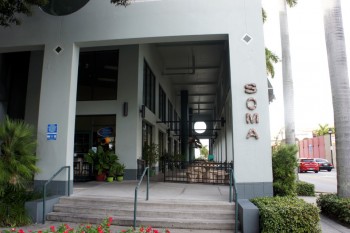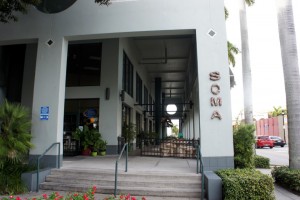 1401 Manatee Avenue West Bradenton, FL 34205
941-567-4001
http://somacreekside.com
View Photo Gallery
SRQ Reviews
on January 22, 2016
SOMA HAS CLOSED. 
Locally inspired innovative cuisine…

Located in the Bradenton Financial Center at 1401 West Manatee Avenue, Soma is Chef/Owner Dave Shiplett's latest culinary evolution. A Bradenton native, Chef Dave Shiplett graduated from the San Francisco California Culinary Academy in 1985. His training and experiences in California, coupled with his hometown roots from southwest Florida, form the basis of his culinary creative concept. Simply summarized, Chef Shiplett is providing a fine dining experience, in a relaxed unassuming setting, and showcasing familiar foods with interesting ingredient twists. The results are outstanding.
Soma Creek Side is located on the ground floor of the Bradenton Financial Center. Subtle in presence, the décor is unassuming, tasteful, and casually elegant. In addition to the main dining room, there is a small bar area and outdoor seating also available. Parking is easy, with an adjacent attached parking garage; perfect for staying dry on those days with rainy downpours.
Open for lunch and dinner, Soma's menus are extensive but not overwhelming. Offering soups, salads, sandwiches, burgers, bar bites, and entrees, there are a wide array of tempting options from which to choose. Finding an item to your liking is not an issue, however making a singular choice might be!
For our meals we chose the following:
Yellowfin Tuna Ceviche:  Cilantro, Chile, lime, and avocado.  $11.00
Very fresh and refreshing, with a kick.
Vegetable Falafel:  With broccoli slaw, tomato, chickpea, lime, and sour cream.  $8.00
An interesting presentation, the falafel is shaped like a pancake on the bottom of the plate, all ingredients colorfully placed on top of the falafel. Fresh and crunchy toppings with an earthy plavor from the falafel.
SoMa's Famous Onion Rings:  With homemade spicy ketchup.  $6.00
Thinly sliced strings of onions, sweet and crispy…pure comfort food which is great to share…perfect!
Peanut Calamari:  Pow wok fired with ponzu and sriracha.  $12.00
Sweet, crunchy with a pop. Hint of spiciness.
Blue Crab Jumbo Lump:  Sautéed with slaw and basil/lemon and avocado.  $11.00
Light, fluffy, crunchy, big chunks of crab, very flavorful.
Romaine Salad:  Baby pearl onion, feta, tomato and pesto, balsamic vinaigrette.  $7.00
Very fresh, Very colorful, lightly dressed with a hint of feta.
Grilled Shrimp, Hearts of Palm, Artichoke Salad:  Romaine, chickpeas, cucumber, tomato and sicilian lemon vinaigrette.  $13.00
Everything fresh, seven flavorful shrimp! great combination of textures and flavors.
Grilled Chicken Breast Cobb:  Spinach salad, feta, bacon, pesto and golden balsamic vinaigrette.  $14.00
A fresh and innovative take of the classic salad…great combination of sweet and salty flavors.
SOMA Bento:  Thai spiked shrimp, curried bisque, calamari salad & crab cake.  $23.00
An artful, beautiful presentation offering a wide variety of flavors and tastes which all work well together.
Gulf Shrimp:  And creamy coconut grits with sweet rum chili butter and bacon.  $23.00
Sweet and slightly salty, creamy with bits of bacon crunch. Rich.  Delicious.
Grilled Chicken Breast:  With avocado/hearts of palm salata and Spanish black beans.  $18.00
Sweet, tangy, smoky, silky. Colorful presentation.
Key Lime, Papaya and Poppy Seed Truffle:  Shot, $5.00
A very creative and perfectly proportioned option for something sweet to finish the meal yet not oversized…well done!
Dave's "Dream Sickle":  Orange layered cheesecake.  Shot , $5.00
Such a clever combination of reminiscent flavors.
Angel Food Cake with Berries:  $6.00
Sake soaked adds a light, subtle, and delicious flavor; a not too sweet dessert option.

SOMA offers a full bar service with craft cocktails, beer, wine, and soft drinks to complement your meal. The wait staffs are super friendly, quick, efficient, and very helpful in explaining and offering suggestions on the menu.
SOMA Creekside offers the perfect balance between serious food and casual comfort. The culinary creativity of Chef/Owner Dave Shiplett permeates all the menus. It is the ideal spot for foodies focused on innovative dishes and people who just like to eat!
SRQ Reviews, the restaurant guide you need to find the best dining in Sarasota, Florida.
Great Happy Hour 4:30 – 6:30!
1401 Manatee Avenue WestBradenton, FL 34205