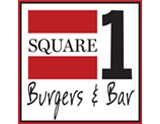 Square 1 Burgers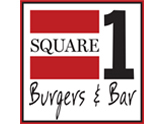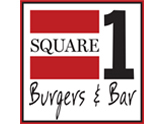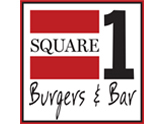 1737 South Tamiami Trail Sarasota, FL 34239
941-870-8111
http://www.square1burgers.com
View Photo Gallery
SRQ Reviews
on January 28, 2011
Square 1 Burgers & Bar: Not your typical burger joint!
If one were to play word associations, a typical response to burger, would be fast food.  Perhaps a less typical association to burger, would be gourmet.  Square 1 Burgers & Bar serves gourmet burgers in a fun setting.
Started several years ago in Tampa by longtime restaurateurs Bill Shumate and Joanie Corneil (Bella's Italian Café), Square 1 opened it first Sarasota location on the South Trail in December, 2010.  The 2nd Sarasota location is at University Park Center and opened Spring, 2011.
The décor at Square 1 is bright, colorful and whimsical.  With flat screen TV's, booths which create private spaces, tables, and a large bar area; the décor frames the dining experience.
Offering soups, salads, appetizers, burgers, sliders, vegetarian options, and luscious desserts, the menu at Square 1 is extensive.  Serving 9 types of burgers (kobe beef, angus beef, buffalo, chicken, turkey, ahi tuna, ostrich, portabello mushroom, and veggie) there are a multitude of combinations from which to choose.
For our meals, we choose the following:
Fried Dill Pickle Chips:  Battered dill pickle slices lightly fried served with peppercorn ranch dressing.  $6.99
Sweet and briny, indescribably delicious.
Square 1 Chopped Salad:  Mixed greens, premium hickory smoked bacon, sundried tomato, pepper jack cheese, chopped tomato, red cabbage, and roasted corn and black bean salsa tossed in a Dijon vinaigrette dressing.  Half $5.50 Whole $8.50
A great combination of flavors and textures.
Angus in the Garden:  Choice of 100% Angus or chicken burger topped with cheddar cheese over mixed greens, with toasted corn and black bean salsa, scallions and tortilla strips, tossed in tangy Russian dressing and served with a dollop of sour cream and fried jalapenos. Angus $9.99 Chicken $10.49
A large portion of fresh crisp greens, a great combination of flavors, very satisfying.
Theta:  An Oklahoma favorite.  100% Angus, barbeque sauce, mayonnaise, dill pickle slices and cheddar cheese on a sesame bun.  $7.99
A large burger cooked to order, smoky sweet sauce, a great bun.
All American Square Deal Burger:  100% Angus burger on a sesame bun with American cheese, curly leaf lettuce, beef steak tomato, red onion and mayonnaise.  $8.49
A juicy, tasty, well cooked burger served on a great bun.
Chickadees Sliders:  3 mini ground chicken burgers topped with provolone, sun-dried tomato mayonnaise, lettuce and tomato.  $9.75
Tasty chicken and toppings; fresh buns.
X-Rated Grilled Cheese:  Gruyere & sharp cheddar cheeses, dill pickle slices, beefsteak tomato and mayonnaise melted between two slices of grilled sourdough bread. Truly sinful!  $9.49
Gooey and moist; a great combination of flavors.
Devilishly Dark Sundae:  Dark chocolate cupcake with butter cream chocolate frosting, Bluebell vanilla ice cream and house made hot fudge. Topped with a strawberry and candied sugar. Full $4.99
Homemade Double Dipped Onion Rings:  If you've never had them, you will flip out. Seriously. Served with our homemade Sooner sauce.  $7.99
Light, crispy, sweet, large portion.
Very Vegan Veggie Burger:  Square 1 recipe.  Served on a whole wheat bun and topped with curly leaf lettuce, beef steak tomato, and artichoke hummus and fresh avocado.  $10.99
Large portion, good flavor, moist, good texture. 
Square 1 Burgers offers a full bar, beer, wine, and soft drinks to accompany your meal.  We found the staff to be very friendly, attentive, and efficient. Square 1 also offers curbside pick-up.
Square 1 Burgers and Bar, a family friendly casual dining experience which can be easy on your wallet as well!
SRQ Reviews, the restaurant guide you need to find the best dining in Sarasota, Florida.
A great deal for kids 10 and under, $3.50-$4.99 meal includes a fountain drink and your choice of fries or steamed broccoli and chocolate or vanilla mini cupcake.
Thursdays – Ladies Night! 4:00pm to close, $4 martinis!
1737 South Tamiami TrailSarasota, FL 34239