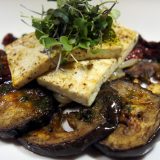 Taverna Grill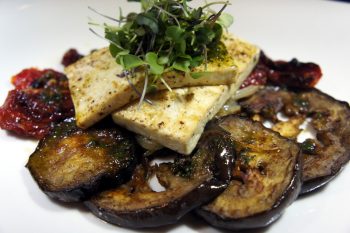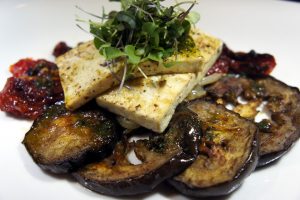 1920 Hillview Street Sarasota , Florida 34239
941-346-6989
http://tavernagrillsarasota.com
View Photo Gallery
SRQ Reviews
on May 1, 2017
Taverna Grill has closed.
Something Old is Something New…
The former location of Hillview Grill, a long standing standard of neighborhood dining, has undergone a major transformation. Emerging from this newly renovated space is a contemporary Mediterranean cuisine restaurant, aptly named, Taverna Grill. With an open airy space, large bar area, booth and table seating, large windows, and bright lighting; the setting is inviting and clean, while the decor is simple and understated. In other words, casually comfortable.
While the restaurant's name may imply Greek cuisine, to be fair the restaurant's cuisine is Mediterranean with a definite tilt towards Italian. Offering both lunch and dinner with daily specials, the menu is balanced, fresh, and food forward. For our meals we chose the following:
Asparagus Salad:  Celery, toasted walnuts, aged balsamic vinegar, organic greens, asparagus topped with goat cheese.  $12
A terrific, artful presentation. The celery and asparagus are shaved which creates a unique look. Very crisp, fresh and tangy.
Terra Salad:  Lettuce, cucumber, beetroot, potato and pomegranate vinaigrette.  $8
Another creative presentation. Colors, textures, and flavors combine for a fulfilling earthy salad. A great starter to any meal.
Signature Kale Caesar:  Local kale, shaved parmesan cheese, croutons, homemade Caesar dressing.  $8.50
The kale Caesar has become a bit commonplace but not here! This rendition was fresh, cold, crisp, and full of crunch.
Hummus:  Garbanzo bean puree, toasted pita bread.  $7
A thick, firm hummus, full of flavor, not runny in any way. Mediterranean herbs are a nice addition. Served with veggie accoutrements and perfectly grilled Pita. Great for sharing with others.
Gnocchi Nouvelles:  Mushroom regular and aged pecorino cheese tossed with our homemade nouvelles organic potato dumplings.  $13.50
One of the best Gnocchi preparations I ever tasted. The gnocchi were.pillowy, fluffy, light, and airy. An outstanding and memorable meal!
Penne Bolognese Special:  Homemade pasta.  $14.00
Deep, rich, old world flavor. Filled with meat, parmesan cheese melted in. Delicious.
Greek Summer Tofu:  Pan seared tofu, eggplant, capers, sun-dried tomatoes, onion, basil and garlic.  $15
Visually a great presentation. Vegans rejoice! Finally, tofu that isn't rubbery.
Tuna Special:  Tuna grilled over an open fire. Served over a bed of tomatoes, capers and olives.  $24
A generous piece of super fresh tuna. Capers and olives gave the dish a briny flavor. Loved the micro greens in the presentation.
Lo Spada:  Swordfish grilled over an open fire. Topped with mixed fresh peppers,caper relish and summer squash. $24
An artistic presentation. The Swordfish was cooked to perfection offering a moist and flavorful meal.
Gulf of Mexico:  Atlantic giant squid, jumbo shrimp, scallops, grilled over an open flame. Served over a bed of baby spinach, fava beans and Mediterranean herbs.  $19
Outstanding, right down to the scoring on the squid so that it doesn't curl up. The sauce has strong flavors to contrast the subtle flavor of the seafood.
Orange Mousse:  White chocolate and Grand Marnier sauce.  $8
A simple preparation, light, creamy and delicious.
Taverna Grill offers a full bar service with happy hour pricing, an adequate selection of craft beers, wine, and soft drinks. The wait staffs are very friendly and accommodating. We did experience some minor service issues which were immediately corrected and in no way negatively impacted our dining experience; hardly worth mentioning.
Taverna Grill is the type of place where one could easily visit multiple times per week. It is casual, friendly, a neighborhood type of place, serving good food at fair prices. Are you looking for a new "go to" restaurant? Taverna Grill may just be your answer.
SRQ Reviews, the restaurant guide you need to find the best dining in Sarasota, Florida.
1920 Hillview Street Sarasota , Florida 34239