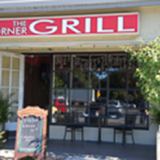 The Corner Grill
SRQ Reviews
on February 22, 2015
THE CORNER GRILL HAS RECENTLY CLOSED. They are available for catering BBQ under the name Sarasota Smokehouse.
The Corner Grill: More than just a sports bar…
When is a sports bar more than just a place to watch the game? The answer is when the bar in question is The Corner Grill.Let me explain.Originally launched as The End Zone Pub and Grill in the summer of 2014, the name screamed sports bar. Although it had nine large screens along the walls and a large bar that served beer, wine and soft drinks, the sports bar moniker was really a misnomer. Recognizing that the name didn't adequately reflect their intended experience for customers, co-owners Bryan Spaulding and Shannon Wight acted swiftly by renaming the restaurant "The Corner Grill".
Still, the question remained: Does a restaurant name change really make a difference in the actual experience? In this case, my answer is yes.
Located at 5767 South Beneva Road, The Corner Grill is a neighborhood gathering place that's casual in style and has a comfortable, friendly atmosphere, Even though the actual location is more of a destination than a neighborhood place, it's the perfect spot to meet for conversation, a drink, or a quick bite to eat. The wait staff is very welcoming, often acknowledging regulars or soon-to-be regulars.The menu is what one would expect from a bar — burgers, wings, salads, etc. However, the menu also offers some unexpected surprises, such as sesame-encrusted tuna, steamers and mussels.
For our meals, we chose the following:
B & B House Chips:  Freshly made house chips drizzled with a balsamic vinegar reduction and blue cheese dressing. Topped with blue cheese crumbles.  $6.99
A very generous portion of fresh, house-made chips smothered in blue cheese and drizzled with balsamic, which added a nice after-tang.
Kentucky Nachos:  Homemade chips topped with cheese sauce, shredded cheddar, pulled pork or chicken and topped with House BBQ sauce.  $10.95
"Wow!" "Amazing!" The only words that we mumbled while non-stop eating. Tried all 4 BBQ sauces. All winners!
Health Nut Salad:  Fresh spinach, strawberries, feta cheese, almond slivers and walnuts. Drizzled with honey balsamic vinaigrette.  $7.99 Add shrimp $6.00
A wonderfully fresh, colorful, healthy salad topped with six wild-caught gulf shrimp.
The House Salad:  Fresh iceberg, tomato, cucumber, carrots and shredded cheddar cheese.  $6.99 Small $3.99
Fresh and chilled, the side salad is a good value and a great way to begin your meal.
Wedge Salad:  Fresh iceberg wedge, cherry tomatoes, diced red onion, bacon, blue cheese dressing and blue cheese crumbles.  $8.99
A classic combination of crisp, fresh ingredients; very blue-cheese-y. Loved it.
The Caesar Salad:  Chopped romaine lettuce tossed in Caesar dressing with shaved parmesan cheese and topped with croutons.  $6.99
Crisp, cold, well dressed. Crouton laden. Good value.
New England Clam Chowder:  $4.50
Briny, creamy with a lush mouth-feel.
Jumbo Wings:  10 jumbo wings served with ranch or blue cheese dressing.  $9.99
Truly jumbo, moist, tender and meaty wings. Nice coating of sauce — it stays on the wing, and doesn't slide off.
wings.
The Amazing Skillet Mac and Cheese:  Large elbow pasta, four cheeses and a mildly spicy kick. Topped with toasted cracker crumbles.  $7.99
A great visual presentation. Bubbling hot. There was a slight kick, and the dish was creamy, silky, smooth, soft, sweet and buttery. A great comfort-food dish.
Burger:  Get creative. Served with choice of a side of fries, slaw, tater tots, fresh veggies or chips.  $8.99
A very well-prepared burger — thick, juicy and cooked to the perfect temperature. Mouthwateringly delicious.
Maine Steamers:  1 ½ pounds of live Maine Steamers served with drawn butter.  MP ($15.99)
I'm a New England shellfish snob, and these steamers are the real thing. Sweet and delicious — no butter necessary.
Sauteed Calamari:  Served in tomato sauce with olive oil, cherry tomatoes, garlic and red pepper flakes.  $10.99
Wonderful! Rings and tentacles. Nice kick.
Sesame Encrusted Tuna:  Cooked rare, sliced thin and served with soy and wasabi.  $9.99
A very fresh, artful presentation with a nice crunch from sesame seeds. I like a little more wasabi — an easy request.
Lobster Roll:  Chunks of New England lobster with a little mayonnaise, celery and salt and pepper on a hot dog bun. Served with one side.  $13.99
As stated earlier, I'm a New England shellfish snob. Although the presentation on the hot dog roll is genuine, the lobster meat could have been a little firmer, and it could have used a little more mayo and a tad less salt.
The Reuben:  Corned beef, sauerkraut, Swiss cheese, and 1,000 island dressing on pumpernickle/rye swirl bread.  $8.99
True Reuben, fully loaded, perfectly toasted. Nice balance between meat/cheese/sauerkraut. Each flavor distinctive.
Shrimp Dinner:  Wild caught domestic Gulf of Mexico Shrimp prepared grilled, blackened or deep fried.  Served with a side house salad and a choice of one additional side. (We chose broccoli).  $16.99
Awesome!  8 jumbo perfectly grilled shrimp.
Fisherman's Platter:  A filet of deep fried fish, hand-battered shrimp and deep-fried oysters. Served with a side house salad and a choice of one additional side (We chose broccoli).  $17.99
Large portion, colorful presentation and lightly battered. The texture of the fish was a little too soft.
Not Your Father's Root Beer:  (Beer) $6.99
Wow! Awesome!
For me, The Corner Grill is an ideal place for a casual, relaxed meal and the perfect spot to share with friends. So what's in a name? Everything, if you're the Corner Grill.
SRQ Reviews, the restaurant guide you need to find the best dining in Sarasota, Florida.
The Corner Grill is very accommodating to both small and large groups. Have a special occasion? Super Bowl? Birthday? The Corner Grill maybe just the place!
5765 Beneva RoadSarasota, FL