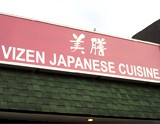 Vizen Japanese Cuisine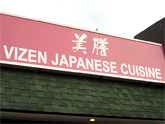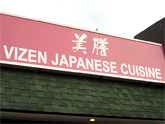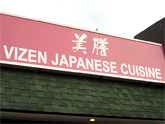 6563 Gateway Avenue Gulf Gate, FL 34231
941-926-0830
http://www.vizen-sarasota.com/
View Photo Gallery
SRQ Reviews
on October 30, 2010
Vizen has new owners. We will be updating this review.
Artistic, sophisticated, innovative and most important of all delicious…the sushi at Vizen Japanese Cuisine is simply outstanding!
Located in the Gulf Gate area, Vizen Japanese Cuisine stands out from all the other choices.  With a minimalist black and white décor, subtle splashes of color, and a simple, yet elegant, dining area and sushi bar, it is clear the emphasis is on the food.  We were not disappointed.
Even though the menu offers sashimi, tempura, and sushi, we came to Vizen for the sushi and our palates were delighted.  In addition to the regular sushi menu, there are daily specials posted on the blackboard.
We choose the following:
Special Jewel:  Cooked tuna and colorful caviar with miso sauce $17.00
Beautiful presentation, each mouthful had a combination of textures flavors
Spicy Tuna Roll:  $6.50
Fresh and spicy, a nice lingering spice
California Roll:  $5.00
Colorful with a nice little pop from the roe
Octopus:  $5.00
Sliced thin, providing a nice texture
Squid:  $4.50
Sweet and slight chewy, a very nice texture
Volcano Roll:  Baked crab on top of spicy tuna $11.00
Spicy, flavorful, with a crispy topping
Smoked Scallop:  House smoked $6.50
Smoky and sweet
Fried Scallops and Oysters:  Panko covered and lightly fried served with spicy mayo $8.00
Light, crunchy, fried to perfection, moist and flavorful
The service was attentive, knowledgeable when explaining the various specials and options, and accommodating when we asked for a different table.  Vizen Japanese Cuisine offers an adequate assortment of sake, wine and beer to accompany your meal.
Vizen Japanese Cuisine…sophisticated, innovative, a high-end sushi dining experience in Sarasota.
SRQ Reviews, the restaurant guide you need to find the best dining in Sarasota, Florida.
Vizen has a very strict dress code…no jeans or workout clothes.
6563 Gateway AvenueGulf Gate, FL 34231