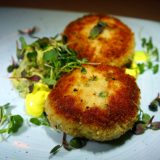 Coolinary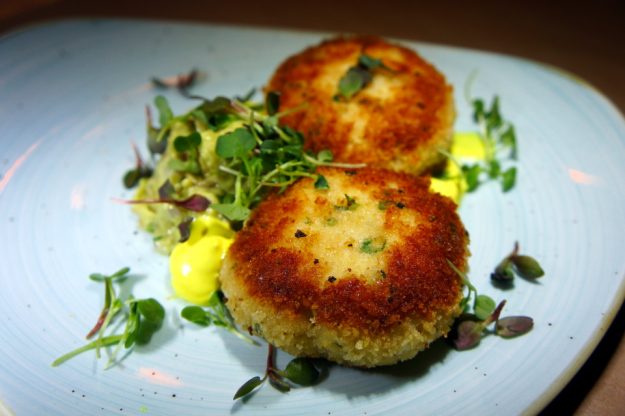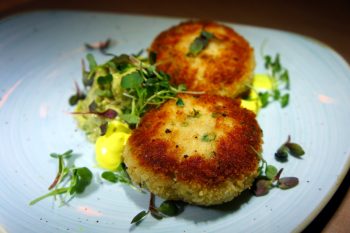 1359 Main Street Sarasota, Florida 34236
941-312-4773
http://www.thecoolinary.com
View Photo Gallery
SRQ Reviews
on March 8, 2017
Culinary cool…yes that's it! The Coolinary
A stylish, new, culinary focused restaurant has opened on Main Street in downtown Sarasota. Located upstairs (yes, there is an elevator) at 1359 Main Street, The Coolinary provides a tastefully renovated dining space with a unique perspective overlooking Main Street. The decor is casually elegant with 4 distinct dining areas. Whether you prefer cozy and quiet, comfy bar, a table with a view over Main Street, or a naturally lit dining room The Coolinary can accommodate your preference for dining.
Offering fresh, locally sourced, organic ingredients whenever available, the menu is European influenced with great combinations of color, flavor, and textures. Extensive selections, with daily specials listed on a chalkboard, there is something for everyone to enjoy and making a single choice can be challenging.
For our meals we chose the following:
Oven Roasted Tofu:  Baked golden roasted beets with oven roasted tofu mixed with spicy marinated plum and peanuts.  $13
If you like…I do…roasted tofu, you will enjoy this dish. Although everything is fresh, it is not a refreshing salad. It is dense with protein and sesame oil flavor.
Special Goat Cheese Salad:  Almond crusted goat cheese on top of mixed greens with grilled pears and a balsamic glaze.  $14
Very fresh and tangy, toasted, creamy and sweet mix of flavors…delicious.
Grilled Zucchini Salad with Peanuts and Feta:  $11
Light lemon/citrus dressing with mint. Peanuts add a nice crunch, the char on zucchini also adds an extra flavor…a surprisingly flavorful salad. I am not a big zucchini fan, but would order this again!
Crab Cakes:  Traditional Maryland crab cakes served with guacamole, lemon mayonnaise and micro greens.  $18
A very light bread crumb outside, gives nice crunch, moist inside, plenty of crab…nice flavor.
BBQ Baby Back Ribs:  With coleslaw.  $15
Messy and delicious! Tender, fall of the bone richness. Coleslaw was made with red cabbage, so it's a little denser. Very satisfying.
Atlantic Cod Filet:  Sautéed Atlantic cod, fingerling potatoes with smoky chorizo sauce, gem lettuce hearts and creme fraiche.  $28
This dish was a bit disappointing. Cod is one of my favorites, so expectations were high.The fish was a bit overdone and dry. The sauce had a nice smoky flavor, not overpowering. Potatoes al dente, chunky bite size.
Pan Seared Shrimp:  Fresh gulf shrimp lightly seared in garlic and parsley butter sauce. Served in a hot skillet with a toasted French baguette.  $17
Big, plump, juicy, perfectly cooked gulf shrimp. The butter sauce was a tad salty, but acceptable.
Black Olive Tapenade Pacific Salmon:  Salmon with a black olive tapenade on a cauliflower puree with crunchy julienned vegetables and a fresh dill sauce.  $26
Fresh, moist, wild caught coho salmon, rich and buttery flavor of the fish contrasts nicely with the brininess of the tapenade. The cauliflower was exceptionally smooth and maintained its unique flavor.
Roasted Organic Half Chicken:  Free range chicken with crispy fingerling potatoes, green asparagus and truffle jus. $26
Simple in presentation and preparation. A real "comfort food" at its best. The dark meat was rich and moist, the white meat a bit dry.
Taste of Coolinary:  Changes daily and includes 2 salads, an appetizer, 2 entrees, dessert, and a glass of house wine. $29 (** denotes our "Taste of Coolinary" meal)
**Cured Duck Breast: Pickled fennel salad with tangerine segments and roasted almonds topped with house cured magret duck breast.
Fennel so refreshing! Good combination of earthy duck and lemony fennel.
**Salmon Tartar
Very fresh, creamy, smooth. Great taste.
**Melted Goat Brie Salad: Warm goat Brie served on rustic toast with cucumber, cherry tomatoes mixed greens and Dijon vinaigrette.
Creamy and crunchy goat cheese with peppery arugula salad with subtly salty salad dressing…a great combination.
**Local Black Grouper: Pan seared fresh grouper on a bed of red quinoa with oven baked carrots and creamy curry sauce.
This was an exceptionally well prepared dish. The fish was firm and flaky with a really sweet, slightly spicy curry sauce. Very satisfying.
**Florida Red Snapper: Red snapper served with a mix of shiitake and oyster mushrooms, broccolini and fresh veggies.
 Another well prepared item, firm, fresh, flaky. The sear added depth with a nice char flavor.
**Sponge Cake and Chocolate
A delicious ending to a delightful meal. This Hungarian classic is like a deconstructed tiramisu. Light, not too sweet.
The Coolinary offers a full bar service, beer, wine and soft drinks to accompany your meal. Happy Hour pricing is 2 for one on all drinks ordered between 4:30pm and 6:00pm. The wait staffs are very friendly, fast, efficient, and informative; often checking to make sure everything was fine with our meals.
Even though The Coolinary is located on Main Street, the restaurant is not on street level. With its unique perspective above the street, casually elegant decor, and creative cuisine, The Coolinary is aptly named and worth a visit.
SRQ Reviews, the restaurant guide you need to find the best dining in Sarasota, Florida.
The Coolinary has some fabulous deals…Happy Hour 4:00 – 6:00, which includes 25% off menu items AND on Tuesdays and Wednesdays, a Taste of Coolinary $29, which includes small portions of a number of always changing menu items, plus a glass of wine (listed in our review.)
1359 Main StreetSarasota, Florida 34236