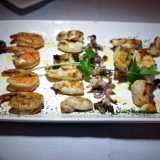 Eat Organico
SRQ Reviews
on April 26, 2019
Organic. Authentically Italian. From my perspective, a perfect match!
What do you get when you start with the freshest, organic ingredients and match those exceptional ingredients with authentic Italian cuisine? Eat Organico, one of this season's exceptional culinary discoveries.
Located in a somewhat obscured strip mall on West Cortez Avenue, (near the Metro Diner) this Bradenton spot is worth the effort to locate. Simple in appearance, tastefully decorated; the restaurant is unassuming yet very comfortable. What sets this restaurant apart from most, is the focus on fresh organic ingredients. If the organic product is not available, an acceptable alternate organic product might be substituted, or simply the menu item is not available.
Even though fresh organic ingredients are fundamental to great food, the ingredients alone do not guarantee an outstanding meal. The culinary talents of the chef and his/her years of experience are critical factors in providing an exceptional dining experience. Eat Organico has both.
As previously stated, the menu at Eat Organico is truly authentic Italian cuisine. For our meals we chose the following:
Alicia Marinate:  White anchovies marinated in olive oil and vinaigrette, topped with avocado and tomatoes.  $9.95
Beautifully presented. Simple. Slight citrus flavor. Lightly dressed, quality olive oil. Simple onions. (They could not get organic avocado, so they substituted with onions. They will not use any ingredient that is not organic.)
Polpo Peperoni e Olive:  Thinly sliced octopus served with red bell peppers, green olives in vinaigrette lemon sauce.  $15.95
Great charred grilled taste and outside texture. Soft, tender.
Zucchini Parmesan Appetizer Special:  $14.95
What a great idea. So good! Thinly cut zucchini. Tastes like eggplant parmesan only lighter.
Branzino Crudo:  Served with mushrooms and bread.  $15.95
An interesting presentation; on a salt block. Added a subtle briny flavor. Very fresh and delicious.
Burrata:  With cherry tomatoes and pistachio pesto.  $14.95
Creamy, fresh, simple and relatively light. A great appetizer to share.
Melanzana Parmigiana:  Eggplant parmigiana, classic southern Italian dish.  $14.95
This dish was done so well. Paper thin slices of eggplant. Baked not fried. Great sauce and flavor. A must try for any eggplant lover.
Tortellini Special:  Handmade tortellini stuffed with mortadella, prosciutto, ground beef and parmesan cheese in a creamy mushroom sauce.  $25.95
Handmade, homemade, cooked al dente. Mouth explosion of flavor in each individual piece.
Lobster Ravioli Special:  Freshly made ravioli stuffed with lobster, King crab, shrimp, and cheese. $26.95
Large individual ravioli. Nicely stuffed, filling. Vodka sauce was a great complement.
Orecchiette alla Tabbarano:  Orecchiette pasta sauteed with garlic, broccoli, sausage, and scarmorza cheese.  $15.95
A classic pasta dish. Garlic forward, not overpowering. Bits of red pepper added nice little kick. The sausage was sweet and crumbly.
Rigatoni Papalina:  Baby rigatoni in a creamy sauce with peas, mushroom and prosciutto ham.  $16.95
Rich, creamy with a distinctive flavor of peas, subtle briny-ness from the prosciutto. A well-balanced dish.
Lasagna Special:  Homemade lasagna baked with meat, tomato sauce, mozzarella and besciamella cheese.   $20.95
A delicious rendition of a typically heavy dish; this was light, filling, very satisfying. The paper-thin sheets of pasta really made this dish stand out.
Snapper Puttanesca:  Freshly caught local snapper sauteed and baked with garlic, fresh tomato, caper, olives, and white wine.  $26.95
A very generous portion. Colorful, flavorful, cooked just right. Moist, firm, fresh. Full of color and flavor.
Tagliata di Filetto di Soto Codone:  European cut of filet mignon roasted and thinly sliced, served on arugula and wild Italian mushrooms.  $33.95
Roasted to my specification. Very rich and deep, although a tad salty. The mushrooms give it an earthy flavor.
Pistachio Crusted Grouper:  Fresh wild grouper encrusted with tomato and ground pistachios served with sauteed broccoli rabe.  $29.95
This was a very pleasing presentation. Rich, crunchy, and very satisfying. Perfect for pistachio lovers.
Branzino Special:  Whole fish, Italian style presentation with olive oil, white wine salt, pepper and lemon. Served with homemade pasta.  $35.95
A classic presentation. The branzino was filleted at the table. The fish was very fresh, flaky and buttery. Finished with olive oil, salt, and pepper, so simple, so good.
Sogliola alla Piccata:  Dover sole baked and finished with capers, rosemary and white wine sauce.  MP $39
Another classic dish. My mouth waters while I recall this tasting. Light, elegant with subtle flavor, silky texture.
Grigluata mista di Pesce:  Mixed grilled seafood: calamari, octopus, shrimp and fresh catch. MP $38.95
A seafood lovers delight. A very generous portion! Full of very fresh seafood. A great dish easily shared.
Italian Cheesecake:  Topped with mango, pineapple, and local honey.  $8.95
A classic rendition of ricotta cheesecake. Not overly sweet. Very satisfying.
Tiramisu:  $8.95
Super light, rich, creamy.
Eat Organico offers an adequate selection of beer, wine, and soft drinks to accompany your meal. The wait staffs are super friendly, helpful in making suggestions on nightly specials, fast, and efficient.
Discovering a new restaurant is always a satisfying experience. Finding one which is outstanding is even better. Eat Organico is one such find and most definitely worth the trip.
SRQ Reviews, the restaurant guide you need to find the best dining in Sarasota, Florida.
4832 Cortez RoadBradenton , Florida 34210