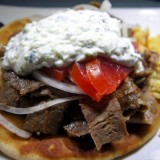 Avli Mess Hall (formerly El Greco Cafe)
SRQ Reviews
on February 22, 2015
El Greco Café: An everyday eatery (NEW OWNERS, will update review shortly)
Just like a well-worn favorite pair of jeans, everyone needs a go-to place for casual dining in their portfolio of local restaurants. For me, it's El Greco Café. A long-standing fixture in Sarasota dining, El Greco has been serving home style Greek cuisine for more than 25 years. Yes, it's true; the décor is a bit tired and rather ordinary. And while the food isn't extraordinary, it is consistent and has some stand-out items. When we go to El Greco, we're seeking a simple casual meal in a comfortable, easygoing setting. In other words, we have no significant expectations other than a good meal at a reasonable price. And El Greco regularly delivers on our expectations. The menu offers a range of Mediterranean-inspired appetizers, soups, salads, entrees and specialty items, including Greek pizza.
For our meals, we chose the following:
Famous Greek Salad:  Fresh lettuce garnished with tomatoes, cucumbers, pepperoncinis, olives, beets, green peppers, onions and feta cheese.  $8.95
Definitely a must for Greek salad lovers. Fresh, crisp greens — cool and colorful with just a little snap. Includes some surprise ingredients, like beets. A nice balance — one of the best in town.
Lamb Souvlaki Salad:  Char-grilled lamb skewers with a Greek salad, dressing and grilled flatbread.  $9.95
A simple presentation. We found the lamb to be a little fatty but still very flavorful. The salad was fresh and crisp, and the bread was delicious.
Grilled Octopus:  Mediterranean octopus char-grilled then drizzled with olive oil and vinegar. Served with grilled bread.  $9.95
A simple presentation. Firm grilled pieces of octopus — tender and lightly dressed. An easy sharing dish.
Mediterranean Cruise:  Two chicken skewers, spanakopita, stuffed grape leaves and rice pilaf.  $11.95 A perfect dish for sampling and sharing. The lamb very flavorful and the chicken tender.
Pasticcio:  Layered macaroni pasta with seasoned ground beef and a light béchamel sauce.  $15.95 (All El Greco Favorite entrees are served with a cup of soup or a junior Greek salad.)
A warm rich dish, slightly sweet and spicy…great Greek comfort food.
Moussaka:  Sliced eggplant, zucchini and potatoes all layered with seasoned ground beef and béchamel sauce.  $15.95
A classic combination with deep layers of flavors. Rich and very satisfying. Another delightful Greek comfort specialty.
Gyro Platter:  Thinly sliced lamb, beef or chicken on a pita and garnished with onions, tomatoes and house made tzatziki sauce. Served with cup of soup or small salad.  $14.95
Very tender lamb. Paper thin slices of lamb smothered in tzatziki. Creamy, slightly tangy tzadziki. It was a tad salty, but quite flavorful. A great mixture of flavors and textures.
Seafood Platter:  Fresh mahi-mahi, ocean scallop skewer, fresh gulf shrimp skewer, char-grilled and served with roasted potatoes and vegetables. (All seafood entrees are served with a cup of soup or junior Greek salad.)  $19.95
This was a good sized portion, and the seafood was sweet and tasty.
What you see is what you get. So, too, with El Greco Café. This restaurant's staying power is directly related to its consistent, casual comfort food with wallet-friendly pricing.
SRQ Reviews, the restaurant guide you need to find the best dining in Sarasota, Florida.
The last Thursday of every month is Greek Night at El Greco; where you can experience live Greek music, Greek Entrée and Wine specials. Reservations suggested.
What We Like
.bf l;dskfpdsjoglsjfoljfeajfeioa
What We'd Change
klds jgopds jgoespj gorspgjrops[gjsorep[j
1592 Main StreetSarasota, FL 34236