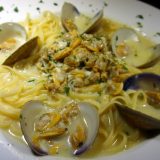 Giorgio's on Hillview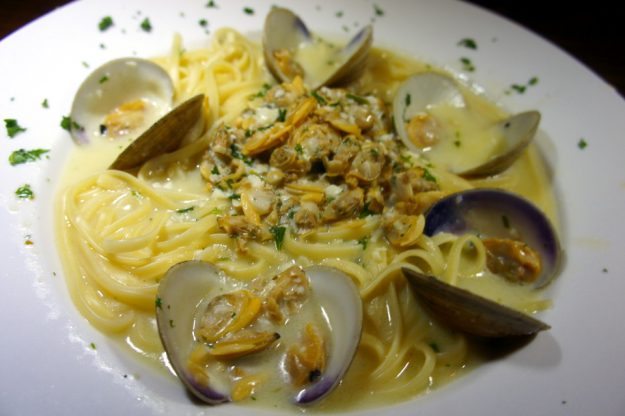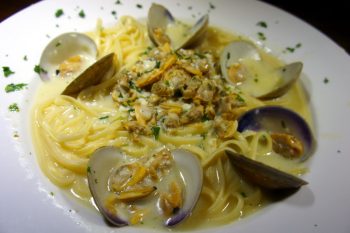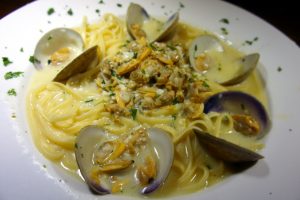 1936 Hillview Street Sarasota, Florida
941-365-3300
https://www.giorgiosonhillview.com
View Photo Gallery
SRQ Reviews
on May 14, 2018
GIORGIO'S HAS CLOSED.
Family-friendly dining…Italian-American cuisine…Wallet-friendly pricing. What can be better?
Giorgio's on Hillview is a relatively large, casual, dining establishment located at 1936 Hillview Street. Offering a more modern, upmarket version of the "old world" red and white table clothed Italian restaurant with an emphasis on value and personalization. The bar area, with its wood fired brick oven, is large; offering the cozy comfortable feel of a trattoria. The adjacent dining room offers patrons the option of table or booth dining in an equally casual setting.
The menu at Giorgio's is large and offers all of the expected Italian specialties with a distinct emphasis on personalized pasta, and pizza your way!
For our meals, we chose the following:
Holy Meatballs:  Made in-house, of course, with mixture of beef, veal and pork, with mozzarella, house red sauce, need we say more?  $7
2 good sized meatballs, spicy, dense, an Italian classic. A great starter to share.
Mark's Stuffed Mushrooms:  An Imparato family recipe, baked to order with parsley, garlic and fresh basil.  $8
Sweet and earthy. No bread crumbs. Stuffed with mushrooms and herbs, 2 cheeses, pecorino in the stuffing, topped with mozzarella. A delicious version of a classic.
Classic Caesar Salad:  House made Caesar dressing, house made croutons, topped with grated parmesan.  $4
A simple Caesar. Nothing special but a satisfyingly fresh and crispy salad.
Pasta Fagioli:  $4
A large bowl of soup, great value. A hearty soup for a cool Sarasota evening.
10" Personal Pizza:  House-made dough and sauce with premium mozzarella cheese.  $10
A good pizza, but not great. The crust was a tad soft; lacking crispiness. We like the crust crunchy and crispy; especially for a wood-fired pizza.
Linguini with White Clam Sauce:  Medium Christine clams, chopped Maine clams, parsley, extra virgin olive oil and fresh clam juice.  $18
A very good dish. Buttery, creamy, subtle garlic, not overpowering in any way. Tender clams.
Chicken Masala:  Sauteed with mushrooms, served with spaghetti and fresh veggies.  $17
A large portion of chicken, pasta, and veggies with a rich wine sauce. Rich and very filling.
Baked Shrimp Scampi:  Gulf shrimp, brushed with chef's compound garlic butter, white wine and fresh lemon juice, served with side of spaghetti with classic garlic butter sauce.  $19
A generous sized portion, 7 large shrimp cooked to perfection. If you love garlic butter, this is a dish for you!
Chicken Michael Anthony:  Half chicken pan seared, oven roasted and served with a lemon pancetta au jus. Served over sauteed spinach and spaghetti.  $17
Comfort food. Hearty, flavorful, generous portion. Tastes like home. One word, deliciousness!
Veal Scallopini with Artichokes:  Veal cutlets pounded thin, lightly dusted and pan seared with garlic, fresh parsley, white wine, lemon juice and whole butter. With sauteed spinach and spaghetti.  $20
Very thin veal. Fresh lemon flavor. Simple straightforward, tender, and delicious. Sometimes the simpler the dish the better it tastes!
Giorgio's offers a full bar service, with a full selection of beer and soft drinks. The wine list is larger than expected, a bit eclectic, and reasonably priced. The wait staffs are very fast, efficient, knowledgeable, and accommodating.
Everyone needs a casual "go to" place for casual dining; a place which can accommodate a wide range of palate preferences; family forward and easy on the wallet. Giorgio's on Hillview is such a place.
SRQ Reviews, the restaurant guide you need to find the best dining in Sarasota, Florida.
Deals! Deals! Deals! Check out Giorgio's Happy Hour and Early Dining! In addition, Giorgio's wine list is surprisingly large, eclectic and well priced.
1936 Hillview StreetSarasota, Florida