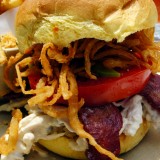 Lemon Tree Kitchen (formerly Louies Modern)
SRQ Reviews
on June 24, 2014
LOUIES MODERN is now THE LEMON TREE KITCHEN. We will be reviewing it shortly. 
Louies Modern setting a Sarasota standard for modern cuisine….
One current food and dining trend is the emergence of modern American cuisine. A multitude of new Sarasota restaurants are touting modern American in their descriptions—but what does it mean? Of course, the definition is open to interpretation, but we define modern American as follows: A casual, upscale eatery, offering a "foodie-focused" menu that includes a range of appetizers and small plates. The menu is structured to complement the restaurant's specialty bar offerings, craft beer and wine list, while encouraging conversation, food exploration and sharing among diners.
Opened recently, Louies Modern, located on the ground level of the Palm Avenue parking garage, is already setting a standard for modern American dining in Sarasota. With a high-ceilinged room, a large open kitchen, a well-appointed, carefully-designed dining space, and the natural hustle bustle of the wait staff, you feel a certain level of energy, excitement, activity and anticipation as you are seated. Some have said the dining room is too noisy. Although we found the space to be a bit louder than most restaurants, we believe the energy and activity is part of the experience.
While reading the menu, the anticipation builds with tantalizing food descriptions and enticing beverage options. The menu is large, offering a wide range of meat, seafood, vegetarian and gluten-free items.
For our meals we chose the following:
Dinner:
Hawaiian Hearts of Palm:  Roasted beet, sunchoke, shaved fennel, radish, cucumber, pressed ricotta, Banyuls.  $10.00
The ingredients were all fresh and very thinly sliced so that the flavors melded together. Very good.
Artisan Romaine Wedge:  Heirloom apple, candied pecan, duck cracklings, cherrywood dressing.  $9.00
A steakhouse presentation. Great color and textures with a salty-sweet dressing and taste.
Burrata:  Local tomato salad, pickled cippolini, focaccia stick, salt plate.  $16.00
A beautiful, artistic, "foodie's" presentation: fresh tomatoes of every kind…red, golden, green, cherry, etc…with a creamy, melt-in-your-mouth burrata. This should be a signature salad. If you are sensitive to salt, remove your salad from the salt plate upon presentation, because the longer it lingers on the salt plate, the saltier it gets.
Kale Caesar:  Parm-anchovy dressing, croutons, reggiano.  $8.00
A wonderful presentation of fresh and tender kale which had a distinct lemon-citrusy taste. Very refreshing.
Spicy Tuna Roll:  Daikon, avocado, kimchee kewpie.  $12.00
Artisan presentation, not very spicy. Could use a little more tuna.
Vegetarian Farro Minestra:  Brussels sprouts, sunchoke, marcona almond-mint pesto.  $4.00/$6.00
This dish was a twofer: rich layers of nicely contrasting bitter and sweet flavors punctuated with a semi-crunchy texture. Great color.
Lamb Meatballs:  Rocket salad, Greek yogurt tahini, harissa, zhatar pita chips.  $9.00
One word: delicious.
Black and Blue Flatbread:  Short rib, blue cheese, black truffle, medjool date, red onion.  $14.00
A great combination of rich flavors … smoky, tangy, and sweet. A definite crowd-pleaser.
Spicy Veggie Pizzetta:  Wood grilled mushrooms, olives, angry red sauce, pecan smoked mozzarella.  $10.00
A firm, crunchy crust. We expected it to be a bit soggy with all the veggies but it was crisped to perfection and remained so, with a nice spicy kick to the sauce.
Fire Roasted Sea Scallops:  Veal chorizo-black lentil hash.  $22.00
Rich, dark, and spicy, this dish is hard to share because you want it all for yourself. The lentils add a definite base texture which is complemented by the spicy chorizo and offset with the tender sweet scallop … a definite home run for me.
Grilled Boneless Idaho Trout:  Caramelized and mashed cauliflower, golden raisin-caper vinaigrette. $25
Also, veggie medley, subtle flavors, everything was fresh, with a wonderful mixture of textures, delicious!
Cedar Key Clams & Nantucket Bay Scallops:  Farro broccolini risotto, scampi sweet butter.  $25
Boneless Beef Short Rib "Bourguignon":  Amish cheddar grits, apple-wood bacon, trumpet mushroom demi.  $29.00
It comes with an egg on top.  This is the ultimate winter meal for me: rich, hearty, silky (from the egg), smoky, stringy beef served with a cheesy grits … warm and filling.
Honey-Sage Chicken Breast:  Citrus wheatberry salad, walnuts, medjool date, goat cheese.  $11.00
Nothing like I expected, a nice surprise and delicious! One piece of chicken breast with the skin on came out moist and tender. The wheatberry salad had a number of different textures and flavors.
LM "Club" Chicken Salad:  Canadian duck bacon, avocado, tomato, tobacco onions.  $12.00
What a sandwich! Large, beautifully presented, fresh and very satisfying—a definite reorder for me.
Dessert:
Crème Brulee:  Spring lavender honey infusion, organic blueberries.  $4.00
Cream custard with an initial burst of lavender followed by the honey. Delicious. Serving size is on the small side.
Chocolate Mousse Cake:  Chocolate chiffon.  $4.00
An intense but light chocolate. The small portion makes it a tiny bit of chocolate heaven.
Louies Modern offers a full bar service with specialty cocktails, beer, wine and soft drinks to enjoy before, during or after dinner. We found the wait staff to be attentive, fast, friendly and welcoming.
Proclaiming such a young restaurant as a standard-setter for modern American cuisine may be bold, somewhat premature and perhaps even a bit unfair by raising levels of expectations. However, Louies Modern has all the right ingredients. With its well-designed dining room, downtown location, hip bar, creative menu and outdoor space, not to mention the experience of the team, Louies Modern is poised to set a Sarasota standard for mod dining. We are looking forward to seeing how it evolves!
SRQ Reviews, the restaurant guide you need to find the best dining in Sarasota, Florida.
Louies Modern is the prefect dining place during rain storms…park your car in the Palm Avenue parking garage, walk or take the elevator downstairs, and voila you are at the door of Louies Modern. Not a rain drop has touched you!
1289 North Palm AvenueSarasota, FL 34236