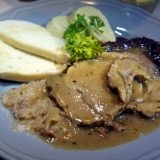 Prague Restaurant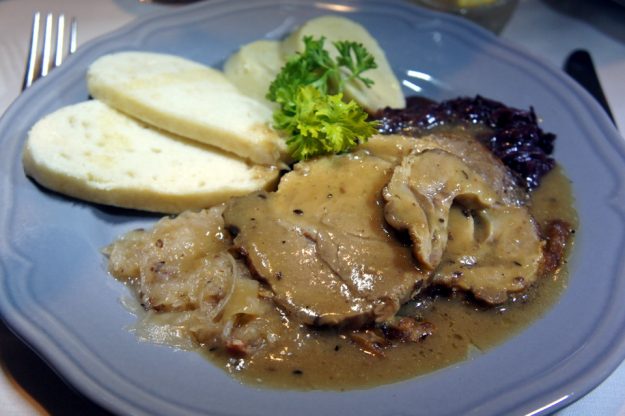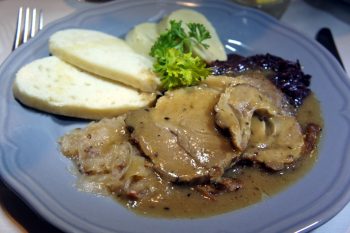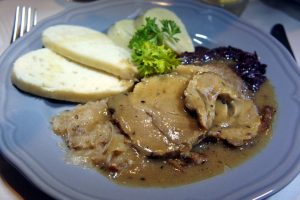 1551 Main Street Sarasota, Florida 34236
941-329-2882
https://thepraguerestaurant.com
View Photo Gallery
SRQ Reviews
on April 22, 2018
RECENTLY CLOSED
Casual, Eastern European cuisine in downtown Sarasota…
Located in the heart of downtown Sarasota, at 1551 Main Street, Prague is a small, simple, casually elegant, European style restaurant. The ambiance is relaxed yet projects an air of refinement. With a small bar area on one side of the restaurant and a long rectangular dining space on the other, Prague provides a very comfortable dining experience.
With a large menu of Czech and Eastern European specialties, those longing for "old world" tastes and options will be delighted. The menu offers a wide range of dining options including soups, salads, appetizers, beef, chicken, seafood, veal, and of course pork. Making a singular choice can be a challenge, so we suggest sharing as an option. For our meals we chose the following:
Cucumber Salad:  Fresh sliced cucumbers in vinegar dressing or sour cream dressing.  $7
We chose vinegar dressing. Cucumbers sliced very small, more like a cold cucumber soup. Refreshing, great for a warm summer day.
Mediterranean Salad:  Cucumber, tomato, bell peppers, olive oil, lemon, feta cheese.  $12
Summer on a plate. Filled with fresh veggies, very refreshing.
Pickled Brie Cheese:  Brie marinated in olive oil, onion, jalapenos, garlic, paprika spice, Czech rye bread.  $12
This was a very unusual and interestingly presented appetizer. The cheese was firm and creamy but had a strong flavor from all the other ingredients. Definitely an acquired taste.
Potato Pancakes:  Czech style potato pancakes, applesauce, sour cream.  $9
A delightful dish and one of our favorites. A definite comfort food for us!
Hungarian Beef Goulash:  Tender pieces of beef in Hungarian paprika sauce, slices of bohemian bread, dumplings or spaetzle, sliced raw onion.  $18
The beef was very tender, the sauce could have had a little more kick or spice to it. Spaetzle was moist and very authentic.
Chicken Prague:  Chicken pan seared in garlic butter, over finished with peaches and Swiss cheese, rice and red cabbage.  $18
A great combination of textures and flavors. The melange of chicken, sweet soft peaches, and gooey salty cheese created a mouthwatering experience.
Roast Pork (Our National Dish):  Slowly roasted pork with caraway seeds, sauerkraut, bohemian bread dumplings, homemade brown sauce.  $20
A very filling, hearty, stick to the ribs kind of dish. The presentation may lack color, but the flavors are divine.
Vrabec with Spinach (Smoked Pork) Special:  $22
Another great pork rendition. Tender, a bit drier than expected but subtle smoky flavor throughout.
Homemade Apple Strudel a la Mode:  With vanilla ice cream.  $9
A light, flaky and delicious strudel, easily shared. A must try for true apple lovers!
Prague offers an adequate selection of imported beers, wine, and soft drinks to accompany your meal. We found the service staffs to be friendly and knowledgeable; often explaining how the dish is prepared and what one should expect. The speed of service is fine by European standards, but might be perceived to be a bit slow by those unaccustomed to a European dining experience.
How many times have we heard I am looking for something new or different for dinner? Often! One of our answers to such a question is Prague. Reasonably priced, quality food, in a casually refined setting; How can you go wrong? Give it a try. You will be glad you did.
SRQ Reviews, the restaurant guide you need to find the best dining in Sarasota, Florida.
Czech beers on tap. Lunch in season.
1551 Main StreetSarasota, Florida 34236