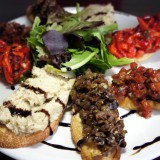 Social on First
SRQ Reviews
on June 16, 2014
Social on First: IS CLOSED. WILL REOPEN SHORTLY AS WATERS EDGE AT SOCIAL. WILL UPDATE.
It has been said that good things take time. In the case of Social on First, that statement is true. The renovation, construction and eventual opening of the restaurant took more time than expected, but the result was worth the wait. A "flex-space" concept, Social offers an indoor bar area and dining space, an open-air covered dining area and a truly open-air dining space with retractable roof — all complemented by an outdoor bar and lounge area with couches and enclosed fire tables. Open for less than a year, Social on First oozes a casually elegant, socially sophisticated vibe; think SoBe meets SoHo.
As one would expect, Social on First offers an extensive drink menu and an equally extensive food menu. For our meals we chose the following:
Pretzel Dusted Calamari and Shrimp:  Zucchini, artichokes, caper berries, spicy marinara and aioli.  $11.00 

This dish was a bit disappointing. It was tasty and nicely presented; however, there was only one shrimp in the dish. It was basically fried calamari and zucchini with a few caper berries. The menu should be updated.

Grilled Polenta:  Sautéed spinach and mushrooms.  $8.00 

A very simple yet nice presentation. Polenta was tender and moist.

Quinoa & Beets:  Arugula, orange balsamic vinaigrette.  $10.00 (In their menu, there should be a comma after the "orange".) 

Again, the menu description was a bit off the mark. This is not a quinoa and beet salad. The beets, oranges and arugula were "dusted" with the quinoa. It gave the salad a delicious nutty flavor, but it could be disappointing if one were expecting quinoa to be a prominent part of the salad, as opposed to a very flavorful accent.

Assortment of Bruschetta:  Tomato, onion, mint and aged balsamic. Artichoke spread. Roasted red pepper, brie. Kalamata olives, capers and eggplant.  $13.00

Fabulous appetizer to share with friends. Big portions. A beautiful, colorful presentation. Full of great flavor combinations.

Veggie Ball:  Eggplant, lentils, tomato, herbs, basil and pesto.  $13.00 (Meatballs served naked with your choice of mixed greens or house-cut chips.)

We chose the chips. The texture and taste of the veggie meatballs could keep a non-veggie person guessing whether this dish is truly meat free. However, from the menu description, we were surprised that the pesto was in a cream-colored sauce.

Classic Meatball: Beef balls, ragu Bolognese.  $13.00 (Meatballs served naked with your choice of mixed greens or house cut chips.)

We chose the mixed greens. The meatballs were large, tender, rich and flavorful, with just a tad of spice.

.

Wood Fired Pizza, No. 5: Red grapes, caramelized onions, goat cheese and arugula. $14.00

A winner! It was sweet with a flavorful, chewy crust.

Wood Fired Pizza, No. 2:  Fennel sausage, mozzarella, san marzano tomatoes.  $13.00 

Another winner! Not too dressed, the pizza was very flavorful and simple with subtle fennel flavor. One of my faves.

Gulf to Fork:  Florida fresh catch. MP. We had cobia, 7 0z., hand filleted by the chef, over fingerling potatoes, olives, caper olives and artichokes. $25.00

A very nice, generous-sized portion of cobia. Sweet and succulent with a briny finish.
Social on First offers specialty craft cocktails, craft beers (on tap and bottled) and a good-sized wine list to accompany your meal. We found the wait staff to be friendly and helpful, but at times scarce. This service issue was not a big factor to us, but I could see how this might be annoying to some people.
Coming back to the saying "Good things take time," I think this is also true when it comes to understanding the conundrum posed by Social on First. Having been to Social numerous times over an extended period of time, it was difficult for me to truly understand it. Was it a restaurant with a really cool bar and an outdoor setting? Or was it a bar that serves interesting food? It really could be both. However, if I had to suggest one scenario, I would say Social is the place to meet friends and family, have a drink — then eat!
SRQ Reviews, the restaurant guide you need to find the best dining in Sarasota, Florida.
Great place to meet some one for drinks and sharing plates. The outdoor space is very hip!
1219 First StreetSarasota, FL 34236