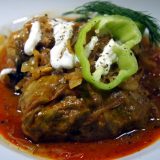 Tokaj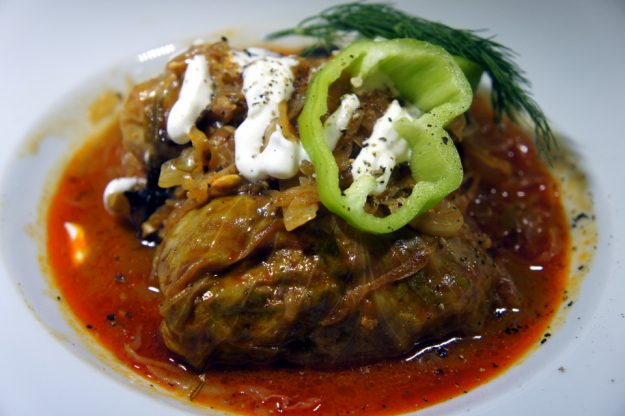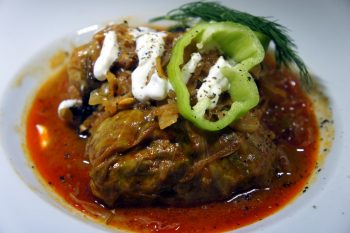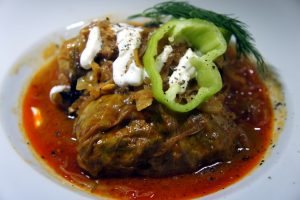 6516 Superior Avenue Sarasota, Florida 34231
941-906-9444
http://www.tokajsarasota.com
View Photo Gallery
SRQ Reviews
on October 18, 2018
A Little Taste of Eastern Europe in Gulf Gate!
The Gulf Gate Village area is chockablock with small, ethnic, and interesting restaurants. A culinary proving ground for sure, there are many new dining entrants which offer tasty promise but lack multi-season sustainability. One new restaurant bucking the short term trend is Tokaj.
Located at 6516 Superior Avenue, Tokaj is the "dinner only" fine dining extension from the owners of The Sunnyside Cafe. With a fully renovated interior, the owners have created a small, cozy, warm space with dark woods and subdued lighting. The ambiance at Tokaj makes a positive statement and sets itself apart from many of the dining options in Gulf Gate. One immediately senses the dining experience is going to be special, relaxed, yet refined. It is!
Offering dinner daily, the menu at Tokaj is varied. Large yet not overwhelming there is an ample selection of American and European specialties including pastas, salads, meats, and seafood.
For our meals we chose the following:
Caesar Salad:  Homemade dressing, croutons, and shaved parmesan cheese.  $9/12
A cool, fresh, crisp, crunchy, and flavorful salad. Loved the dressing.
Kale Salad:  Fresh squeezed lemon and olive oil dressing, roasted chickpea, avocado and shaved parmesan cheese.  $9/12
An excellent salad. The dressing was lemony but not overpowering. The kale was steamed just a bit so that its texture was smooth. Roasting the chickpeas was a nice touch and added a bit of texture and crunch.
Arugula Salad:  Grape tomatoes, red onion, lemon dressing with shaved parmesan cheese.  $9
Another fresh salad filled with flavor and nicely plated.
Hungarian Style Crepes:  Stuffed with pheasant, s erved with white wine sauce.  $14
We thought this dish was quite interesting, rich, sweet, crunchy and quite filling. A perfect item to share.
Duck:  With red lentil puree, grilled Belgian endive and orange reduction.  $29
European chefs tend to cook duck very well and that was exactly the case here. Tender, succulent, sweet and rich; a great melange of flavors.
Chilean Sea Bass:  Over truffle risotto and grilled garden vegetables.  $39
A thick, ample piece of sea bass perfectly prepared, moist with a bit of flakiness. The risotto was creamy and the vegetables firm. Wonderfully delicious.
Chicken Breast:  Stuffed with duck liver and blanched spinach with gorgonzola sauce, steamed rice, and fresh garden vegetables.  $21
An elegantly presented entree. The duck liver added a deep earthy richness to the dish. Offset by the creamy, thick gorgonzola cream sauce. Well balanced, very filling. Richly satisfying.
Toltott Kaposzta:  Traditional Hungarian stuffed cabbage rolls.  $19
One of our favorites. Real "old world" comfort food. A generous portion of homemade goodness. Stuffed with chopped meat and rice. Deeply satisfying. Perfect for a cool, rainy, evening.
Black Grouper:  Pistachio crusted fish fillets with homemade linguini garlic and olive oil.  $32
A simply prepared and presented dish. Wonderful garlic flavor. Light and tender grouper, with just the right amount of outer crunch. Filling but not overly so.
Rack of Lamb:  Whole 16 oz New Zealand rack of lamb.  $36
A generous portion of lamb plus steamed veggies and potatoes. All cooked perfectly to requested temp. Very tender and flavorful. If you love lamb, then this dish is for you!
Eszterhazy Cake:  Traditional Hungarian walnut cake by Galanta off Eszterhazy.  $10
If you enjoy quality European pastries, this cake is a must try! Dense, rich, layered cake. Not overly sweet but very satisfying. Indulge! Easily shared.
Tokaj offers an adequate selection of beer wine, and soft drinks to accompany your meal. The wait staffs are very friendly, attentive but unobtrusive, and very helpful in describing and explaining the menu options.
If you have a penchant for culinary expansion, something more than ordinary, without pretense, then Tokaj is for you. Simply refined, relaxed dining, in a tastefully designed space. You will have a new favorite restaurant!
SRQ Reviews, the restaurant guide you need to find the best dining in Sarasota, Florida.
Many nights there is live background music. There is a reasonable corkage charge if you bring your own wine.
6516 Superior Avenue Sarasota, Florida 34231