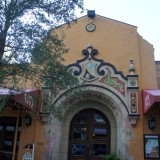 Two Senoritas
SRQ Reviews
on August 11, 2009
A quick Mexican lunch on Main Street.
Located on the lower end of Main Street near the intersection of Palm Avenue is Two Senoritas.  Large open aired rooms and outdoor seating makes this spot a good choice for a quick lunch on a nice sunny day.  The broad range on the menu should relieve any Mexican craving a diner may possess.  A "lunch specials" menu is offered Monday through Friday from 11:30am – 4:00pm.
Our lunch consisted of the following from the "specials" menu:
Fajita Lunch:  Tender grilled chicken breast or beef fajita meat on a bed of sauteed onion and peppers.  Served with charro beans, flour tortillas, pico de gallo, sour cream and cheese.  $8.95
Marinated Chicken Burrito:  Lunch portion of our best selling burrito.  Served with rice and beans.  $7.95
Our meals were accompanied by chips and fresh salsa.
Since many of the patrons are from nearby offices, Two Senoritas has easily accommodated the "quick lunch" diner.  With limited time, the service is quick, pleasant, and efficient.  Our meals were turned around right away and the check was ready at the end of our meal.  Even though the service was fast, we never felt pushed or harried in any way.  Since we were a little pressed for time, we appreciated the focus on speed.  However, if we wanted to linger over lunch, we are certain we could comfortably do so.
If you are looking for a quick "South of the Border" lunch, Two Senoritas offers choice with an emphasis on speed.
SRQ Reviews, the restaurant guide you need to find the best dining in Sarasota, Florida.
1355 Main StreetSarasota, FL 34236