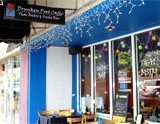 Drunken Poet Cafe
1572 Main Street Sarasota, FL 34236
941-955-8404
http://www.drunkenpoetsarasota.com
View Photo Gallery
SRQ Reviews
on September 30, 2009
Simple, Quiet, Tasty Thai on Main Street in downtown Sarasota!
While strolling in downtown Sarasota, it is easy to walk past the Drunken Poet Café.  A quiet, unassuming location in the heart of downtown Sarasota, the Drunken Poet Café bills itself as a Thai bistro and sushi bar. With a small outdoor seating area, we chose the cozy location for our outdoor lunch.  With a broad selection of soups, appetizers, entrees, and noodle dishes, there is something on the menu for everyone.
Our lunch consisted of the following:
Spring roll:  Sauté bean threads with cabbage, celery, and carrots.  Two rolls per order $4.50
Tom Yom Goong:  Traditional Thai soup with shrimp and mushrooms in a spicy lemongrass broth  $4.95
Seaweed Mix:  A salad on a light seaweed mix $5.50
Grouper with Ginger:  Grouper filet with fresh ginger, onions, scallions, and mushrooms $16.95
Chicken Pad Thai:  Chicken with rice noodles, bean sprouts, green onions, egg, and ground peanuts 15.95
Asian cuisine, especially Thai, tends to be simply yet elegantly presented, and full of flavors. The Drunken Poet Café met our expectations for such. The food was fresh, spicy but not overpowering, and simply presented for our enjoyment. We found our wait staff to be very friendly, attentive, and sincerely focused on making our experience pleasant. The Drunken Poet Café offers a limited, but adequate, selection of wines and beer.
Looking for a great spot for a quiet lunch? The Drunken Poet Café.
SRQ Reviews, the restaurant guide you need to find the best dining in Sarasota, Florida.
1572 Main StreetSarasota, FL 34236