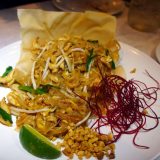 Spice Station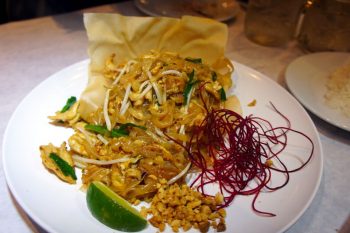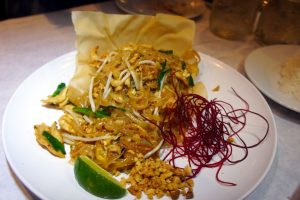 1438 Boulevard of the Arts Sarasota, Florida 34236
941-343-2894
http://www.spicestationsrq.com
View Photo Gallery
SRQ Reviews
on March 2, 2020
Spice is nice in the Rosemary.
One of the continuously popular restaurants in the Rosemary district is Spice Station. With its casual, clean, bright, and simple space, The Spice Station offers an array of Thai/Sushi cuisine. Even though the setting is relaxed, there is a hustle-bustle of wait staff, a steady line of take-out orders, and diners enjoying their meal. This energy is all part of the ambiance at Spice Station.
The menu is large, offering a wide range of spicy and not so spice options, traditional Thai, and sushi. It is a great place to order a number of dishes to share. For our meals we chose the following:
Hamachi Carpaccio:  Thinly sliced fresh yellowtail, jalapeno with Yuzo ponzu sauce.  $10.00
Fresh, tender, paper-thin, lightly dressed. A small piece of cilantro and jalapeno adds a punch.
Tofu Tom Yum:  Tofu and mushrooms in a spicy roasted chili fumet freshly simmered with lemongrass and galangal $4.00
Salty/sweet broth, fresh firm tofu. Thai comfort food. Very satisfying.
Chicken Rice Soup:  White meat chicken breast with Jasmine rice and green onions in a clear broth.  $4.00
Comfort food at its finest. Full of flavor.
Kaiso Salad:  Japanese season seaweed salad.   $5.00
Fresh, with a well-flavored but not overpowering sesame dressing.
Steamed Fresh Basil Rolls:  Handcrafted rice paper skins wrapped with green vegetables, shrimp with special sweet and sour sauce. $6.00
Colorful full of fresh flavor. Nice way to start a meal. Filled with green crunchy ingredients.
Thai Calamari:  Crispy calamari with Spice Station three flavored sauce.  $8
Lightly fried, crisp mouth-watering rings with a slightly spicy dipping sauce.
Kamikaze:  Spicy tuna topped with yellowtail, green onion, and hot sauce.  $11
Super fresh, spicy with a bit of heat but in no way overpowering.
Pad-Thai:  Stir-fried rice noodles with chicken, eggs, ground peanuts, scallions, and bean sprouts.   $10.00
A very creative presentation. Subtle peanut flavor, firm and delightful. A Thai classic.
Shrimp Fried Rice:  Stir-fried jasmine rice with shrimp, soy sauce, dice pea, onions, scallions, and carrots.  $9
I am not a big fried rice fan but this dish offered a generous portion of lightly oiled rice, perfect for sharing.
Duck with Chili and Basil:  Succulent duck breast aiguillettes stir-fried with crushed garlic, onions, peppers, red chili, and Thai basil leaves. $13.00
Colorfully plated, savory. Flavors of basil. Not too rich. Easily shared. A winner for duck aficionados.
Chicken Red Curry:  Free range chicken with mushrooms, peppers, bamboo shoots and pineapples in red curry sauce and basil.  $11.00
Sweet with a pronounced coconut flavor. Tender chicken. Perfect for those who prefer a sweet vs. heat curry.
Green Curry Tofu:  Mixed vegetables, shiitake mushroom, and fried tofu in our spicy green curry.  $11.00
Curry is creamy, sweet with a little kick. The vegetables were crisp and well prepared. The tofu was firm and a bit crisp on the outside, while creamy on the inside. Well balanced.
Bangkok Style-Pork:  Northern street-style pork tenderloin, served with dipping sauce.  $8.00
The pork was sweet, salty, tender and juicy.  Spiralized beets added color for an artful presentation. Steamed rice served in a bamboo basket. Nice touch.
Bangkok Basil Chicken:  Famous in the streets of Bangkok, sauteed ground chicken, bell peppers, onions, and holy basil leaves in light garlic chili sauce.   Topped with an over-easy egg. $11.00
Generous portion. Slightly spicy. Salty and sweet. Easily shared between two people. A home run in my book!
Scallops and Shrimp Pad Ped:  Pan seared scallops and shrimp glazed with red curry paste and garnished with green peppercorns, sweet basil, and kaffir lime leaf.  $18.00
A very generous portion. The seafood was very fresh.  Also filled with string beans, peppers, and onions. The veggies were cooked perfectly with the right amount of crispness.
Roasted Duck Panang Curry:  Roasted duck breast served with a mild red curry sauce and grilled zucchini.    $13
A savory, creamy, curry added to the richness of the duck. Mild in spice but full of fulfilling flavor.
Spice Station offers an adequate selection of beer, wine, and soft drinks to accompany your meal. We found the wait staff to be friendly, attentive, and informative. However, on occasion there were some delays in getting the food out on time and together.
When you are thinking about a new restaurant to try or something out of the ordinary, why not consider Spice Station? Your taste buds will thank you.
SRQ Reviews, the restaurant guide you need to find the best dining in Sarasota, Florida.
Spice Station has "call ahead" seating instead of reservations. You can call a few days before, but, with that, the average wait time is 15 minutes.
1438 Boulevard of the Arts Sarasota, Florida 34236