Sarasota Dining Heat Map April 2016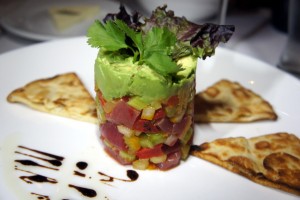 SRQ Reviews Dining Heat Map for April, 2016
Where are the hottest Sarasota restaurant for dining in April, 2016? This month's Sarasota Dining Heat Map shows you where.
With so many restaurants in Sarasota, how does one chose where to dine? One way is to see where people are dining. Another option is to listen for the local buzz. And a third option, which combines the two prior options, use the SRQ Reviews Dining Heat Map!
The Heat Map is designed to highlight the "hot restaurants in Sarasota." The places people are talking about and frequenting; the happening restaurants.
See the Sarasota restaurants listed for the month of April, 2016.
In no particular order, here are the hot spots for April, 2016
Burns Court Café: Always a hit for breakfast and lunch, the relatively new French Quarter Wine Bar is offering great live Jazz 3-4 evenings per week. Review of Burns Court Cafe
Indigenous: With an ever evolving menu of locally sourced ingredients, Chef Steve Phelps continues to hone his craft. Review of Indigenous
MADE: The Sunday brunch at Made has become a standing room only type of event. Make reservations ahead of time! Review of Made
Marcello's Ristorante: Fresh seafood, tableside Ceasar salad, and a good wine list…this small, cozy Italian gem is always busy. Reservations are a must! Review of Marcello's
Ortygia: With Sicilian specialties offering a unique dining experience and the ever popular Pasta Paradise offered on Tuesdays through the season, this Bradenton stand-out is an insiders' secret. Review of Ortygia
Owen's Fish Camp: A continuous crowd favorite for a reasonably priced seafood dining experience. Review of Owen's Fish Camp
The Rosemary: Less than a year old, this friendly restaurant located in the Rosemary district, is already developing a large following among Sarasota diners. Review of The Rosemary
Sol Meyer NY Deli: With his finger on the pulse of Sarasota's desire for a Jewish Deli, Sol has been flat-out busy since his opening in late November. Review coming.
Libby's Cafe & Bar: This Southside Village restaurant is always a hit for Happy Hours, lunch, dinner, or entertainment at the L Bar. Review of Libby's
Mozzarella Fella: Perhaps one of Sarasota's most liked sandwich shops, this casual eatery has expanded its menu and now serves breakfast, lunch, and dinner. Review of Mozzarella Fella
Share you opinion with us! Vote for your Top 3 Sarasota Dining Hot Spots. Poll closes on May 15, 2016.  Results to be include in the Sarasota Dining Heat Map for May 2016.
Suggestions not on the list – write us below