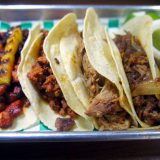 Reyna's Taqueria
SRQ Reviews
on March 10, 2020
Every day should be Taco Tuesday!
Let's face facts; everyone loves tacos. In my book, there is no such thing as a bad taco. True, some are better than others. Some tacos are simple, others are creative and exotic. And then there is Reyna's, authentically Mexican tacos.
Located at 935 N. Beneva Road, just north of Fruitville Road, in the  Sarasota Commons Plaza Reyna's is not easily seen from the street. However, if you turn into the plaza and proceed towards the back, Reyna's large sign will mark the spot.
Reyna's is a casual, quick-serve style, Mexican restaurant. Offering a bright, clean, and open spaced dining area, one can pick their table and walk up to the counter to place an order. Authentically Mexican with multi-generational recipes, Reyna's menu offers a range of tacos, quesadillas, tortas, sopes, and burritos.
For our meals, we chose the following:
Chips and Salsa:  $4
Fresh made, crispy, spicy. Definitely homemade. Salsa like no other!
Carnitas Taco:  Slowly roasted marinated pork shoulder served with pickled onions.   $3.11
A Mexican classic. Stringy, moist, full of flavor. One of my favorites.
Chorizo Taco:  Braised traditional Mexican sausage.  $3.11
Slightly spicy, moist.
Barbacoa Taco:  Slowly braised beef with traditional spices.  $4.15
Dense. I added lime juice which gave it a nice acidic flavor.
Chicken Tinga Sopes:  Pulled checked breast with chipotle peppers and onions, Oaxaca cheese, avocado, queso fresco, crema.  $5.49
Nice refried black beans, gave it a  creamy base. The chicken was tender. The avocado was a perfect topping.
Chicken Tinga Molotes:  Blue corn dough filled with stewed chicken breast with chipotle peppers and onions, Oaxaca cheese and topped with cream and queso fresco. $11.33
Big portion. Great textures, crispy outside, filled with gooey cheese, soft chicken, pieces of veggies. With a little kick.
Pastor Quesadilla:  Guajillo marinated pork shoulder. $11.22
Fresh made, not overly stuffed but more than adequate. Slightly spicy. Very satisfying.
Reyna's offers a small selection of domestic and imported beers, soft drinks, and wine to accompany your meal. The staff are friendly, informative, and will explain in detail any menu item. The food arrived very quickly and was cooked to order.
One of the pleasures of our work is discovering a restaurant worthy of attention. Reyna's is one such place. Authentic, multi-generational, family recipes, quality foods with outstanding flavors, reasonable prices, and friendly service make Reyna's a must-try destination. So, why not make any day a Taco Tuesday and head on over to Reyna's Taqueria? You will be pleased you did.
SRQ Reviews, the restaurant guide you need to find the best dining in Sarasota, Florida.
Tamales are available on Saturdays. Taco Tuesday: Select house-made tacos – ONLY $2 all-day, 11am-9pm (Dine-In Only). Select draft beer $2.50 all-day. Live Mariachi Band from 5-9pm (they happily take music requests.)
North BenevaSarasota, Florida 34232