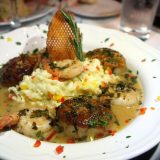 A Sprig of Thyme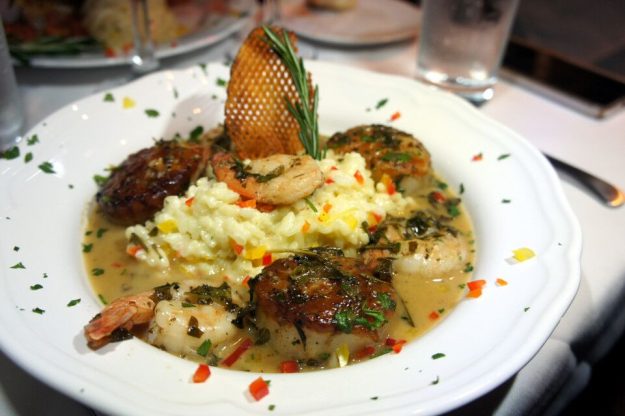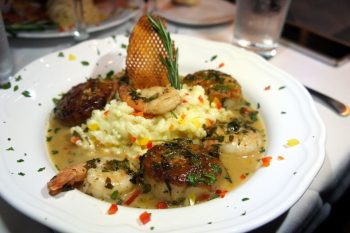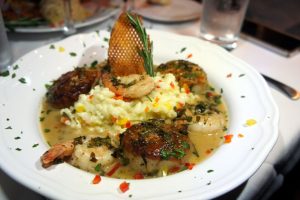 1962 Hillview Street Sarasota, Florida 34239
941-330-8890
https://www.asprigofthymesrq.com
View Photo Gallery
SRQ Reviews
on March 12, 2020
Quiet dining in a casually refined setting.
Bucking the current trend in new restaurant styles, A Sprig of Thyme offers a more classic, continental ambiance for dining. Small and cozy, white table clothed tables line the walls of this rectangular-shaped dining area. Subdued lighting, tasteful artwork, and earth-toned hues set the stage for the meal to come. So, how's the food?
The menu at Sprig of time is diverse. With an emphasis on local ingredients and a continental flair, Sprig of Thyme offers a range of soups, salads, seafood, beef, and poultry with each preparation sounding better than the next. 
For our meals we chose the following:
The Sprig of Thyme Rolled and Grilled Salad:  Grilled zucchini rolled with autumn greens, poire-jolie tomatoes, Greek olives, roasted peppers, onions, cucumbers and imported feta with an oregano-thyme vinaigrette.   $10
A cleverly creative presentation!  A "roll" of salad made from the freshest ingredients. Beautifully presented and crisp, and full of flavor. Refreshing.
The Grilled Caesar:  A grilled and chilled split heart of romaine with fresh mozzarella, plum tomatoes, basil pesto, extra virgin olive oil and a balsamic-mission for reduction.  $10
Another fine presentation. Crispy yet charred, slightly sweet yet savory. A great combination and balance.
Corsican Spring Rolls:  Sesame seared and chilled gulf shrimp with bok choy, carrots, peppers, and basil rolled in rice paper and served with a ginger sweet chili teriyaki glaze.  $11
A great combination of flavors and colors. Sweet and savory. The perfect start to a meal.
Scallops and Shrimp Taulere:  Pan-seared colossal scallops and jumbo shrimp on sauteed vegetable risotto with Chardonnay wine and herb sauce.  $27
This was a generous portion of fresh scallops that had just the right amount of firmness and bite in every mouthful. The sauce was subtle and complementary and additive to the taste.
Saltimbocca of Scallops:  A trio of colossal scallops dusted with sage and wrapped with prosciutto and smoked bacon, broiled golden and served on sauteed spinach with port wine and thyme reduction.  $27
Such a wonderful dish; perhaps a signature, if there is one! Classic flavor combination, rich and filling.
Conard Pyrenees:  A slow-roasted, crispy, semi-boneless Canadian Mallard finished with a wild field berry and burgundy wine gastrique.  $30
Delicious. Cooked perfectly, moist on the inside, the right amount of skin crispness. The berry and wine sauce was just the right amount of flavor and sweetness. Another classic well prepared.
Grouper Paillard:  Fresh gulf grouper stuffed with lump crab and herbs broiled with a Chardonnay compound butter and finished with a tomato basil bruschetta.  $25
Another generous portion and a creative presentation of grouper. Very filling and satisfyingly good. 
A Sprig of Thyme offers a good-sized selection of beer, wine, and soft drinks to accompany your meal. The wait staff is very friendly, professional, fast, and efficient. Their knowledge of the menu and, in particular, the item's preparation, are superb. Their presence is apparent but unobtrusive.
A Sprig of Thyme definitely fills a void in the Sarasota restaurant market. The perfect little place for a quiet dinner for 2 or a small group of 4-6 people where the conversation can be held to a reasonable decibel level. We were delighted to find this little gem nestled into a small space on Hillview. We encourage you to do so as well.
SRQ Reviews, the restaurant guide you need to find the best dining in Sarasota, Florida.
1962 Hillview Street Sarasota, Florida 34239