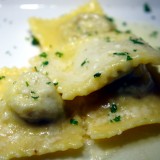 Andrea's Ristorante
SRQ Reviews
on December 3, 2015
Andrea's Ristorante…pasta perfection and so much more!
Italian cuisine is by far one of the most popular and often requested food types from our readers. Perhaps one of the reasons why Italian dining is so popular, is the diversified range of options within the cuisine. Regional specialties such as: northern, southern, or coastal.  Food choices including: meat, seafood, pasta, vegetarian. Also, dining décor offering: rustic and elegant presentations; all combine to provide prospective diners flexibility and choice in their Italian dining experience. With a plethora of Italian restaurants in Sarasota, finding a restaurant offering Italian cuisine is not very difficult. However, finding the right Italian restaurant which offers something special, different, or unique may pose more of a challenge.
Andrea's restaurant, located in a small strip mall on Siesta Drive, is one of those special Italian restaurants. Small, quiet and cozy; this white table clothed dining spot specializes in the regional cuisine from northern Italy; the home region of Chef Andrea Bozzolo. Although the menu is specialized, offering soups, salads, appetizers, pastas, meat, and seafood, there is a broad selection of many enticing items. However, for me, Andrea's fresh homemade pastas are off the charts good!
For our meals we chose the following:
Gorgonzola Croquettes:  $12.95
Crunchy delicious with a slightly piquant creamy flavor…a great beginning to an amazing meal.
Parma Ham and Cantaloupe:  $12.95
This combination is one of our favorites offering a "ying and yang" of flavors and textures…nicely counter balanced, a plate of contrasts: salty/sweet, firm/soft, dry/moist.
Beets Carpaccio:  Shaved fennel, watermelon, goat cheese mousse.  $12
Beautiful presentation, smells and tastes like summer! Chilled, sweet, salty and tangy.
Quail Roasted au Jus with Saffron Risotto Croquette: $15 small/$30 large
A simply elegant presentation…amazingly rich, you will not want to leave any meat on these small bones…go ahead; it is ok to pick up the bones with your fingers.
Lamb Meatball and Country Crispy Bread:  Recipe from my Abruzzese Uncle "Adeo".  $8
Wow! Dense and delicious.
Local Octopus Grilled with Polenta Cake and Salsa:  $15 small/$30 large
Full disclosure, this diner loves the taste and texture of octopus and this dish was no disappointment. Firm yet tender, with plenty of fresh flavor. If you like octopus, try this version.
Vitello Tinnato:  Thinly sliced veal with tuna sauce and capers.  $13 small/$28 large
This, too, is one of my favorite combinations…a very rich and flavorful dish…the sauce demonstrated a deep tuna flavor…my mouth is watering recalling this experience.
Pork Belly and Quinoa Risotto:  Slowly braised and smoked "table-side".  $10
Smoky, creamy, fatty. Great mouth-feel. Visceral. Very satisfying.
Pappardelle with Wild Mushrooms and White Truffle Sauce:  $23.00
Yet another favorite, we love pappardelle and this sauce topped it perfectly, rich and earthy and real Italian comfort food.
House Made Ravioli of the Day:  Fig, walnut, and Gorgonzola in a butter sage sauce.  $22.00
Oh my! This is a "home run." It has that sweet/salty buttery rich amazing thing going on. Palate pleasing for sure!
House Made Gnocchi:  With mushrooms and brown gravy.  $23.00
A silky smooth texture offering a deep rich, earthy flavor…just delicious.
Boneless Rack of Lamb:  Chargrilled and served with nebbiolo and mushroom demi glaze.  $40
Ridiculously amazing.  Perhaps the best lamb I have ever had.
Veal Milanese:  $46
Traditionally a pounded thin veal chop topped with tomatoes and arugula. Andrea's is different. Something like you never had before. A signature dish of bite sized pieces of tender veal…so moist and flavorful, organic arugula and a variety of fresh tomatoes add to the awesomeness.
4-Way Pork:  1. Ribs, 2. Pork Belly, 3. Sausage out of the casing, 4. Pork Schnitzel (with an egg) and fried green tomatoes!  $30.00
This is a crazy amazingly delicious Italian rendition of the southern bar-b-que plate…right down to the fried green tomatoes…familiar flavors with an Italian twist!
Osso Bucco over Saffron Risotto:  $34.00
The classic Italian dish with meat so tender it falls off the bone, silky, rich, deep, deep layers of flavors. Perhaps the ultimate Italian comfort food for winter dining.
As one would expect, there is an adequate selection of wine, beer, and soft drinks to accompany your meal. The wait staff are very professional, well trained and versed on the menu items, always willing to assist and unobtrusive.
Andrea's is not your everyday Italian restaurant. The dining experience is casually elegant, with artfully presented norther Italian regional specialties, offering refined flavors. A must try when looking for something out of the ordinary.
SRQ Reviews, the restaurant guide you need to find the best dining in Sarasota, Florida.
2058 Siesta DriveSarasota, FL 34239