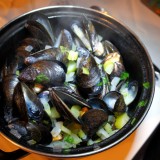 Antoine's Restaurant
SRQ Reviews
on February 4, 2014
Antoine's has relocated. This review is from their former location.
Antoine's Restaurant: A Rewarding Culinary Adventure….
What do you get when you combine a former fast-food location with a classically trained European culinary team? You get an exciting new culinary adventure, otherwise known as Antoine's Restaurant. Located at 1100 North Tuttle, this new Sarasota restaurant is a genuine example of "something old is something new again." The former KFC location has been renovated and transformed from the standard fast food box into a small, charming, casually elegant spot for dining. Once inside, the aura of a private dining club becomes pervasive; quiet, warm and service-oriented, with outstanding food.
Reconstituting the former culinary team from Brasserie Belge, the menu is seafood oriented, however there are many non-seafood selections from which to choose. All of the food is exquisitely prepared and presented.
For our meals we chose the following:
Lobster Bisque:  Homemade creamed bisque served with its traditional sides.  $13.00

This is a rich, subtly flavored broth, full of flavor and very satisfying.

Steak Tartare:  Raw, 100% certified Angus beef, prepared to order and seasoned to perfection with capers, egg yolk and pickles, served with fries.  $19.00

Full disclosure: I am not a huge fan of steak tartare. That being said, this dish was a silky smooth, fresh and deeply flavorful version.

Goat Cheese Salad:  A warm goat cheese pillow encased in phyllo pastry, drizzled with honey served atop a mix of arugula, cherry tomatoes, apple, cucumber, shallots and walnuts with an apple vinaigrette. $12.00

A carry over from Brasserie Belge, and glad to have it on the new menu. Big enough and rich enough for a meal. Sweet and delicious! A signature salad.

Seafood Pasta:  Fresh, homemade tagliatelle served with fresh tomatoes, zucchini, peppers, mushrooms, garlic and a hint of ginger.  $16.00

Pasta was al dente, the seafood (clams and mussels) were fresh and sweet. Very satisfying.

Blanquette:  (Fish special) Salmon, black grouper, bok choy, broccoli, red potato, tomato, capers, zucchini, celery, onions and butter.  $28.00

A very nice mélange of fish, flavors and textures. Beautiful colors!

Tuna Steak:  Seared, black sesame-crusted Ahi Tuna steak served rare on a bed of mashed potatoes and sautéed spinach, sprinkled with diced tomatoes in a white chardonnay sauce.  $32.00

A generous portion, well prepared and artistically plated. Fresh and flavorful with the warm comfort of creamy, smooth potatoes.

Mariniere Mussels:  The traditional base of all mussel recipes with celery, onions and butter.  $19.00

Perhaps the best mussels in Sarasota. Fresh, tasty and the brothis perfect for soaking up with the homemade bread.

Short Rib:  Chimay (blue cap) braised short ribs, served with homemade potato croquettes.  $28.00

Rich, stringy and fall-off-the-bone delicious.

Black Currant or Lemon Sorbet:  Made in house.  $6.00

Full of real flavor. Smooth; the real thing.

Belgium Chocolate Profiteroles: $8.00

Chocolate lovers: outstanding! It will be hard not to pick up the plate and lick it clean.
There is a small beer and wine selection to accompany the meal. The service is friendly, attentive, knowledgeable and professional. Since the restaurant is European styled, the pace of dining is relaxed and never rushed; a perfect spot for dinner and conversation.
Antoine's Restaurant is not a typical restaurant; it's a culinary adventure in a most unusual setting. With an outdoor facade, which still reveals the building's fast food roots, one step inside, and you enter a magical dining place, where your taste buds are stimulated and the outside world is left behind.
SRQ Reviews, the restaurant guide you need to find the best dining in Sarasota, Florida.
If you are a fan of Belgian Mariniere Mussels, these are the best in town!
1100 N Tuttle AveSarasota, FL