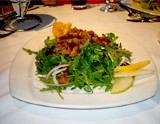 Beach Bistro
SRQ Reviews
on April 12, 2010
White sand beach, green-blue water, gentle rolling waves, a setting sun…an outstanding view enhanced by fine food and drink. Got the picture? That is The Beach Bistro located surfside on Anna Maria Island.
The favorite restaurant of friends, we were invited one Sunday evening to join them for dinner at The Beach Bistro. This was a welcomed invitation not only for the company we shared but their expert orientation and expectation setting prior to our arrival at the restaurant.  We were informed by others, and confirmed this evening, not to expect much from the outside of the restaurant. Upon our arrival we saw an unassuming simple beachfront building with a parking lot and valet parking, "check."
Our hosts also suggested table selection when making a reservation to be important factor. In fact, when the reservations were made, a specific table request was made at the same time.  Offering spectacular views of the beach, the Gulf of Mexico, and the sun setting, we clearly understood the value of being seated slightly back from the windows with the ability to absorb the ambience from inside and outside the restaurant, "check."
The menu at The Beach Bistro can be overwhelming.  There are many choices and various options which require some time more than the traditional restaurant menu.  It was suggested by our hosts to try the small plates vs. the full entrees.  In so doing, one would be able to sample a greater culinary fare and not be disappointed, "check # 3."  In dining at The Beach Bistro we selected the following:
One Helluva Soup:  Bistro blue tomato seasoned parrish plum tomatoes with sweet cream and maytag blue cheese. $11.00
Rich, creamy, and silky smooth with just a little "bite"
Warm Maple Leaf Duckling Salad with Arugula & Watercress:  Warmed with a cognac, citrus-bacon vinaigrette. With apples, red onions, mangos and candied walnuts. $16.00
Award winning, delicious, could be a meal onto itself
Bangers & Mash:  Bistro chef-made lamb and tenderloin sausage with chef's mash and three pepper demi-glace  $15.00
Not your typical pub grub, rich and flavorful
Florribbean Grouper, a Bistro Cookery Classic:  Gulf grouper with a toasted coconut and cashew crust.  Pan seared, oven finished and caressed with a red pepper papaya jam.  $24.00 (small plate)
Grouper was moist and fresh, the jam added a sweet pepper taste
Gulf Coast Grouper Sauté:  Island style – With key lime dill butter, capers, and a trickle of pomegranate reduction  $22.00 (small plate)
Moist and fresh with a crisp tart citrus finish
Chocolate Truffle Terrine:  A rich terrine of callebaut bittersweet chocolate $14.00
Award winning, decadently delicious.
The Beach Bistro offers a full bar and ample selection of wines and beer to accompany your meal. We chose a Candor Lot 1 Merlot for our meal.
For the very best places to live or work, in real estate the old saw is "location, location, location," When it comes to dining, the same can be said for The Beach Bistro.  "Not for the faint at heart" when it comes to pricing, The Beach Bistro is at the top for destination dining.  A spectacular setting complemented by fine food and wine; Gulf coast dining at its best, The Beach Bistro on Anna Maria Island.
Did I mention the setting?
SRQ Reviews, the restaurant guide you need to find the best dining in Sarasota, Florida.
Planning ahead, especially in season, can make the dining experience even more enjoyable. Making reservations 30-45 minutes before sunset will make the evening special. We suggest sitting back from the window which allows you to take in all the beauty from inside and outside the restaurant.
6600 Gulf DriveHolmes Beach, FL 34217