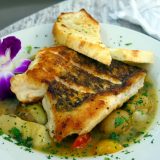 Beach House Restaurant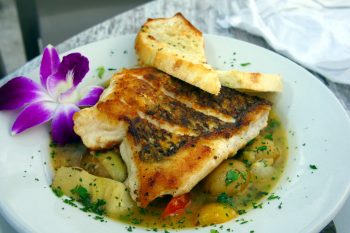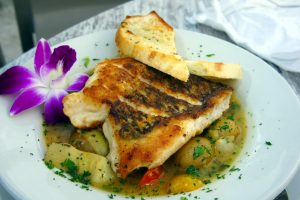 200 Gulf Drive North Bradenton Beach, FL
941-779-2222
http://www.beachhouse-restaurant.com/
View Photo Gallery
SRQ Reviews
on January 28, 2017
Quintessential waterfront and beachfront dining!
When it comes to waterfront dining in Sarasota, true quality dining options may be difficult to find. There are a number of casual waterfront dining spots; but where to go when you desire a more refined dining experience? There is no need to look any further than The Beach House restaurant.
Located on the south end of Anna Maria Island, the Beach House restaurant embodies Gulf coast Florida waterfront dining. Fully renovated in 2014, the restaurant provides a casual, slightly touristy, yet tastefully decorated, bar and dining room with spectacular views of the beach and gulf beyond. Even more impressive is the outside patio with access to "toes in the sand" beach front dining; a truly unique experience indeed.
The menu is large, offering a wide selection of expected seafood and non-seafood items. However there is a "specials menu" which provides a selection of higher end, food forward, locally sourced and sustainable selections showcasing the talents of the culinary team.
For our meals we chose the following:
House Smoked Fish Dip:  Served with Capers, Red onions, and Crostini.  $13
Always one of my favorites, this version had depth of flavor, smoky and slightly briny.
Seafood Bruschetta:  Crab, shrimp, tomatoes, pesto and balsamic.  $13
This is a very clever rendition of the classic; fresh, flavorful, tastes like summer! Very good.
Peel & Eat Shrimp:  Chilled, served with cocktail sauce.  $16
Cold and fresh, loved the texture and the sauce.
Hog Thai:  Wild Hog wrapped in bibb lettuce, pineapple and cherry tomato, red onion and peanut sauce.  $12
An unexpected item on the menu, a perfect appetizer for the non-seafood lover. Creative, tender, and full of flavor.
Potato Cakes and Beagle Bay Organic Kraut:  Served crispy with Beagle Bay Sauerkraut.  $8
Again, another unexpected item on the menu. LOVE the sauerkraut and the potato cake combination.
Heirloom Tomato Garden Salad:  Heirloom tomatoes, arugula, goat cheese, tapenade, extra virgin olive oil, fresh lemon and mint.  $11
Unbelievably fresh and flavorful! The way a salad is suppose to taste. Full of flavor, texture, and color. Loved it!
Seared Tuna:  Seasoned pan seared rare, yellowfin tuna chilled served with seaweed salad, wasabi, pickled ginger, & soy sauce.  $13.99
Deep rich red color. Very fresh. Lightly dusted with seasoning on the outside. Nice sesame crunch in the salad. Stylishly served on an L shaped plate.
Norwegian Salmon:  Pan seared filet of Norwegian salmon on a warm fingerling potato salad with lump crab, and scallions.  $25
Salmon was fresh and moist, great combo with the warm potato salad. The addition of sauteed kale was a nice touch.
Pompano:  Gulf of Mexico Pompano, pan seared with roasted couscous, basil and red curry infused olive oil.  $22
A super fresh filet, the couscous was loaded with veggies. Very nice presentation. Filling and satisfying.
American Red Snapper:  Pan seared American red snapper filet with a ragout of mushrooms, artichoke hearts, pearl onions, and fingerling potatoes.  $25
A generously sized, chunky cut of very fresh, very flavorful fish. The bowl is filled with earthy deliciousness!
Grouper Grilled:  (Special) Deep water yellow edge grouper filet char grilled, with a lemon and Gamble Creek Farm squash risotto, marinated heirloom tomato and cucumber salad.  $28
A great rendition of real Florida grouper, served in a very healthy, summery presentation.
Key Lime Pie:  $5.00
Always one of our favorites. This pie was not too sweet, not too tangy, just right!
Although we do not usually comment on a restaurant's bread service, we are making an exception in this case; the bread is a moist, slightly sweet pineapple and coconut bread which is just outstanding.
The Beach House restaurant offers a full bar service with a daily happy hour in the bar area. There is an adequate list of beer, wine, and soft drinks to accompany your meal. We found the wait staffs to be very friendly, knowledgeable, accommodating, and efficient. They made a perfect setting for dining even better.
Even though the options for fine waterfront dining in the Sarasota area are limited, with a view second to none, the Beach House restaurant is a standout.
SRQ Reviews, the restaurant guide you need to find the best dining in Sarasota, Florida.
Insider Tip: Come early for dinner, finish meal and then watch the sunset from the beach. Daily Happy Hour in the bar, watch the sun set and then have dinner.
200 Gulf Drive NorthBradenton Beach, FL