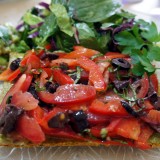 Beauty of Sprouts
SRQ Reviews
on June 12, 2014
Beauty of Sprouts: The joys of organic food…
Consuming high-quality food in its purest form offers a unique tasting experience.  The colors, textures and, of course, the taste of organic foods can be intense, dense, filling and very satisfying.  The organic food movement has been steadily gaining momentum amongst consumers.  Once considered a niche market, organics are moving mainstream, with consumers requesting more organic food options.  So, it's only natural for organic food restaurants to open in Sarasota.
The Beauty of Sprouts is one of the new crop of organic food restaurants to open in Sarasota. With a small, simple storefront location on Fruitville Road, just west of Lemon Avenue, Beauty of Sprouts began serving its organic, vegan and mostly raw cuisine this April.  The décor is very simple, extremely casual, clean and eclectic. The space is small, seating only 15 people, which allows Beauty of Sprouts to freshly prepare and make every dish to order.
The menu is small, selectively offering soups, appetizers, salads and entrees based upon availability of ingredients.  For our meals we chose the following:
Borsch:  Beet soup (cooked)   $5.50 

Not your grandmother's borsch. A great blend of beets, cabbage, potatoes, carrots, dill and bay leaf. Full of flavor. 

Sprouted Black Pea Falafel:  With lemon dip.  $8.00 

Not your "regular" falafel.  Earthy taste, and the lemon dressing gave the falafel and lettuce a very refreshing layer to it.

Massaged Kale Salad:  Kale, avocado, pine nuts, red onion, dried tomatoes and lettuce.  $10.50 

One of the best kale salads ever. The kale was not bitter or tough. All ingredients were fresh and flavorful.

Pad Thai Vegetables:  Mixed veggies with Asian nut dressing, kelp noodles and sprouts.  $11.75 

A generous serving of light noodles and chopped veggies. Great Asian flavor with pronounced cilantro flavor — delicious.

Burritos:  Sprouted wild rice, cucumber, tomato, avocado, pepper sauce, carrot and green collards.  $13.50 

Certainly not a floured tortilla wrap, this burrito uses a collard green as the wrapper. It's stuffed with great flavors, textures and outstanding color, all with a little spicy kick!

Portobello Sandwich:  Sprouted grain bread, green salad, nut spray and portobello.  $12.00 

Don't be surprised at the small size of the sandwich. It's tasty, rich and filling.

Pizza:  Sprouted crust, red bell pepper, olives and tomato salad with sprouts.  $10.50 

Certainly not a NY slice, this vegan pizza is very colorful and full of outstanding flavors. Raw and very filling for such a small sized portion.

Chocolate Bliss:  (Nut free)  $7.50 

Rich, but light. Incredible, even though there are no nuts, the bliss has a "nutty" background flavor.
Although Beauty of Sprouts doesn't offer beer or wine with their food, there's a range of homemade drinks, juices and water to accompany your meal.  The service is very friendly, attentive and quite accommodating.  In fact, Rano Halikova, the chef and owner of Beauty of Sprouts, will prepare customized dishes based upon your desires and availability of ingredients.
Even though Beauty of Sprouts is still quite young and working out the usual startup issues, it's already begun to develop a regular following.  All the food we tasted was quite good and often elicited a "wow!" after the first bite. Not only is the food flavorful and filled with color, it's quite good for you as well.  I felt myself becoming healthier with every bite!
Are you looking for a change of pace when it comes to dining out?  Perhaps you want a healthier cuisine or a raw food, vegan or culinary adventure?  Then the Beauty of Sprouts might just be a place for you to try.
SRQ Reviews, the restaurant guide you need to find the best dining in Sarasota, Florida.
1474 Fruitville RoadSarasota, FL 34236