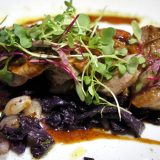 Flavio's on Main Street (formerly Beulah)
SRQ Reviews
on November 12, 2017
A transformation from "blah" to "Molto bene!"
With a carefully planned restaurant renovation and painstaking attention to decor details, our expectations for Beulah were high. Although the setting was impressive, the restaurant failed to deliver on our expectations of quality food. We were disappointed, but agreed to give it another try. After a few months, we thought the time was right to try again. Once again, we were underwhelmed by the food. It was just ok; not very special; and certainly not on par with the decor and surroundings. Those disappointing experiences occurred more than a year ago.
Recently a friend commented on his positive dining experience at Beulah and encouraged us to give the restaurant another try. So we did, and were pleasantly surprised by the culinary transformation. Even though the menu remained mostly unchanged, the food coming out of the kitchen was vastly improved.
As previously mentioned, the decor is casually elegant, warm, and comforting. The menu at Beulah is not too large but does offer a range of choices including wood fired pizzas, chicken, veal, beef, and pastas. If you are a fan of Italian cuisine, you will be pleased. For our meals we chose the following:
Tuna Tartar:  Sushi grade tuna, avocado, jicama, lime, soy sauce, crostini.  $15
Creamy with texture, not too spicy, flavor burst with tuna, subtle vein of soy throughout.
Caesar Salad:  Hearts of romaine, shaved parmesan cheese, croutons and house made Caesar dressing. $12
Nice presentation of romaine, classic Caesar dressing, not too garlicky, homemade croutons, crispy and fresh.
The Beulah:  Spring mix with tomatoes, black olives, shaved onions and mushroom with citrus vinaigrette.  $7
The greens were fresh, the mushrooms earthy, and the dressing light.  A delightful salad.
Arugula Salad:  Burrata, prosciutto, and figs.  $15
Sweet, salty, creamy, fresh…need I say more?
Roasted Beet Salad:  Fire roasted beets, baby arugula, chevre, orange, horseradish, ginger vinaigrette.  $12
An artful presentation. Fresh, sweet, creamy. I was expecting a little kick from the horseradish and ginger but the flavors were not pronounced in any way.
Chilled Octopus Avocado Tartar Special:  Served with toasted crostini.  $15
Very chilled, fresh, crisp, crunchy, colorful. A subtle fennel flavor undertone. Although the description called for avocado, there was no avocado in the dish.
Classic Margherita Wood Oven Pizza:  Buffalo mozzarella, tomato, toasted garlic, olive oil.  $15
Personal pizza perfection! Wonderful!
Roasted Mussels:  Mussels in blush wine, herbs buttery garlic sauce, served with spicy garlic toast.  $12
The mussels were very sweet and delicious. An ample portion. The roasted tomatoes added a depth of flavor. Garlic toast was crispy.
Burrata:  Burrata, speck, arugula, grape tomatoes olive oil, balsamic.  $13
A great starter for sharing! The grape tomatoes are roasted and full of flavor. Speck is a great addition to the dish.
Calamari:  Calamari, shrimp, zucchini, sweet potatoes lightly fried, served with aurora sauce.  $12
Very tender, light, flash fried, with nicely proportioned pieces of zucchini and sweet potatoes.Easily shared by 2.
Pappardelle Al Funghi:  House-made chestnut pasta, porcini mushroom, parmigiano, aged gouda cheese.  $21
A richly flavored sauce. Unfortunately the pasta over cooked, gummy, and lacked any firmness. Disappointing.
Potato Gnocchi:  Handcrafted potato dumplings tossed with a lightly creamy sun-dried tomato pesto sauce, topped with toasted walnut.  $19
Even though the gnocchi were dense, somehow it remained tender. Filing, satisfying, sweet sauce.
Scallops:  Pan-seared scallops, cauliflower puree, crumble bacon, hydrated brandy cherries.  $28
Sweet scallops and cherries, kick from the pepper, salty from the bacon. (Salt a bit overpowering for me.) There are a great deal of flavors coming together in this dish.
Branzino Special:  Black rice risotto, cherry tomatoes, olives, capers and artichokes.  $25
The fish was very tender, fresh, flaky and sweet. The underlying texture was crunchy and sticky providing a contrast to the fish. Good combination.
Free Range Duck Breast Special:  With red wine, cabbage and grilled baby corn.  $30
Full disclosure, I am a duck lover and this dish delivered. Deep rich flavor, tender. Very satisfying.
Swordfish:  Char-grilled with asparagus and cranberry sauce.  $28
Swordfish can be a tricky fish to cook but this dish cooked perfectly. Moist and tender. Simple in presentation. Delightful.
Roma Chicken:  Grilled chicken breast with tomato, sun dried tomato basil aioli, arugula, provolone cheese, served on a pretzel bun, with bacon.  $10 (lunch item)
A great sandwich! Has a little bit of everything, wonderful…on a pretzel bun!!!!
Rollatini Melanzane:  Spinach, mushrooms, baby tomatoes, pinola basil pesto, ricotta salata. Rolled in eggplant, smothered with marinara and scamorza cheese.  $11
Loved the flavors in this eggplant dish. Layers of flavor, smoky, creamy, and garlicky. Rich and filling.
Beulah offers a full bar service, with an adequate selection wine, beer, and soft drinks to accompany your meal. The wait staffs were friendly, accommodating, fast, and efficient.
The restaurant business is tough. Often the minimal acceptable service level requires perfection. Our initial experiences with Beulah were less than satisfactory. However, now we are impressed, not only with the quality of the food, the setting, and overall dining experience, but with the persistence of the owners. They worked hard to get it right!
Un lavoro ben fatto!
SRQ Reviews, the restaurant guide you need to find the best dining in Sarasota, Florida.
Beulah's has an awesome out back/patio space. If the weather is right….it is the place to eat!
1766 Main StreetSarasota, FL 34236