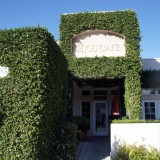 Bijou Cafe
SRQ Reviews
on April 14, 2012
Interested in fine dining? How about an elegant European styled dining setting?
You need not look any further than The Bijou Café. Located on First Street in the heart of the theatre district, The Bijou Café has been serving its Sarasota dining guests since 1986. This is traditional fine dining at its best.
Since we were meeting friends and arrived a tad early, we had the opportunity to wait in the bar area; a warm, cozy room, with plenty of glass looking out to the patio. We were immediately struck by the understated elegance of the setting and the subtle yet consistent presence of the staff. Soft colors throughout the rooms, small intimate dining spaces, accent lighting, an abundance of glass providing views to lush flowers, plants and an outdoor terrace, set the stage for the dinner presentation. We anticipated a fine evening and were not disappointed in the least!
We started our meal with a crostini topped with crab salad compliments of the chef; a truly nice blend of texture and flavor. Our meals consisted of the following:
Moroccan Salad:  Florida citrus, dates, almonds and apples, balsamic vinaigrette.  $9.00
Roasted Beet & Chevre Salad:  Organic red and yellow beets, mixed baby greens and spinach with black pepper seasoned goat cheese and orange mint dressing.  $10.00
Shrimp Piri-Piri:  Spicy, hot, sautéed with garlic, lemon and cayenne pepper a la Mozambique.  $15.00
Maple Leaf Farms® Roast Duckling:  slow roasted, boned and served extra crispy with a dried cherry and apricot bread pudding with Port wine cranberry-cherry sauce.  $28.00
Pommes Gratin Dauphinois:  Smothered in cream with a hint of garlic, baked to a bubbling golden brown with Gruyere cheese, there's more than enough for two!  $9.00
The menu is complemented by an extensive wine list offering single glass and bottle selections from around the world.
Home to the "goldilocks portion," (not too big, not too small; just right) the food was artistically plated and served with impeccable service. In fact, my impression of the wait staff could not be more positive. Their presence always in the background, subtle and unobtrusive but always available; they anticipate your needs and are immediately responsive. Completely satisfied, our meal was punctuated by complimentary chocolate squares. What a way to top off a fine evening!
So if your schedule calls for a birthday celebration, a night at the Opera, an anniversary or celebration of a special event, then The Bijou Café should be at the top of your list for consideration.
SRQ Reviews, the restaurant guide you need to find the best dining in Sarasota, Florida.
The bar area is a great place to dine.
1287 First StreetSarasota, FL 34236