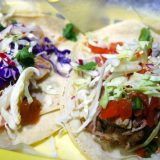 BirdRock Taco Shack
SRQ Reviews
on February 22, 2017
Something different, yet familiar…
Are you in the mood for a different, yet familiar culinary experience? Well look no further than Birdrock Taco Shack. Once again, chef Dave Shiplett is breaking the mold of traditional dining, this time by offering a super casual, easy going, southern California beach styled taco shack in Bradenton's Village of the Arts. A small, cozy, historic cottage, now restaurant, is adorned with beach and surfing paraphernalia which creates a warm "laid back" ambience. Just the right place for a beer and taco.
Open for lunch, dinner, and Sunday brunch, Birdrock's menu is simple and straightforward; offering chips, dips, tacos, and burritos. For our meals we chose the following:
Avocado Guacamole:  Smashed to order, chips.  Small $5. Large $8
A must try starter, perfect with the salty chips while you peruse the menu, chunky, fresh and flavorful. Great melange of flavors.
Avocado Bahn Mi:  Jalapeno pickled vegetables and cabbage.  $2
An interesting mix of flavors. An Asian flavor inspired creation offering a balance of spicy sweet, creamy sauce.
Roasted Beet and Feta:  Peach chili glazed cabbage and flour tortilla.  $3
Vegetarians…rejoice! This dish is for you. A creative interpretation of the beet and feta salad. Fresh, filling, full of flavor.
Pork Carnitas:  Cabbage, fun wow sauce and tomato pico.  $3
A fully loaded taco! Fun wow sauce both moistens and enhances the flavor of every bite. Delicious and non-traditional.
Shrimp Adobo Grilled:  Pineapple bang-bang, cabbage and radish.  $4
Another balanced taco offering a sweet and spicy taste, great crunch contrasts with the soft texture of the fresh tortillas.
Pork Belly:  Thai peanut, apples and honey/key lime slaw.  $4
We call this the "Comfort taco", rich, moist, and very satisfying. The corn tortilla needs to be doubled-up to manage "leakage"….so good. Yummy!
Thai Shrimp-Peanut Burrito:  Rice and honey/lime slaw.  $14
This burrito is a full meal, huge; so stuffed you may need a knife and fork. A bit on the spicy side…just the way I like it. Crunchy with a very pronounced peanut sauce. Rolled, stuffed deliciousness. A must try for spicy lovers.
Mahi-Mahi Grilled:  Wasabi, lime, cabbage, and tomato pico.  $3
Fresh and simple…just the way fish tacos should be!
Ahi Tuna Pan Seared:  Avocado, tzatzi sauce, lime cabbage and pico.  $5
Another, more refined fish taco with fresh forward flavor…another great interpretation of a fish taco.
Cuban Chicken Volcano Tostada:  Honey-lime slaw, queso, avocado, black beans and pico.  $12
This dish provided a great combination of hot and sweet, strong and subtle flavors. Colorful, sweet, and spicy all in one. Loved it!
Birdrock Taco Shack offers an adequate selection of craft beers, wine, and soft drinks to accompany your meal. The wait staff is friendly, fast, and efficient. Since all tacos are made to order, there may be a slight wait, so ordering in waves is a good idea.
A classically trained chef bringing his years of experience and culinary creativity to a casual taco shack is a unique concept. Wrapping non-traditional ingredients, flavors, and textures in a fresh corn tortilla is a new and exciting experience. Chef Dave Shiplett is pulling it off by offering a multifarious experience at Birdrock Taco Shack. Try it if you seek something new yet familiar.
SRQ Reviews, the restaurant guide you need to find the best dining in Sarasota, Florida.
1004 10th Avenue WBradenton, Florida 34205