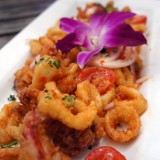 Blu Mangrove Grill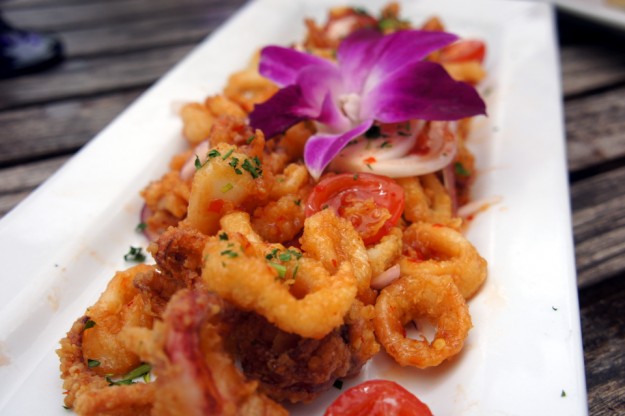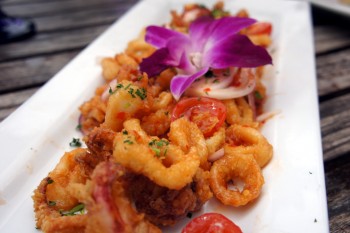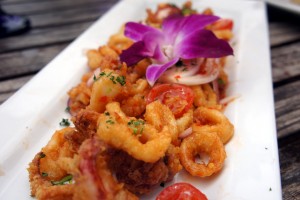 102 Riviera Dunes Way Palmetto, FL 34221
941-479-7827
http://www.blumangrovegrill.com
View Photo Gallery
SRQ Reviews
on September 4, 2014
Blu Mangrove Grill: A destination dining spot on the water…
If you live in Sarasota, the Blu Mangrove Grill might not be at the top of your list when choosing a spot for drinks or dining. After all, it's located in Palmetto, which requires a drive from Sarasota and perhaps a bit of planning. But despite the seeming obstacles, the drive is an easy 14-mile jaunt north on U.S. 301, which should only take about 20 to 25 minutes.
Blu Mangrove Grill, the sister restaurant to Siesta Key's Blu Que Island Grill, is located on the water at the Riveria Dunes Marina. Offering an expansive view of the marina and water, with large, open-air dining, large indoor and outdoor bars and a multi-roomed indoor dining space, Blu Mangrove's physical footprint is large, but not overwhelming. Its high ceilings, dark rich woods, subdued lighting and high and low-top seating give off a cool, casual vibe. The regularly scheduled entertainment and its signature happy hour, served until 6 p.m., makes me think Blu Mangrove is a nicely appointed, waterfront bar, which happens to have an interesting food menu to accompany your drinks.
The perfect casual spot for lunch, dinner or off-hour dining, the menu at Blu Mangrove is large, offering a wide range of options, including soups, salads, burgers, sandwiches, small plates, BBQ, seafood and pastas. In other words, there's something for everyone on the menu.
For our meals, we chose the following:
Key Caesar Salad:  Served with creamy citrus Caesar dressing and topped with anchovies, aged parmesan and croutons.  $9.00 

This was a very fresh, crispy salad with a subtle citrus flavor — nicely done.

Bison Sliders:  Three caramelized onions and goat cheese boursin.  $13.00 

Although the sliders were small in size, they were full of flavor, rich, hearty and satisfying.

Marker 24 Calamari:  Lightly breaded and crisp calamari tossed in a mild and spicy sweet chili sauce with fresh tomatoes and red onions.  $13.00

A very lightly fried tender calamari that was sweet with a slight kick and colorful presentation.

Crab Cake:  Pan-broiled and herb-panko crusted, served on a bed of greens and topped with horseradish remoulade sauce.  $12.00

A generously sized portion; light, with a crispy crunch on the outside. Served with a mouth-watering sauce.

Soft Tacos:  Your choice of grouper or lobster. All tacos are filled with crisp lettuce, pico de gallo and are topped with avocado aioli.  $15.00

We chose lobster. Generously filled with chunks of lobster, which were warm, soft, moist and tender. Would definitely order this again.

Brisket Quesadilla:  Served on a toasted flour tortilla with goat cheese, pico de gallo and avocado aioli.  $12.00

A nicely colored grill-marked tortilla filled with soft, slightly tender brisket. A great combo.

Gulf Grouper:  Filleted fresh daily, char-grilled gulf grouper with crab cream sauce.  $25.00 (All entrees are served with chef's vegetables, a choice of one side and a small Key Caesar or beach house salad.)

The grouper was fresh, tender and tasty and a good sized portion.

Yellow Fin Tuna:  Real yellow fin tuna, grilled rare with soy citrus sauce.  $26.00 (All entrees are served with chef's vegetables, a choice of one side and a small Key caesar or beach house salad.)

The tuna was fresh with subtle citrus soy flavor. A generous portion.

Bourbon Bread Pudding:  Served with Bourbon Anglaise.  $8.00 

Rich, but not overly sweet. Buttery and creamy.

Blu Mangrove offers full bar service with an extensive specialty drink menu. Happy hour is offered daily from 11 a.m. to 6 p.m. with drink and food specials. Although there was a little bit of a wait between courses, we found the wait staff to be friendly and the service to be acceptable.
If you're like me, there will be times you find yourself searching for a new place to try — something out of the ordinary. May I suggest Blu Mangrove: waterfront location, large tasty menu, entertainment, daily specials and just a short drive from downtown Sarasota.Who knows, it just might become a regular haunt.
SRQ Reviews, the restaurant guide you need to find the best dining in Sarasota, Florida.
Fantastic Happy Hour….it is offered daily from 11 a.m. to 6 p.m. with drink and food specials.
102 Riviera Dunes WayPalmetto, FL 34221