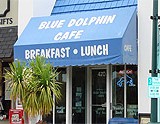 Blue Dolphin Cafe, St Armands Circle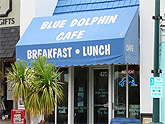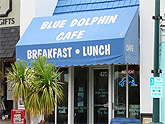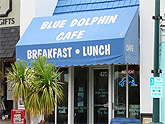 470 John Ringling Boulevard St. Armands Circle, FL 34236
941-388-3566
http://www.bluedolphincafe.com
View Photo Gallery
SRQ Reviews
on October 21, 2010
Breakfast and lunch served all day…need we say more?
A simple blue and white presence on St. Armand's Circle,  The Blue Dolphin is a classic breakfast and lunch spot.  With a long counter, a few tables, and booth service, there is a certain nostalgia and charm that makes you feel comfortable.
Since we were interested in breakfast, we studied the menu only to find all our favorites listed; eggs, omelets, pancakes, waffles, fruit and oatmeal.  With so many tempting options choosing was not easy, but we chose the following:
Homemade Oatmeal:  Oatmeal, brown sugar, milk and raisins on the side.   $5.95 plus $1.00 additional for fresh fruit
Creamy, smooth and hot, very ample serving with real fresh fruit.  Delicious and healthy.
Blue Dolphin Omelet:  A 3 egg omelet served with sausage, green onions, tomatoes, and sour cream Served with home fries or grits, and either toast, biscuit or English muffin. $8.95
Fresh and fluffy very flavorful and filling, a large portion.
Coffee and tea are served at $2.25 apiece.  We found the service to be quick and attentive and look forward to our return for a lunch.
The Blue Dolphin Café's winning formula is simple.  Take fresh quality ingredients, expert preparation, serve larger than average portions and provide friendly attentive service all at a reasonable price.  We experienced it first hand.  So should you.
SRQ Reviews, the restaurant guide you need to find the best dining in Sarasota, Florida.
From December through April The Blue Dolphin is open for Friday evening dinners.
470 John Ringling BoulevardSt. Armands Circle, FL 34236