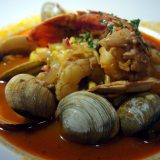 Blue Marlin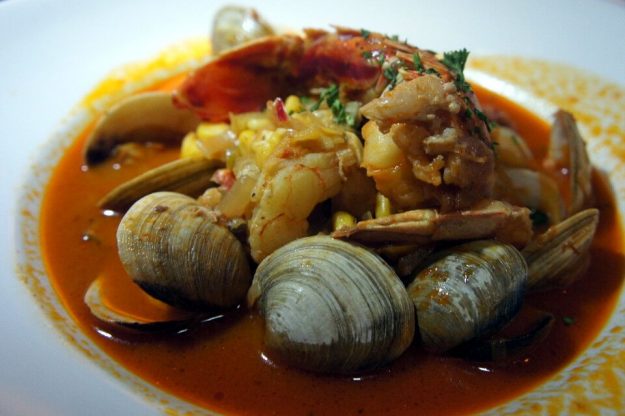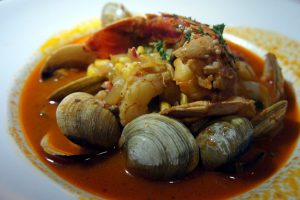 121 Bridge Street Bradenton Beach, FL 34217
941-896-9737
http://www.bluemarlin.com
View Photo Gallery
SRQ Reviews
on February 26, 2019
Local seafood at its finest…
The historic Bridge Street area on Anna Maria Island (AMI) in Bradenton Beach is home to many bars, shops, and restaurants. The people, activities, and various dining options create an exciting hustle bustle. Even though this energy is pervasive, the community has maintained its casual, laid back, beach life vibe.
One stand out from the multitude of Bridge Street restaurants is the Blue Marlin. Located at 121 Bridge Street, The Blue Marlin occupies a fully renovated 1920's cottage. The electric blue exterior clearly defines the restaurant's location. Small, cozy, and warm, the restaurant extrudes charm fitting for the historic location. In addition to the small indoor dining rooms, there is a bar area, outside deck, and courtyard for your enjoyment.
Even though the menu is most definitely seafood-centric, there are a number of non-seafood options as well. The menu is small, tightly focused, and food forward.
For our meals we chose the following:
House Chips:  Served with our house ranch for dipping.   $6
Crunchy, salty with a flavorful accompanying dip. Perfect with a glass of wine or cold beer.
House Salad:  Mixed grand, shaved parmesan tossed in a house Caesar dressing.  $7
The salad was weak, the dressing was good but the size and freshness of the salad were lacking.
GLT Salad: Blackened grouper over mixed baby greens, a slice of fried green tomato, dressed with orange sunshine vinaigrette.  $25
The grouper was fresh, moist, nicely spiced. The dressing was light, refreshing with a touch of sweetness.
Ajillo:  Steak or shrimp, seared with olive oil, garlic, line and pepper flakes.  $17
We chose shrimp. Really good flavor, bright, garlicky, spicy. Spice forward.
Blue Marlin Low Country Boil:  Gulf shrimp, Tampa bay clams, ½ spiny lobster tail, chorizo, corn, potatoes, tomato saffron.   $38
Although a little pricey for the portion size, it was quite good. All of the seafood was fresh, the tomato based broth had a flavorful kick to it from the chorizo.
Black Grouper Pecan:  Pearson Farms roasted, crushed pecan crust and honey butter.  Served with roasted sweet potato discs with basil pesto and house veg.  $33
A large portion of moist fresh black grouper. Completely coated in pecan. Crunchy and savory.
Potato Crusted Red Snapper: Roasted red pepper beurre blanc, served with house veggies  $34
Another good size portion. Completely covered with a potato crust. Moist, flavorful. One of my favorite ways to serve fish.
Fulford Grouper: Egg washed and sauteed with lemon butter, finished with garlic parmesan bread crumbs with rice and house veggie.  $35
Nice firm piece of grouper. Lightly battered, flash fried, moist, nicely seasoned, fresh.
The Blue Marlin offers an adequate selection of beer, wine, and soft drinks to accompany your meal. The wait staffs are very friendly, attentive, and efficient. This is a busy place with people coming and going and the staff handles the change quite easily.
If fresh, local seafood is high on your list, then The Blue Marlin is a place you need to try. Even though it is a bit of a drive from Sarasota, the food is worth the effort.
SRQ Reviews, the restaurant guide you need to find the best dining in Sarasota, Florida.
The Bridge Street area is perfect for pre or post dinner strolling. We suggest an early dinner, then a walk down the street to the City Pier to enjoy the water views.
121 Bridge StreetBradenton Beach, FL 34217