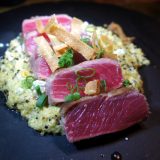 Brasa & Pisco
SRQ Reviews
on November 2, 2016
Peruvian Palate Pleasers…a new restaurant on the north side…
Located just north of University Avenue, in a small strip mall on Lockwood Ridge Road, a new Peruvian inspired restaurant has emerged. Brasa & Pisco offers a stylish, open space with dark woods, a roomy dining area, and a separate bar area. The restaurant has an urban, contemporary look and feel; one which would be more common downtown. The simple and stylish décor provide the perfect backdrop for the eclectic, Latin inspired menu.
With influences from many international cuisines, Peruvian food is eclectic. Brasa & Pisco's menu is no exception. The offerings are broad, varied, and accommodate many palate preferences.
For our meals we chose the following:
Trio Causa:  Spinach, beets, and yellow pepper terrine topped with octopus, chicken salad and shrimp, finished off with savory sauce.  $15
A beautifully plated, elegantly presented dish. Cool, colorful, and full of flavor, a great way to start a meal. Perfect for sharing.
Tiraditos Ceviche:  Fish or octopus thin sashimi slices marinated with your choice of lime juice, rocoto or aji amarillo sauce.  Fish, $7 Octopus, $9
An interesting form of ceviche, fresh, firm, and full of flavor…loved the octopus.
Traditional Ceviche:  Small cuts of fish, marinated in lime juice, onions and cilantro. Garnished with choclo (corn), Peruvian fried corn, romaine lettuce and pieces of sweet potato. Can be made mild, medium, or spicy.  $12
Classic ceviche, citrus permeates, we asked for it to be spicy and it was, but not over the top.
Causa Tartare:  Yellow pepper potato terrine with avocado and tuna tartar. Topped with black sesame and orange rocoto reduction.  $15
A beautifully colored terrine which can easily be shared by 2 people. Cold, fresh, and very satisfying.
Tempura Ceviche:  A delicious fish ceviche made into spheres and dipped in our circa 1926 beer batter, flash fried and served on a bed of romaine. Garnished with sliced onions and yellow pepper aioli. Crispy on the outside with a fresh ceviche center.  $12
Just as described! Loved the different textures. Great for someone new to ceviche.
Quinoa Capri:  Tri color quinoa, queso fresco crumbs, basil, roma and cherry tomatoes with a yellow pepper vinaigrette.  $9
A creative spin on a traditional Caprese salad. Instead of mozzarella cheese there is house made queso fresco mixed with quinoa. Clever and quite good.
Quinoa Risotto:  Grilled fresh fish of the day on a bed of tri color yellow pepper quinoa risotto.  $18
Simply grilled, colorful, fresh…a comfort food for me.
Chupe:  Shrimp cooked in an aromatic lobster fume. Garnished with queso fresco cubes, white rice, black peruvian mint, and a flavor infused poached egg.  $15
Subtle flavors and textures take over this dish.
Chicken:  Chicken in a special house marinade and slow roasted. Served with a side of salad and french fries.  Whole Chicken, $20 Half, $12 Quarter, $6
A specialty of the house! Rotisserie chicken with Peruvian spices…very moist and flavorful. Eat with your hands delicious! Perfect for family dining or sharing…Great value!!!
Pescado a lo Macho:  Fried fish covered in a yellow pepper cream sauce with seafood.  $22
Rich and creamy, not one of my faves but still quite tasty.
Pescado a la Chorrillana:  Seared swordfish over a bed of sweet potato pure with a blanket of chorrilana sauce garnished with fried tempura onions.  $20
One word…delicious. Savory and sweet with a hint of crunch.
Tacu Tacu a lo Brasa:  Perfectly grilled strip loin meat with our aji panca marinade. Served with tacu tacu, fried egg, sweet plantains, Peruvian onion slaw and a side of chimichurri sauce.  $18
Mouth wateringly good, pronounced flavor.
Lucuma Cheesecake:  Creamy New York style cheesecake flavored with lucuma pulp on a graham cracker crust and drizzled with dulce de leche sauce.  $6
Rich and luscious.
Chocolate Mousse:  Chocolate mousse lightened with cream, served with a cinnamon tuile and a sprinkling of fruit caviar.  $6
An elegant, simple dessert, not too sweet.
Picarones:  Spiced sweet potato and butternut squash doughnut holes with fig syrup.  $6
A creative combination of flavors perfect for Fall.
Brasa & Pisco offers a full bar service with their Peruvian cocktails as a specialty. There is an adequate selection of beer, wine, and soft drinks to accompany your meal. We found the wait staffs to be very helpful in explaining the various dishes and preparations. The service was fast, efficient, and attentive.
If you are looking for downtown dining outside of town, or interested in trying a range of well-prepared, flavorful food, then Brasa & Pisco is a place for you.
SRQ Reviews, the restaurant guide you need to find the best dining in Sarasota, Florida.
8347 Lockwood Ridge RoadSarasota, FL